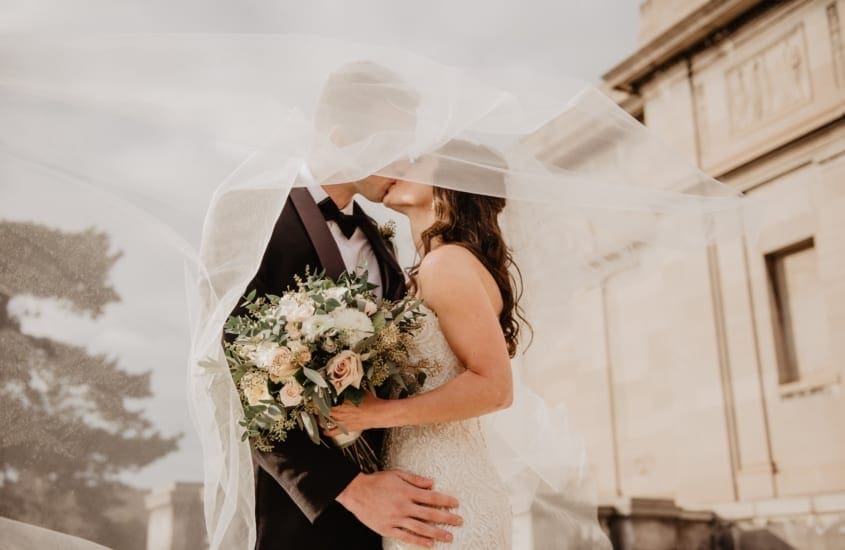 Wedding Photography – Snap Up This Opportunity!
Whether you want to photograph a loved one's special day or start your own commercial enterprise as a professional wedding photographer, this online photography course is ideal for you. 
The Certificate of Wedding Photography is an online program that will teach you how to shoot a wedding ceremony and reception and provide you with the knowledge you need to start your own successful photography business. 
On completion of this course, you will have gained the fundamental knowledge to start your own business as a wedding photographer or expand your skillset and increase your employability in the wedding photography sector.
Learning Outcomes
Outcomes achieved by undertaking an online photography course include: 
Determine factors relevant to any wedding that can impact how a photographer will plan and conduct the shooting of photos for that wedding

Learn how to plan what to do, where and when on the wedding day

Select photographic equipment appropriate for use when photographing a wedding

Determine an appropriate style for wedding photographs, according to the needs of the client

Improving your photographic composition

Shoot a Wedding Ceremony

Shoot a Wedding Reception

Process and present wedding photos to the clients, in a variety of formats

Successfully establish, market, and manage a wedding photography business
6 Traits of a Successful Wedding Photographer
As a wedding photographer, your primary responsibility is to your clients – the bride and groom. It's their day you're tasked with documenting precious memories that will last a lifetime. As such, you'll need to have a passion for the art of photography, have a creative flair and be tech-savvy. But you'll also need the soft skills too – patience, a sense of humour, a friendly and social nature, and problem-solving skills! You can learn many skills with an online photography course, but there are others that you'll need to develop naturally.
A Passion for the Art
Wedding photographers are artists with good business sense. They're also performers. But top of the list is their fierce passion for the art of photography. If you're considering a career as a wedding photographer, the passion for the art will be what sets you apart and drives your career success. 
Creativity
Creativity is an important attribute for any wedding photographer, from choosing backdrops to subject and juxtaposition of both – you'll need creative flair. This creativity will give you the confidence to put forward ideas to make the photographs as memorable and unique to the happy couple as possible.
Detail-Oriented 
Just like creativity, being detail-oriented is a must for wedding photographers. You'll need to see that a bride's hair is slightly askew, that a groom's laces are undone – these can ruin a great photograph. Most will agree, there's no more significant event in a couple's life than their wedding day. And the wedding photographs need the attention-to-detail to capture it perfectly. After all, these photos will be around for over 100 years!
Tech-Savvy
Good photographers should commit to ongoing professional development. The field is continuously changing, so you need to embrace new developments readily. New photography software and tools are being introduced so they should know how to use them. This skill is vital in getting more customers to their side.
A Friendly, Social Disposition 
Remember, you're not just a photographer – you've also got to be a performer. A wedding is a momentous occasion, especially for the bride and groom and their parents, so they'll be a lot of anxiety. Your job is to make these people feel relaxed and comfortable, so you'll need to be able to turn on the charm. A sense of humour is always appreciated. When it comes to easing the pre-wedding jitters, nothing relaxes people faster than a bit of laughter.
Patience 
You'll need to evoke the patience of a saint as a wedding photographer. You can bet that they'll be obstacles – whether it's a sour guest, a weather event or wardrobe malfunction – be prepared, and be patient. It will be worth the wait and the extra time spent when your clients are thrilled with their wedding photographs! After all, referrals are big in this business.
9 Different Styles of Wedding Photography
As with other photography niches, wedding photography has its specialisations too! You can express your artistic flair with a variety of photographic 'styles.' 
Traditional Wedding Photography 
This timeless and elegant style of photography is classic and posed. The usual subjects are group shots of the happy couple with the bridal party, immediate family – as well as the all-important cake cutting and the first kiss and the first dance of the couple as husband and wife.
Photojournalistic Wedding Photography 
This style tells the story of the day in a more relaxed, informal way. Photojournalistic wedding photography is often mixed with traditional wedding photography to find a balance between formal and informal shots. It's similar to photojournalism and documentary-style photography. 
Illustrative Wedding Photography 
Illustrative wedding photography focuses on composition, lighting, and background. It's often inspired by landscape photography with the use of wide-angle lenses and even aerial photography. 
Portrait Wedding Photography 
Portraiture generates magnificent images, think the blushing bride or the happy couple at their wedding ceremony. This style is formal as subjects pose for the shot with direction from the photographer. 
Natural Wedding Photography
This style has an emphasis on using natural light, resulting in more natural images. It's ideal for outdoor and destination weddings with – after sunrise and before sunset to avoid the harsh sunlight. 
Fine Art Wedding Photography 
Think creative framing, lighting, composition, and post-production skills. Fine art wedding photography entails artistic flair to capture unique images. There's no real posing involved, and it often features rings, bouquets, and the wedding attire. 
Fashion Wedding Photography 
Lights, camera – action! This style of photography is glamourous. Expect fashionable poses, elegant expressions, and beautiful backgrounds. You can get creative with posted shots while the happy couple enjoys being a high fashion model for the day!
Black & White Wedding Photography 
Black and white wedding photography is classic and timeless – it also enhances the mood of many photographs. This type of photography can bring the couple into focus. 
Vintage Wedding Photography 
The retro-client will love the vintage look, and with the availability of clever vintage photo filters, it can be an easy effect to achieve. There's an old and timeless feel to these shots – perhaps due to evoking feelings of nostalgia. You can turn ordinary images into extraordinary artistic works of art.
Do you have a passion for weddings and an eye for photography? Why not combine them and start your own business as a wedding photographer? Discover our online photography course, the Certificate of Wedding Photography today!  
https://www.australianonlinecourses.com.au/wp-content/uploads/cert-of-wedding-photography-scaled.jpg
1367
2048
Haley Williiams
https://www.australianonlinecourses.com.au/wp-content/uploads/AOC_logo.png
Haley Williiams
2020-05-21 16:08:57
2020-05-21 16:08:57
Wedding Photography – Snap Up This Opportunity!