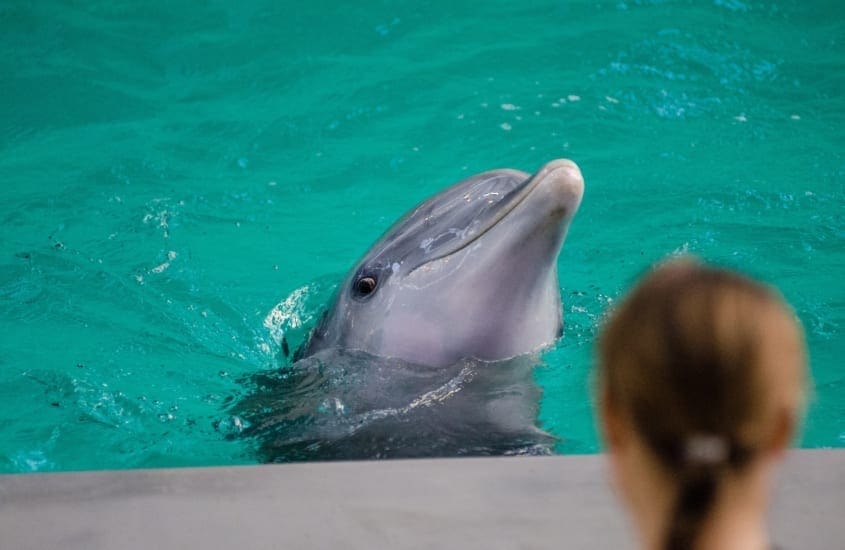 Study Marine Life With Our Marine Biology Course Online
Boost your career prospects in the marine life industry with a marine biology course online that's ideal professional development for marine professionals including biologists, scuba divers and environmentalists. 
Our Certificate of Marine Biology and Certificate of Marine Biology – Advanced will develop your understanding of a wide range of issues relating to marine studies, including marine ecology systems, reef formation and function, marine organisms such as fish, cephalopods and marine mammals, marine ecosystems and the impact of human activity. 
The study of marine biology helps us better understand our oceans and the complex issues they face. This course is ideal professional development of anyone currently working in the industry, or for students interested in a marine studies career.
Learning Outcomes
Some of the outcomes achieved by undertaking a marine biology course online include: 
Identify characteristics of various marine environments

Discuss the first primary groups of marine animal life

Identify the characteristics of different marine environments

Describe the range of molluscs and crustaceans in the marine environment and their lifecycles.

Describe the biology and ecological significance of Cephalopods and Clupeoids in the marine environment.

Describe a range of cartilaginous fish (sharks, rays) and selected bony fish (eels) that inhabit the ocean

Describe chosen species and the diversity of marine fish that exists in the world's oceans.

Describe a range of marine mammals

Discuss the presence of marine mammals in the seas and oceans of the world

Describe a variety of reptiles and birds that co-habitat with fish in the marine environment

Explain the impact of humans on marine environments and of selected aspects of commercial fishing

Describe the variety and nature of microscopic animals, 

marine plants, 

cnidarians, marine worms, 

arthropods and

 molluscs in marine environments

Differentiate between different classes of Echinoderms and selected families within those classes

Describe the shared characteristics and distinguishing features of a selection of different species of non-bony fish

Describe characteristics of bony fish, including anatomy, physiology and behaviour.

Differentiate between different families of bony fish

Describe the taxonomic characteristics of groups of marine animals including reptiles, birds and mammals

Draw a table to compare three different species of marine protists

Explain the differences between sponges, krill and plankton

Produce a table that compares the characteristics of the three different types of algae

Explain the difference between seaweed and seagrass

Explain features that distinguish different types of worms apart

Present a report on research on the Cnidarians

Explain the formation of coral reefs

Research the living environments of one local arthropod and consider how its body structure and feeding mechanism is adapted to its environment

Differentiate between cephalopods, gastropods and bivalves

Describe the feeding and defence mechanisms of two different molluscs

Describe the advantages and disadvantages of the echinoderm's radially symmetrical body.

Describe the relationship between a particular kind of lamprey (ideally, one found locally) and its host, considering who benefits and/or who does not, and why

List three families of local bony fish

Describe the biological characteristics of three fish families

Discuss the behavioural characteristics of the three families you researched
10 Fascinating Facts About Australia's Marine Life
The underwater kingdom that makes up Australia's oceans is home to thousands of marine plant and animal species not found anywhere else in the world! 
Did you know? 
The world's oceans cover over 70 per cent of the earth's surface and are vital to the survival of our planet
Australia's oceans support 4000 different types of fish
There are 1,700 different types of coral in Australia's oceans
The Great Barrier Reef stretches 2000 kilometres off the coast of Queensland 
The Great Barrier Reef is made up of 2900 individual reefs and 900 islands!
There are 17 different species of sea snake in the Great Barrier Reef
6 different species of turtle call the Great Barrier Reef home
30 species of whales, dolphins and porpoises have been discovered in the Great Barrier Reef
The coral reef is a critical natural habitat for thousands of marine creatures, but it also protects coastlines from waves and tropical storms
The Great Barrier Reef was founded in 1975 – and remains one of the richest, most diverse ecosystems in the world
9 Divine Marine Creatures in Australia's Oceans
Bottlenose Dolphin 
The Bottlenose Dolphin is a marine mammal that can swim up to 260 metres below the ocean's surface. These beautiful creatures have unique dorsal fins and can also be identified by their signature whistle. They are found around the coastline of Australia in temperate and tropical waters – occupying open coastlines, sheltered bays, waterways, lagoons, estuaries and even the lower reaches of some rivers.
Humpback Whale 
Humpback Whales are the superstars of the sea, putting on a spectacular show with their dives, rolls and amazing breaches out of the water for sightseers in Australian waters! They're also the gentle giants of the ocean, weighing in at up to 50 tonnes and measuring between 14 and 18 metres in length! 
Manta Ray 
Highly intelligent and owning the title as the biggest ray in the sea, this majestic marine creature has a wingspan of up to 7 metres. Manta Rays can be found cruising the waters of the Great Barrier Reef and are particularly prolific in the winter months off Lady Elliot Island. 
Loggerhead Turtle 
The Loggerhead Turtle is found worldwide. In Australia, they inhabit coral reefs, bays and estuaries in tropical and warm temperate waters off the coast of Queensland, Northern Territory, Western Australia and New South Wales. These amazing creates are the largest of the soft-shelled sea turtles with a shell about 92 centimetres long and weighing 113 kilos!
Parrotfish 
Coral-crunching sand-makes, these brilliantly-coloured fish grind down coral reef into sand to make islands rise! A bump head parrotfish can excrete 90 kilograms of sand in a year. Much of the coral they consume is dead and includes old debris, so they're not as destructive as they sound. 
Clownfish 
Made famous by the Pixar film Finding Nemo and Finding Dory, the Clownfish is one of the Great Barrier Reef's Great Eight! These striking orange and white fish are protandrous hermaphrodites, which means when a female clownfish dies, the male will change its sex to female and stay female for the rest of its life!
Blacktip Reef Shark
Easily identifiable by the prominent black tip on their fins, these sharks are among the most abundant sharks found in the shallow waters of tropical coral reefs. This timid, skittish shark is relatively small, reaching between 1.5 and 1.8 metres long and seldom poses a danger to humans. Its diet is primarily fish, crab, lobster, octopus and other molluscs. 
Coral Reef Snake 
There are about 15 different species of sea snakes found on the Great Barrier Reef, and while all produce lethal venom, it's rare for them to use it on humans unless they feel threatened. The main differences between land and sea snakes are that sea snakes have a paddle-shaped tail and they give birth to live young! 
Maori Wrasse 
This brightly coloured giant fish reaches up to six feet long and comes in hues ranging from electric blue to green purplish-blue and red-orange! The Maori Wrasse has a vital job in protecting the environment as it eats the creatures that attack the reef, including the sea hare, boxfish and crown of thorns starfish.  
So, You Want to be a Marine Biologist?
If this marine biology course online inspires you to become a marine biologist, you'll need to pursue a degree in marine biological science at the university level. Many institutions offer this type of program. If you're not sure it's the right career for you – complete both of these professional development courses and try to gain relevant work experience in the industry before committing to a university-level qualification. 
With a marine biology course online like our Certificate of Marine Biology, you'll gain a sound knowledge of marine organisms, which can enhance your current qualifications or prepare you for a fascinating career in marine biology. 
https://www.australianonlinecourses.com.au/wp-content/uploads/Dolphin-blog-2-scaled.jpg
1356
2048
Haley Williiams
https://www.australianonlinecourses.com.au/wp-content/uploads/AOC_logo.png
Haley Williiams
2020-07-03 15:51:50
2020-07-08 12:23:39
Study Marine Life With Our Marine Biology Course Online