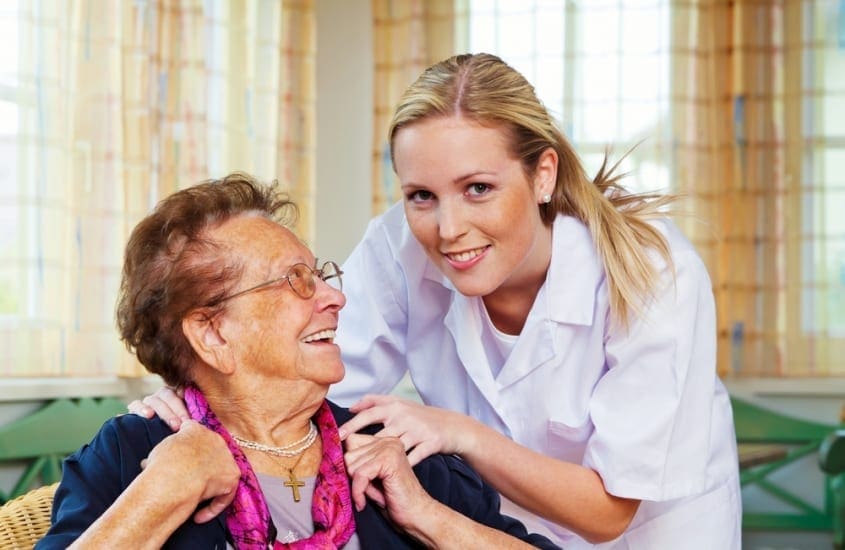 Study Aged Care – Pathways to a Rewarding Career
If you're considering a career in aged care, you'll need patience, empathy and a desire to help older Australians to live their life to the fullest by providing personal, physical and emotional support either in their own homes, a residential care facility or hospital setting.
You must also be able to work in a team environment, as most jobs in the aged care sector support a larger team of health workers, including doctors, nurses and allied health professionals.
You will also need skills in domestic duties, such as cooking and cleaning as these are everyday tasks that older Australians need help with, particularly if you work as an in-home support person.
Other important tasks include helping elders with high care needs to shower, dress and eat meals.  Or you may work as a companion to assist with social outings, activities, shopping and other daily tasks that require assistance.
Government studies indicate that there is likely to be a significant shortage of aged care workers by 2020 (Job Outlook). So, job prospects are high for this career going forward.
Study Pathways to an Aged Care Career
If you're considering a career in aged care, there are many pathways you can take to become qualified, such as tertiary education, work experience and mature-age entry.
If you're unsure about this career path, it's worthwhile to pursue a professional development course, such as the Certificate of Aged Care and to gain voluntary work before you commit to lengthy and costly training programs.
After all, this isn't a career for everyone, and it takes a special kind of person to excel in an aged care position.
Training, Certifications & Requirements
If you study aged care online or through an on-campus training provider, make sure you also gain certifications or training in the following areas to secure employment and work safely in your aged care role.
First Aid & CPR
Acquiring first aid and CPR training is essential if you plan to work with older Australians, as many clients will have severe health conditions, making an emergency a high possibility when they are in your care.
First aid situations relevant to aged care clients include tending to clients who have strokes, falls or choking incidents. You'll also learn how to manage first aid for patients with dementia and life-limiting illnesses.
Driver's License
You may need to transport clients to social activities, appointments or the local shopping centre as part of your aged care support role. So, having your drivers license is essential in an aged care career.
Police Check
Most aged care employers will run a police check to ensure carers have a clear record to ensure the safety and wellbeing of older Australians.
Aged Care Job Titles
If you study aged care, you may become an aged carer, but many titles describe aged care careers; but most fall under the following categories unless you are a trained nurse working in aged care.
Aged Carer
Support Worker
Personal Care Worker
Personal Carer
Aged Care Duties and Responsibilities
Assisting with mobility
Preparing food and meals
Arranging social outings and activities
Companionship, friendship and emotional support
Housekeeping – cleaning and laundry
Assisting with personal hygiene and dressing
Shopping
Transport – driving
Live in roles
The aged care sector is one of Australia's fasted growing industries and opportunities abound for dedicated, empathetic and caring professionals.
If you're considering studying aged care online, a professional development course with Australian Online courses is an ideal introduction to this rewarding and in-demand career.
Certificate of Aged Care
The Certificate of Aged Care is an online professional development program that will prepare you for work in the aged care sector to provide the personal, physical and emotional support for a rapidly ageing population.
This aged care online program will provide you with the knowledge and skills required to understand the structure and profile of the residential aged care sector, home and community care sector.
You will learn the key issues facing older people in the community and learn how to support older people to maintain their independence. This aged care course will also teach you how to provide services to the older person with complex or special care needs under the supervision of a relevant professional.
On completion of this course, you will feel confident to work in partnership with older people and their carers to implement interventions in the context of an individualised care plan.
Australian Online Courses
If you're looking for an online training provider that offers quality content, reasonable course fees and superior student support, choose Australian Online Courses for your professional development.
Visit online to discover hundreds of industry-approved, flexible, online courses covering almost every industry sector. Or you can contact one of our friendly Learning Consultants today on 1300 762 221.
https://www.australianonlinecourses.com.au/wp-content/uploads/careers-in-aged-care.jpg
667
1000
Australian Online Courses
https://www.australianonlinecourses.com.au/wp-content/uploads/AOC_logo.png
Australian Online Courses
2018-11-09 00:00:00
2019-11-01 15:27:22
Study Aged Care – Pathways to a Rewarding Career