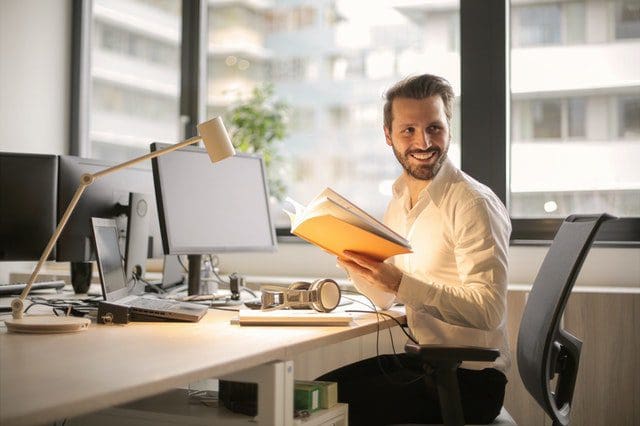 Smash Sales Records With Online Business Development Courses
The demand for people with business development skills continues to rise as the global business environment becomes increasingly complex. Online business development courses provide individuals with the skills and knowledge required in a sales or business development role to improve business results.  As such, they are ideal for business development coordinators, associates and officers.
Our Certificate of Business Development will teach you how to establish and maintain relationships, identify new business and networking opportunities, develop strategies to expand your client base, and improve your problem solving and negotiation techniques. You will also gain insights into identifying potential clients, learn proven prospecting methods, and use a range of communication strategies and plans to enhance and build client relationships.
Learning Outcomes
Outcomes achieved by undertaking online business development courses include:
Learning how to build and maintain business relationships
Exploring business business development and networking objectives
Gaining an understanding of how to determine and take advantage of networking opportunities
Studyinghow to establish and maintain business relationships
Examining ethics and trust, common forms of communication and effective two-way communication
Understanding how to engage with business contacts, plan opportunities and build rapport
Attaining knowledge of the barriers to business development opportunities
Gaining insights into negotiating skills and problem solving techniques to negotiate solutions
Learning about specialist networking organisations and formal and informal networks
Exploring online networking resources
Gaining an understanding of representing and promoting organisational interests
Studying presentation skills and formal presentations
Examining how to communicate issues regarding relationships
Gaining an understanding of sales orders, facilitating record keeping, workloads and effective routines
Studying unanticipated events and activities, reaction planning, "swallowing frogs" and time analysis
Examining how to prioritise steps, non-productive sales activities, managing interruptions and saying "no"
Understanding how to defrag your diary, manage down-time, weekly review and planning (WRAP), delegating tasks and dealing with stress
Attaining knowledge of leading the development of business opportunities
Gaining insights into existing operations, business trends, new business opportunities and customer analysis
Exploring how to achieve sales results, review sales targets and achievable sales targets
Gaining an understanding of how to review sales performance and sales strategies
Studying SPACED benefits
Examining how to create a sales environment
Understanding team sales targets and inventory control and methods
Attaining knowledge of human resources and contingency plans
Gaining insights into team support and training, coaching and mentoring
Learning how to resolve operational issues
Exploring retail supply chains
Gaining an understanding of how to review sales targets and monitor achievements
Studying poor performance and performance counselling steps
And more!
Customer Experience Excellence Report 2021
Customer centricity has been under the spotlight with shifts in focus caused by the COVID-19 pandemic coupled with increased public and customer attention on how brands deliver for and interact with customers. More organisations in the Australian market have realised their customers are assets to be nurtured and invested in. Changing expectations, shifting customer needs, organisational fragmentation and rapidly evolving technology have also created significant levels of complexity for companies.
Multinational professional services network KPMG's Customer Experience Excellence (CEE) report has tracked Australian consumers' experience with Australian and international brands across the Six Pillars of Customer Experience Excellence for the past four years.
Online business development courses like ours will cover these six pillars as they have consistently been shown to be the essential characteristics of world-class experiences and are the prerequisites for commercial success and customer economics.
#1 – Personalisation
Data, analytics and technology are enabling companies to create more personal "human" experiences across channels and buying stages. Customers seek not just simple transactions, but also human connection. Whilst technology is an enabler, true personalisation is how the customer feels after an interaction.
#2 – Integrity

Corporate integrity and its outcome – trust – continue to be a focus. Re-engaging with the validation of values, purpose and moving corporate social responsibility to the forefront of the brand have been key. The rapid uptake in cybercrime and E-commerce are also been front of mind for organisations and customers.
#3 – Time & Effort
With a significant rise in the use of delivery services, E-commerce has become a way of life and loyalty schemes have become more sophisticated. We are seeing organisations coordinating online and offline experiences to enable customers to achieve their objectives simply, easily and cost effectively.
#4 – Expectations
This has become more evident as new technologies – such as machine learning and AI – push the boundaries of what's possible. This is leading to an escalation in customer expectations.
#5 – Resolution
Customer problem solving has moved beyond just fixing problems for its customers into a focus on customer "lifetime" problems which helps to extend a trusted relationship. In 2021, many organisations have harnessed new technologies to foster better customer relationships by enhancing issue resolution and query handling.
#6 – Empathy
Customers want to deal with companies that show they care and can tangibly demonstrate their customers are important. Organisations are beginning to operationalise empathy and it is becoming a core competence in user experience design and improvement.
Top 10 Customer Experience Brands in Australia in 2021
According to multinational professional services network KPMG, Australian expectations have become more nuanced during COVID-19 with empathy and personalisation now essential building blocks of a sustainable customer relationship.
In 2021, the KPMG Customer Experience Excellence report surveyed more than 20,000 people globally and 3,000 plus in Australia,  to find out which brands deliver the best customer experience. As
Jenny Roche, a partner at KPMG Australia says,"With customer experience becoming ever more complicated with multiple moving parts, the pandemic has forced many companies to reflect on how these moving parts can be better orchestrated to work more effectively and cohesively together to deliver holistic customer experiences."
Australian consumer sentiment in 2021 went back to basics as a result of the COVID-19 pandemic, with an increased focus on digital, retail, alcohol and home gyms and offices. Retail has continued to build upon its market leading position across industries in driving customer experience excellence. This is despite the sector facing significant second-year COVID-19 challenges, including business impacts on store network management, meeting customer expectations and managing channel, customer and supply chain challenges.
Seven of the top ten brands came from grocery and non-grocery retail, including fast food and quick service retail. Companies which support the online retail experience were also strongly represented, with Afterpay and Paypal also making the top10.
Topping the list for the first time is online beauty brand Mecca, which has demonstrated ongoing commitment to customer and employee experience. Mecca has rapidly accelerated its digital and personalisation capability alongside physical retail expansion. Its loyalty program, Beauty Loop, avoids discounts and instead relies on a community of 4.3 million highly engaged customers to share data to create its leading customer loyalty and advocacy program.
Mecca
First Choice Liquor
Bendigo Bank
Bunnings
Afterpay
Specsavers
Priceline
Chemist Warehouse
The Iconic
Paypal
Business Council of Australia  
The Business Council of Australia is an industry association that comprises the chief executives of more than 100 of Australia's biggest corporations. Its vision is to strive for a stronger Australia, and its role is to
actively collaborate with political leaders at all levels of government, community and business groups and engage directly with the community to achieve their vision and purpose.
Its purpose is to ensure Australia is economically strong to support a free, fair and inclusive society for all Australians. Achieving this requires well-run, successful businesses that create inclusive work environments and meaningful jobs which reflect and are accountable to the broader Australian community.
The Business Council of Australia champions the role that responsible businesses play in generating sustainable economic growth and advocate for policy settings that are in the national interest. Its mission is to advocate for the role of business to generate returns for shareholders over the medium to long term. Doing that requires businesses to be good corporate citizens and for big and small business to work together across Australia's regions and cities. It also means to act in good faith, have products and services that are fit for market, represent those products fairly, and balance the needs of all stakeholders and interests including employees, customers, shareholders, suppliers, the community and the environment.
Feel empowered to use the skills and knowledge you've gained to improve business results for an organisation with online business development courses such as our Certificate of Business Development.
https://www.australianonlinecourses.com.au/wp-content/uploads/business-development-course.jpg
426
640
Haley Williiams
https://www.australianonlinecourses.com.au/wp-content/uploads/AOC_logo.png
Haley Williiams
2022-02-15 12:47:44
2022-02-15 12:47:44
Smash Sales Records With Online Business Development Courses