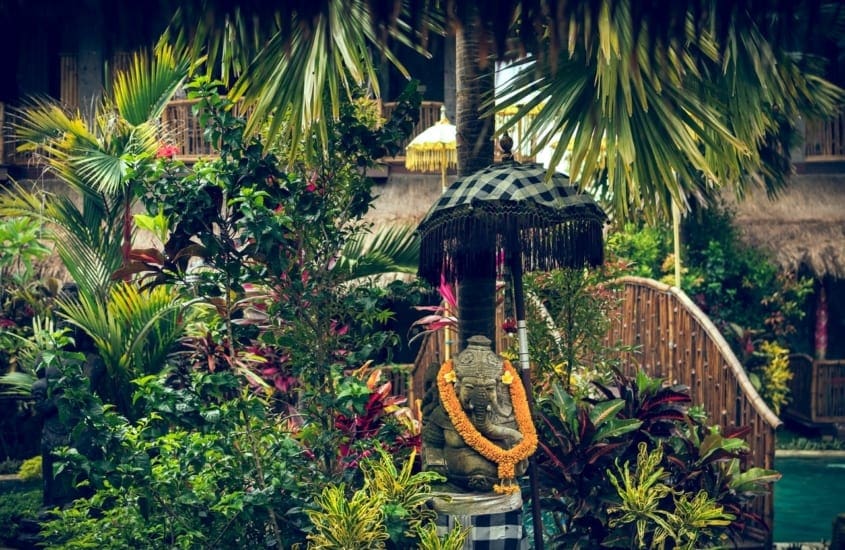 Plant the Seeds For a Fruitful Career with Our Garden Tourism Course
Popular internationally for years, garden tourism is increasingly making its mark as a tourism trend in Australia. This is a niche area of travel (like agritourism and health tourism) that attracts those keen to explore and absorb nature for its "green" health benefits. And it has significant and underappreciated potential in the sector.
Our Certificate of Garden Tourism is a professional development course that will help you plan, develop and manage tours, events and tourism destinations that revolve around gardening. Ideal for gardeners, garden centre staff and tourism operators, this garden tourism course will give you insights into people who not just travel to see gardens, but spend money in their associated cafes, restaurants and gift shops.
You will also explore the viability of events and their components, learn how to develop effective marketing strategies to sell their benefits, and gain insights into increasing their financial business outcomes.  
Learning Outcomes
Outcomes achieved by undertaking a garden tourism course include:
Learning about the scope and nature of garden tourism
Exploring the different types of gardens
Studying the place of gardens in broader tourism
Gaining insights into the who visits gardens or garden events and why
Examining problems
Understanding garden destinations
Learning about financial viability
Exploring the types of tourist attractions
Studying garden events
Gaining insights into add-on income
Examining how to create and manage a destination
Understanding what makes a viable garden tourism destination
Learning about planning a destination
Exploring locations, regions and countries
Gaining an understanding of managing a destination
Studying garden events and the different types
Gaining insights into when and where to conduct garden events
Examining how to finalise your plan
Understanding non-garden related events
Learning how to manage garden events — preparation, planning, development and evaluation
Exploring how to initiate a garden event
Gaining an understanding of set up and pack up/knockdown
Studying event issues
Gaining insights into managing visitor access
And more!
Seven Famous International Gardens
Throughout history, gardens have been spaces of creativity and contemplation, allowing people to fully immerse themselves in nature. These public spaces involve meticulous planning and careful landscape design, and allow visitors to experience local and exotic plant life while gaining inspiration for their own gardens. Here are seven of the world's most famous.
Founded in 1910, this 52-acre haven has over 14,000 plants spread across multiple areas. Highlights include its Japanese garden, a water garden, a fragrance garden for the visually impaired, and an English garden themed around plants named in Shakespearean plays.
This UNESCO World Heritage site sprawls across almost 2000 acres of land, and sits just west of the Palace of Versailles. A classic French garden focused on order and symmetry, the manicured lawns are dotted with flowers, and fountains and sculptures that date back to the time of Louis XIV.
Located in south London, this garden is renowned for housing more than 50,000 living plants. Highlights include  an arboretum, bamboo garden, the world's largest Victorian glasshouse, and the Princess of Wales Conservatory which contains plants from ten different climate zones.
An international favourite beloved for its opulent fountains and terraced gardens, this 16th-century villa is located in Tivoli, outside of Rome. Built for the son of a nobleman, it is a wonderful example of an Italian Renaissance garden, where the landscape seeks to inspire contemplation.
If you're a fan of tulips, don't miss a pilgrimage to the world famous Keukenhof in Lisse. Seven million bulbs are planted each year including tulips, crocuses, daffodils and hyacinths. It creates a dazzling visual to the more than one million visitors who flock to the gardens during the spring flowering season.
Located in British Columbia, this garden covers fifty-five acres and includes twenty-six greenhouses, which have been wowing tourists for over one hundred years. Fifty full-time gardeners tend to this national treasure, and one of its most famous features is the Sunken Garden.
Nestled within a Buddhist Temple in Kyoto, this is a the epitome of a a Japanese "dry landscape" (karesansui) garden. This Zen garden is characteristed by large rock formations, and is meant to be viewed while seated. Anyone who can see all of the stones at once is said to have obtained the ultimate in enlightenment.
Australia's Favourite Gardens
According to many tourism experts, garden tourism is the second most popular "niche" travel experience — the first being food-related tourism. Here are seven amazing Australian gardens to offer you the ultimate in green-tinged inspiration!
Open Garden Programs
Although the nation-wide Australian Open Garden Scheme folded in 2015, some states still run their own local "open garden" organisations — which helps ensure the garden tourism sector keeps thriving! They are typically not-for-profit groups run by volunteers who help garden owners open their gardens over weekends to raise money for various charities. They include:
Open Gardens South East Queensland – Open Gardens SEQ allows visitors to explore some of Brisbane, the Sunshine Coast and the Gold Coast's most stunning gardens.
Open Gardens Victoria – This organisation runs an open garden program in Melbourne city and in rural locations and country towns across the state. Typically around twelve gardens are open through the spring period of September to November, and others during the autumn season
Open Gardens SA – Open Gardens South Australia was first established in 2015, and in its first twelve months opened over fifty private gardens, welcoming more than 20,000 visitors.
Open Gardens West Coast – Western Australia's open gardens scheme launched in 2016 and facilitates the opening of gardens across the state for public viewing. It also promotes garden design, horticultural education and ecological sustainability.
Gain the confidence to plan, develop and manage gardening events, tours and popular "green" destinations with a garden tourism course, such as our Certificate of Garden Tourism.
https://www.australianonlinecourses.com.au/wp-content/uploads/certificate-of-garden-tourism-.jpg
853
1280
Haley Williiams
https://www.australianonlinecourses.com.au/wp-content/uploads/AOC_logo.png
Haley Williiams
2021-04-13 15:41:25
2021-05-06 17:19:53
Plant the Seeds For a Fruitful Career with Our Garden Tourism Course