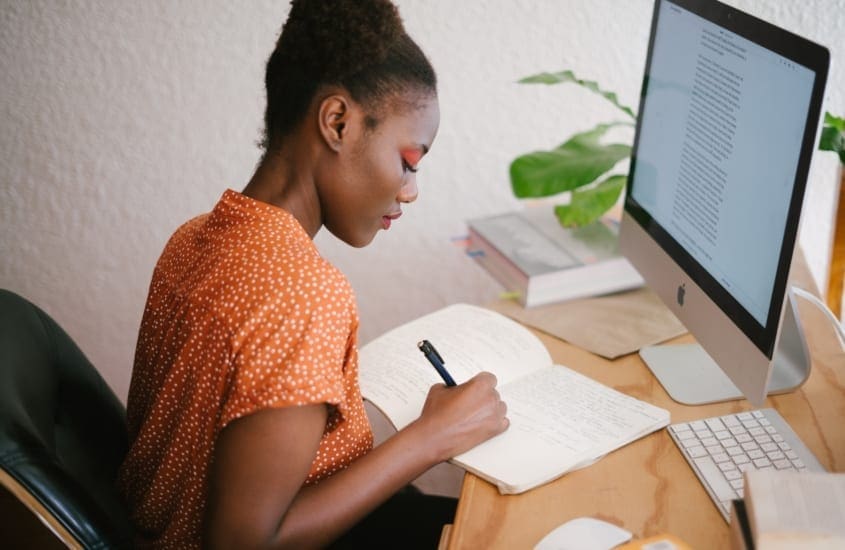 Make Working With Words Your New Career!
The publishing world is highly dynamic and competitive, which is why an online publishing course can be so valuable. Our Certificate of Publishing is ideal for those keen to work as a publishing, marketing or production manager or even writers who wish to get their own work out into the market. It will give you insights into page layouts, desktop publishing, illustrations and research, and how to market publications in accordance with ethics and the law. All of this can prepare you for an exciting and ever-changing career!
Learning Outcomes
Outcomes achieved by undertaking an online publishing course include:
Exploring the world of publishing
Understanding what publishing is
Learning about the role of a publisher
Studying the role of a production manager
Understanding the world of an editor
Examining the role of a designer
Learning about the role of marketing staff
Exploring how to set tasks
Studying publishing procedures and techniques
Undertaking an overview of the publishing process
Understanding the production schedule
Examining page design
Studying page layout in terms of consistency, direction, headings, graphics etc.
Learning how to establish the skeleton of a document
Exploring pull quotes and sidebars
Studying typography in terms of fonts and other settings
Understanding Public Lending Rights
Gaining insights into desktop publishing
Learning about word processing
Exploring alternative publishing methods
Studying how to print on a computer printer
Understanding how to supply a 'master' to a commercial printer
Examining how to publish electronically including on CD and the internet
Gaining insights into software options
Learning about the use of colour and black and white
Exploring the use of graphics
Studying illustrations and graphics including line illustrations, cartoons and photos
Examining graphics like freehand work and computer graphics
Gaining insights into photography
And much more!
Your Best Publishing Options
Both technology and time have changed the world of publishing. Most people now have a computer and lots of those people have stories to share. With the onset of digital printing, printing a book has also become even cheaper (our online publishing course will give you some great insights). But what's the best way to go about it? Here are some of the Australian Writers' Centre's top tips.
Commercial Publishing
With most commercial publishers, you submit your work via their submission guidelines and then you wait (usually around three months). However, ultimately you are either accepted or rejected. If you are accepted, you will be given a contract. Depending on the size of the publisher, you may get an advance, an advance against the royalties (so the royalties pay off the advance), or just royalties alone. Standard royalties from commercial publishers are around five to ten per cent of a book's recommended retail price.
You'll then be assigned an editor to fine-tune your book, and it will be laid out, issued a cover design and then offered to bookstores. In terms of financial outlay, you pay nothing as commercial publishers take on all the financial risk themselves.
Partnership Publishing
With partnership publishing, you will have to pay a sizeable amount (usually over $5000) for the services involved with having your book published. These include basic copyediting, the layout of your book and the cover design. Print runs will involve an additional fee, however, they the publisher will organise the distribution of your book, including into bookstores, and they'll advertise it on their website.
Partnership publishers take on none of the financial risks — it all falls on you. Additionally, they will demand around 50 per cent of your royalties!
Self-Publishing
As the name implies, self-publishing is all about doing it all yourself. You'll need to organise editing, layout and design, then find a printer suitable for your project and decide on the size of the print run. However, probably the most difficult thing with self-publishing is getting your book into bookstores. However, there are distributors you can approach to help with this task.
Top 5 Publishers To Send Your Work To
In the highly competitive world of publishing, finding a publisher that will accept your work can be extremely difficult – particularly if you don't have an agent. Our online publishing course will help you negotiate this process, however, it's also worth approaching a few of the bigger Australian publishers that accept un-agented manuscripts.
#1 – Allen & Unwin is an independent Australian publishing company established in 1976 and one of the leading publishers of the twentieth century. They currently publish up to 250 new titles a year, including commercial and literary fiction, academic and professional titles, a broad range of general non-fiction, and books for children and young adults. But the best bit? They accept submissions every day of the week!
#2 – Pan Macmillan Australia is a major Australian publisher with a wide range of titles under several sub-brands. They publish literary and commercial fiction, children and young adult fiction, and history, picture, Australiana, cooking, biographical, health and self-help, travel and sportsbooks. They currently accept submissions directly from writers between 10 am and 4 pm on the first Monday of every month as part of their manuscript submission process.
#3 – Penguin Australia was formed in 2013 and is the world's largest trade book publisher. They publish non-fiction and adult and children's fiction and are currently accepting unsolicited manuscripts of children's literature in the first week of every month.
#4 – Text Publishing Australia is an independent, Melbourne-based publisher of literary and commercial fiction and non-fiction. They are currently accepting fiction and non-fiction manuscripts including those for middle-grade children and young adults.
#5 –Hachette Australia is a team of passionate readers and expert publishers dedicated to discovering and supporting talented writers. They accept fiction and non-fiction manuscripts excluding illustrated children's books, cookbooks, poetry, science fiction/fantasy, self-help books, screenplays and academic submissions.
A Day In The Life Of A Publishing Director
You've completed an online publishing course and decided your future career aspiration is to work in the publishing sector. But what does it involve? Jane Willson is the former editor of Epicure and the food section of The Age. She is now a Publishing Director at Hardie Grant Books and here is a snapshot of her typical day.
9 am: Her production manager delivers the first copies of two of their big monthly titles that have arrived from the printer. There is a unique combination of fear and excitement in the air that always accompanies receiving a title in the flesh for the very first time!
9.30 am: Jane attends a covers meeting with her design manager, project editor and the sales and management team. They talk through cover concepts for a future title including direction, colour schemes and its general appropriateness for the market. Depending on the author's openness to the design, this could be a multiple-meeting scenario!
10 am: She attends an acquisitions meeting with fellow publishers and imports, sales and managing directors. Each publisher presents their potential new titles and they explore detail around the audience, structure and the author profile. Each pitch is assessed on topicality, commerciality, relevance, likely expense and achievability, and the 'X factor'. Updates on other contracts underway are also discussed, as well as the viability of an ongoing series and the launch of a potential project for new authors.
1 pm: Jane catches up on emails and reads a variety of manuscripts, proposals and proofs.
2 pm: She attends an author meeting which she believes is one of the best parts of her job. Today they have the go-ahead on a project that has returned to acquisitions three times over four years – which is unusual but extremely satisfying. The author is hardworking, enthusiastic and has a unique selling point. The team talk through the process, the creative team, the timeline, potential sales partners and the overseas market. She leaves the meeting keen to leap into the next stage!
3 pm: Jane meets with her publicity manager and publicist to workshop the vision and expectations around some of the Melbourne Food & Wine Festival events that will involve one of their key overseas authors.
4 pm: She meets with her design manager to discuss the final touches on a book that is due to pre-press in a few days. The author has requested a 'natural', wood-free finish that has undeniable appeal, but there are questions as to its useability and wear and tear. They also discuss the cover colour of another title. The designer wants a rich 'punchy' red but it's a nervous decision as the 'wrong red' would be a disaster once 10,000 copies are printed!
4.30 pm: Jane responds to more emails, advises her creative team on an upcoming photoshoot in Tasmania for a book cover, and liaises with her contracts director on the details of the deal. Then it's home for family time and the chance to snuggle up with a new book (obviously)!
Keen to gain insights into editorial principles that can be used across a range of media and genres? Harness your creativity and your business skills with our Certificate of Publishing!
https://www.australianonlinecourses.com.au/wp-content/uploads/Cert-of-Publishing-scaled.jpg
1366
2048
Haley Williiams
https://www.australianonlinecourses.com.au/wp-content/uploads/AOC_logo.png
Haley Williiams
2020-06-30 14:04:57
2020-06-30 14:04:57
Make Working With Words Your New Career!