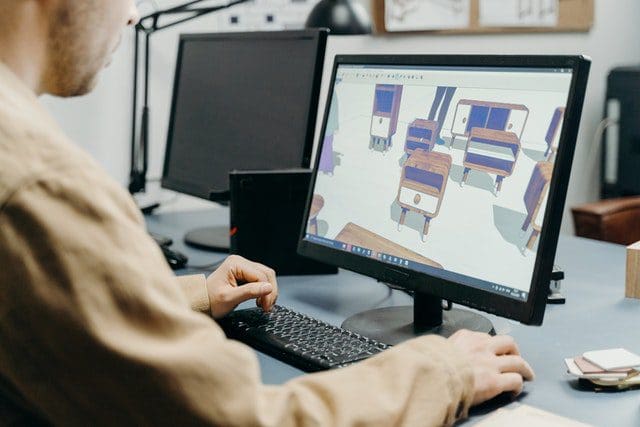 Online Drafting Courses Will Automate Your Career Aspirations
Ideal for budding engineers, designers, and CAD drafters and technicians, online drafting courses can provide you with foundational knowledge in computer-assisted design concepts and processes.
Our Introduction to Computer Assisted Design (CAD) will give you insights into the history of technical drawing and the applications of CAD that you can implement in a range of careers in the construction, architecture, engineering, landscape, manufacturing and urban planning industries.
This course will teach you about the importance of virtual reality, 3D printing, and the artificial (AI) aspects of CAD. And while software is not provided in the course, there are a wide range of CAD software applications available that can be downloaded for free for learning and assessment purposes.
Learning Outcomes
Outcomes achieved by undertaking online drafting courses include:
Learning about the scope and nature of computer aided design
Exploring the use of computer software and the history of technical drawing
Gaining an understanding of CAD, its history and applications including software applications
Studying solid modelling or manufacturing and surface modelling and assembly
Examining drafting detailing and reverse engineering
Understanding the types of CAD software including 2d CAD, 3d CAD and 5d CAD
Attaining knowledge of CAD modelling types, CAD system components and application logic
Gaining insights into the database, the visualisation suite, the mesher and the modeler
Learning about the translation suite and the user interface
Exploring popular CAD software and categories of the CAD file format
Gaining an understanding of how to create a CAD project
Studying CAD design principles including the basics of CAD, the cartesian coordinate system, spatial reasoning, spatial vision and spatial orientation
Examining orthographic projections, CAD design general principles, automation, simulation and integration
Understanding conception, the identification stage, problem definition, first draft design and design
Attaining knowledge of geometric modelling, engineering analysis, validation and design review and evaluation
Gaining insights into presentation, drafting and effective use principles
Learning about landscaping, mapping and CAD plan types
Exploring site/base, topographic, concept, planting and final plans and how landscape plans are presented
Gaining an understanding of steps in the design procedure, examples of types of drawings, landscape graphics and scale and lettering
Studying design drawing, the different types of lines, surveying and measurement, triangulation and slope and direct contouring
Examining miscellaneous drawings, submission drawing, models, environment plans and 2D or 3D software
Understanding architecture and urban planning and CAD modelling and urban planning
Attaining knowledge of architectural views, using templates, CAD visualisation and virtual tours
Gaining insights into risk management, identification and assessment
Learning about building information modelling
Exploring manufacturing, computer numerical control (CNC) and computer aided manufacturing (CAM)
Gaining an understanding of production processes, aerospace and automotive
Studying technology and design and financial benefits
Exploring extruding, moulding approaches and casting
Gaining an understanding of compressive and injection moulding
Studying 3-D printing, its history and types
Examining multi jet fusion (MJF), direct metal laser sintering, selective laser melting (SLM), fused deposition modelling (FDM) and selective laser sintering (SLS)
Understanding electron beam melting, stereolithography (SLA) and digital light processing (DLP)
Attaining knowledge of 3D scanners, the types of software including slicer software, the types of materials and plastics, powders, resin and metals
Gaining insights into the advantages and disadvantages of 3D printing and its applications
Learning about replacement parts and customised parts
Exploring the future of 3D printing
Gaining an understanding of enhanced, augmented, virtual and mixed reality
Studying artificial intelligence (AI), generative design, the cloud, customisation and other applications
And more!
Where CAD Software is Used
While it is common knowledge that CAD (Computer Assisted Design) and CAM (Computer Aided Manufacturing) is used in the architecture, engineering, construction and manufacturing industries, there are other less well-known industry applications. Another reason why online drafting courses are so valuable! Both are also used in:
Used in the automative industry to create 3D prototypes of new body styles and design components such as engines, tyres, upholstery, circuitry boards and more.
Civil Engineering. Urban planners use the software to plan urban infrastructure including parks, bridges, office complexes, stadiums … the list goes on…
Computer-aided dentistry is used to digitise the oral cavity and dental structures for the virtual design of complex prosthetic units.
Interior Design. Allows interior designers to bring their vision to life through detailed digital designs.
Fashion Design. While many fashion designers may opt to initially design their creations by hand, fashion CAD/CAM software can be used in the later stages of the design process, particularly in the "ready to wear" industries. It can be used to determine how clothing will move and fit, the most efficient cut of fabrics, and it can adjust the scale of the pattern for different sizes.
Three dimensional CAD reconstructions of crime scenes and accidents can be used in courtrooms to help jurors visualise the events that are being tried.
Forensics. Can help with injury analysis, age estimation and postmortem identification and the reconstruction of crime scene investigations.
Can be used in medical applications for the construction of a prosthesis and the reconstruction of body parts. Advances in technology have also created new uses for CAD in the area of tissue engineering.
Landscapers often use CAD software to create their outdoor creations and determine the best placement for various landscaping components including trees, gardens, fences and more!
The Importance of CAD in Product Development
As you'll learn in online drafting courses, CAD and CAM have enabled designers and manufacturers to reduce the time new products get to market, and reduce the number of design flaws which affect productivity.
The history of CAD essentially began in the mid-1940s when various developments were made in computer software. However, since the 1980s, CAD and CAM have provided enormous gains to both the quantity and quality of products.
Some of the advantages of CAD include the ability to:
reduce design cycle times
design a complex machine without the need to prototype
prototype parts directly from a CAD model
reduce low-cost design iterations rapidly
alter the designs quickly by changing geometrical parameters
view designs or parts under a variety of representations
virtually simulate real-world applications
CAM is the use of CAD data to control automated machinery for producing parts designed using CAD. The benefits of linking part-fabrication directly to the CAD model include:
Case Study: How Boeing Set the Standard for Design Automation
Boeing is among the largest global aerospace manufacturers and the third-largest defence contractor in the world. Founded in 1916, CAD has played a major role in their product development planning and operations.
In the late 1980s, Boeing announced the development of the Boeing 777, a long-range wide-body airliner and the world's largest twinjet. However, many aviation experts questioned this decision as it would be a highly expensive task and the Boeing 747 models had been adequately serving customers for over 30 years. Their opinion was that the best solution was to modify the 747 to suit passenger needs. However, Boeing applied a new approach that included customer input in the design phase from several major airlines including United Airlines, Cathay Pacific, British Airways, Japan Airlines and Nippon Airways.
They also invested over $1 billion in design automation to design the new airliner using CAD based on Computer Aided Three-dimensional Interactive Application (CATIA) and Finite Element Analysis System (ELFINI) software packages. Both were developed by Dassault Systemes of France.
Boeing applied the following objectives to guide their break-through process:
Reduce aircraft development time significantly.
Maximise efficiency and quality.
Eliminate costly modification procedures.
Meet customer requirements better by involving them in the development process.
As a result, the Boeing 777 was the first aircraft in the world to be designed entirely using CAD technology, a design which included over three million parts! The innovative features of the design process and the company's approach to manufacturing became the "Gold Standard" for the development of future aircraft.
Although the design was completed at a time when CAD was not linked directly with FEA and CFD modelling software, the effort has still been widely accepted as one of the greatest uses of CAD of its time.
The design was executed so successfully that a full-scale mockup of the Boeing 777 was never built and wasn't necessary. In fact, its first flight was so successful that the design was considered one of the smoothest and most seamless to date. By using CAD models, design engineers were able to provide "built in" options (such as wing tips), which did not need to go to production. This meant costs associated with its design were substantially minimised.
Gain a foundational understanding of the principles and processes of CAD for entry-level roles or to pursue further studies in this field with online drafting courses such as our Introduction to Computer Assisted Design (CAD).
https://www.australianonlinecourses.com.au/wp-content/uploads/Computer-assisted-design.jpg
427
640
Haley Williiams
https://www.australianonlinecourses.com.au/wp-content/uploads/AOC_logo.png
Haley Williiams
2022-05-31 14:39:06
2022-05-31 14:39:06
Online Drafting Courses Will Automate Your Career Aspirations