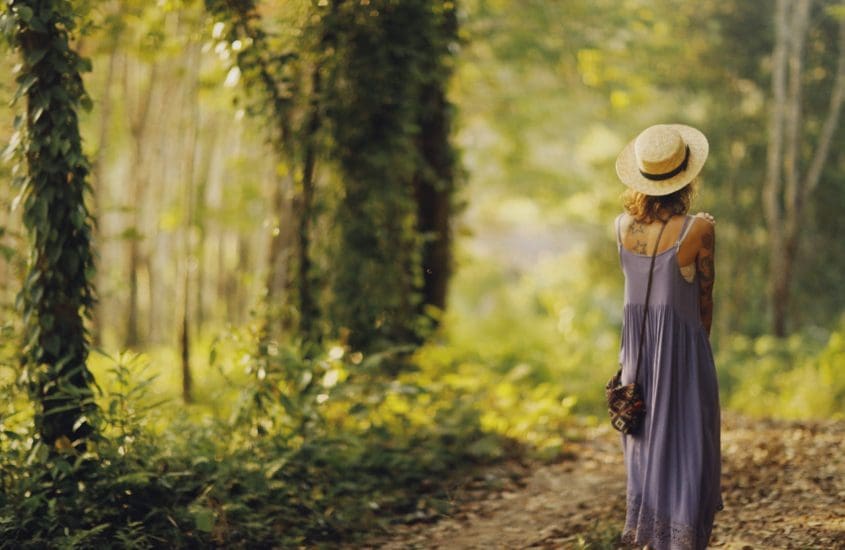 How Nature Therapy Courses Enhance Treatments!
Nature is the ultimate healer. There are many studies that show spending time in nature boosts our mental and physical wellbeing. This course is ideal for anyone who wants to integrate the power of nature into their professional practice.
Our Certificate of Ecotherapy is an online professional development course that explores the full range of practices linked to ecotherapy and the psychological and physical health benefits.
In this nature therapy course, you'll also gain insight into the evolution of ecotherapy and ecological theories that will help you combine nature into your professional, holistic or self-care therapies.
Learning Outcomes
Outcomes achieved if you study our nature therapy course include:
Understand how ecotherapy can be used alongside other therapies ecotherapy?
Mental health interventions
Benefits of nature on wellbeing
Ecotherapy settings
Useful terminology in ecotherapy
Ecological theories
Problems associated with built environments
Models underpinning ecotherapy
Nature and mental health research
Necessity of direct contact with nature
Ecotherapy clients
General wellbeing benefits
Psychological benefits
Physical benefits
Understanding the body's responses to stress
General barriers to getting involved in ecotherapy
How to overcome these barriers
Ecotherapy for mental disorders
Ecotherapy for physical conditions
Specific issues
Intake Assessment & ecotherapy resources
Interviewing potential clients
Interviewing techniques
Determining suitability
Background history
Choosing ecotherapy environments
Environment-based ecotherapy
Using the environment
Types of environment activities
Conservation projects
Wilderness therapy
Forest bathing
Breathing and relaxation exercises
Other outdoor activities
Plant-based ecotherapy
Physical ecotherapy activities
Psychological ecotherapy activities
Fascination therapy
Adventure therapy
Horticultural therapy
Using all the senses in ecotherapy
Animal-based ecotherapy
Bird watching
Pet therapy
Equine assisted therapy and horse riding
Animal habitats
Care farming and therapeutic farm activities
Interacting with wildlife
Indoor ecotherapy and applications of ecotherapy
Ecotherapy applications in workspaces
The power of photographs and therapeutic photography
Growing at home
Fresh flowers in the home or ecotherapy space
Touching nature
Arts and crafts
Creating nature indoors
Pets and animals indoors
Creativity based ecotherapy
Therapeutic photography
The benefits of creative therapies
Writing therapy
Art, music, drama and dance therapy
Holistic wellness incorporating ecotherapy
Walking, relaxation and mindfulness
Counselling in nature
Combining ecotherapy with other modalities
Connection with nature
And more!
What is Forest Bathing?
Forest bathing, also known as forest therapy, basically means immersing all of the senses in the 'forest' environment. It's more than a walk in the woods. Rather, it's the conscious and contemplative practice of being completely immersed in the sights, sounds and smells of the forest.
Forest bathing was first developed in Japan in the1980s. And with a growing body of scientific literature on the diverse benefits of forest bathing it was later added to the country's national health benefits.
Health Benefits of Nature Therapy – Research
Research suggests that there is a link between nature therapy and improved physical and mental health, including faster recover, pain reduction and improved resilience, recovery of PTSD, nervous system disorders and overall wellbeing.
Physical Health
Research demonstrates that patients recovering from surgery show increased recovery rates when they have a view of nature through their windows verses no nature or no natural view. Additionally, patients with flowering plants and foliage in their hospital rooms recovered faster, required less post-op medications and had more positive physiological responses.
Mental Health
Anxiety was shown to be reduced in patients with a view of nature from their hospital bed while recovering from surgery. And even an indoor plant in hospital showed benefits with patients enjoying enhanced recovery of their mental health
Researchers also noted brain activity measurements in healthy adults non-stressed adults and found that viewing nature increased serotonin (our body's feel-good hormone). Furthermore, nature also stimulated positive thinking and reduced aggression and post-stress anger.
Pain Reduction
Nature therapy also boosts pain thresholds in patients. Specifically, patients exposed to sounds and scenes of nature reported significantly enhanced levels of perceived pain control. Further, in an experiment where healthy participants had pain induced, exposure to a video of natural scenery increased pain tolerance and threshold. Interestingly, sunlight resulted in reduced pain, stress, use of painkilling medication and the overall costs of pain medication in hospitalised patients.
Resilience
A review of studies demonstrated that children who live in rural areas were more likely to have greater resilience to stress. The children also had higher levels of self-worth, concentration and cognitive ability. It's seems that time spent outdoors also promotes creativity and strengthens these children's sense of self, the review authors note.
Post Traumatic Stress Disorder
A 2017 review highlights the potential benefits of nature therapy for symptoms of PTSD, particularly for those who have difficulty following other treatment programs or find them unhelpful.
Nervous System Recovery
Research suggests that when you're exposed to stress, the sounds of nature may help your nervous system recover faster than sounds of traffic and other common city noises.
Improved Wellbeing
A 2020 review suggests that gardening at home can promote emotional well-being. Additionally, research supports the benefits of gardening for patients at a psychiatric hospital. Patient outcomes included better moods, increased calm, feelings of belonging, and a deeper understanding of their mental health.
18 Awesome Facts About Nature Therapy
You'll learn so much about ecotherapy in our nature therapy course, but here are a few interesting facts about how nature can heal!
Spending at least 120 minutes per week in nature is associated with good health and wellbeing!
People who practice forest bathing have optimum nervous system functions, well-balanced heart conditions and reduced bowel disorders.
Outdoor activities reduce the changes of developing eyesight disorders like hypermetropia and myopia according to an Australian survey that was conducted on school-aged children.
Studies have connected nature experiences to lower BMI.
People who exercise outdoors feel less fatigued and are less likely to be obese.
At Earth's heart, there is an inner core, which is a sold sphere of iron and nickel that's 1,200 kilometres wide and as hot as 5426 degrees Celsius.
Forest bathing research is suggesting that frequent nature walks may stimulate the production of anti-cancer proteins to help fight terminal illness.
Nature can help regulate emotions – a study on cognitive benefits of nature found people who walk in nature performed better on memory tests than those in urban environments.
Recent research is showing that being outdoors reduces the stress hormone cortisol.
Problem solving ability and creativity improves when you spend more time outdoors according to one university study.
Staying close to nature improves hypertension, cardiac illness and chronic pain.
Nature therapy enhances emotional wellbeing and can alleviate feelings of social isolation.
The natural environment can help those with mental health conditions like attention and mood disorders and anxiety.
Children who are educated outdoors are more satisfied and emotionally well-balanced and their teachers also enjoyed better mental health and enjoyed their jobs according to a thesis by David Hayward.
Climate can affect personality! In fact, a study has shown that those who live in moderate climates (22 – 24 degrees) score higher on personality traits such as sociableness, openness, extraversion and agreeableness.
Nature friendly urban settings promotes social connections and interpersonal communication.
Older people who have access to green parks feel more positive and hopeful.
Nature therapy works to release toxins from the body as the natural environment is a natural purifier!
Discover how to harness the amazing physical and mental health benefits of therapy in nature with a nature therapy course like our Certificate of Ecotherapy.
https://www.australianonlinecourses.com.au/wp-content/uploads/certificate-of-ecotherapy.jpg
853
1280
Haley Williiams
https://www.australianonlinecourses.com.au/wp-content/uploads/AOC_logo.png
Haley Williiams
2021-09-02 16:42:04
2021-09-02 16:42:04
How Nature Therapy Courses Enhance Treatments!