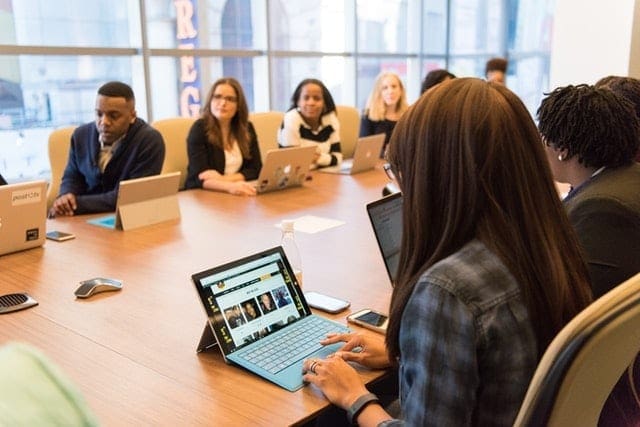 Managing Diversity in the Workplace (What's Your Unconscious Bias?)
Managing diversity in the workplace is crucial to increasing inclusivity, which leads to greater success in today's complex, global business environment.
In fact, the business case for diversity is convincing with far-reaching benefits for the culture of an organisation as well as a stronger competitive advantage.
Unfortunately, many businesses find it difficult to overcome one of the most significant barriers to a more diverse and inclusive workplace – unconscious bias.  
So, let's take a look at diversity, inclusivity, unconscious bias – and what this all means for the future of business.
What is Diversity?
 A diverse workplace is one that employs a wide range of people with a variety of differences in gender, sexual orientation, age, religion, race, ethnicity, cultural background, education, and ability. 
 While not an extensive list, as many differences make us unique (from the way we think to our values), these incorporate the most apparent differences and the ones that can lead to unconscious bias. 
 Managing diversity in the workplace well leads to inclusivity. An inclusive workplace, where everyone feels acknowledged and valued, represents another essential cultural and organisational advantage. 
What is Inclusion?
The Diversity Council of Australia (DCA) states that inclusion occurs in the workplace when a diverse range of people feel valued and respected, have access to opportunities and resources, and can contribute their perspectives and talents to improve their organisation.
Fiona Krautil, Founder & Principal Consultant, Diversity Know-How, says research continues to demonstrate that managing diversity in the workplace leads to:
Employee engagement 

Job satisfaction 

Staff retention

Employee wellbeing

Effectiveness 

Innovation 

Service delivery 

Organisation performance and ROI

Reduction in risk, unlawful behaviour, harassment and discrimination.
Tips for Managing Diversity in the Workplace 
Businesses can incorporate diversity and inclusivity in the workplace by educating, empowering and encouraging leaders and employees, explains Ms Krautil.
"Encourage the senior leadership team to identify and collectively share their diversity and inclusivity case change. 
"So, why does diversity and inclusivity matter to the organisation's performance? Then develop a change-maker plan, and collectively lead the diversity and inclusivity agenda." 
It's also essential to educate and empower people to co-create a more inclusive culture by asking them to:
Educate others – ask for reasons behind people's opinions when you suspect more assumption than fact
Change it – critically review processes and systems for bias which may be causing exclusion, disadvantage or limiting the talent pool
Call out bias – call out bias behaviours or stereotyping and expose the blind spot to educate and inform
Identify hot spots of innovative diversity and inclusivity practice in the organisation – that can then be scaled
Pilot more inclusive ways of working that can be scaled. 
It's also critical to set diversity and inclusivity cultural expectations and consequences, explains Ms Krautil, to hold leaders and teams accountable through KPIs. So, set measurable milestones and track progress.
"Remember, the research evidence shows if we don't consciously include, we will unconsciously exclude as our human brain is hardwired to see a difference as a danger," says Ms Krautil.
Strong Business Case for Diversity 
Employers have a responsibility to ensure they're not discriminatory, but managing diversity in the workplace also makes good business sense. 
The DCA, states that managing diversity in the workplace leads to improvements in organisational performance, effectiveness, profitability and revenue generation:
A workplace that values diversity and is free of discrimination and is more productive

Greater employee satisfaction leads to improved productivity and profitability

Reduced employee turnover cuts the cost of having to replace skilled and experienced people

Harnessing employee skills and perspectives increases creativity and innovation.
Barriers to Managing Diversity in the Workplace
So, how do you ensure you're managing diversity in the workplace well? The first step to diversifying your workplace and encouraging inclusivity is to confront and change your unconscious bias.
It is only when we identify the unconscious bias that we can begin to see meaningful change within an organisation's culture that leads to inclusivity. 
It is crucial to identify any unconscious bias before recruitment, so leaders are deliberately creating a diverse workforce. 
If workplace diversity and inclusivity is important to your organisation or your role within a company, consider how you're managing diversity in the workplace. 
Engaging in diversity training to overcome unconscious bias is the first step that individuals and organisations can take to ensure diversification and inclusivity is on the agenda. 
https://www.australianonlinecourses.com.au/wp-content/uploads/Diversity-in-the-workplace.jpg
427
640
Australian Online Courses
https://www.australianonlinecourses.com.au/wp-content/uploads/AOC_logo.png
Australian Online Courses
2019-11-07 00:00:00
2021-07-12 14:43:45
Managing Diversity in the Workplace (What's Your Unconscious Bias?)