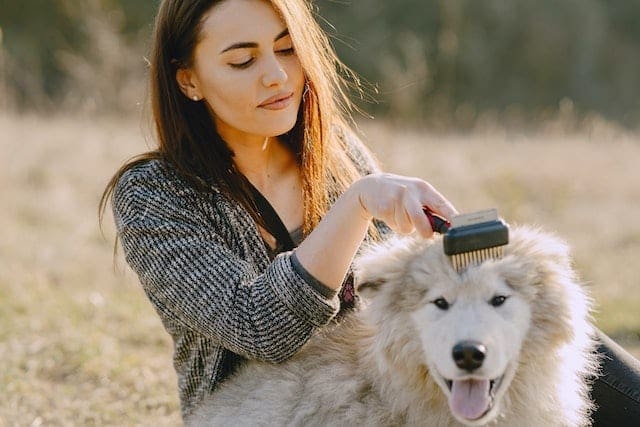 Learn What Makes Dogs Tick With Our Animal Care Courses!
Our Certificate of Dog Care is ideal for all 'dog people', whether you own or are looking to buy or adopt a dog, or you work as a groomer, carer, walker, trainer or animal handler.
It will teach you about basic dog care, how to select the right dog for you, and how to groom and work with dogs. You'll also learn about dog health, the biology of dogs, dog psychology, and the features and personalities of the various dog breeds. Woof! ­ 
Learning Outcomes
Outcomes achieved by undertaking animal care courses include:
Learning about what dogs need — food, water and exercise
Exploring the importance of hygiene and routine
Studying a dog's uncertainty about pack position
Gaining insights into why dogs escape
Understanding who dogs attack other people and animals
Learning what breed is best when choosing a dog
Exploring how to socialise and train dogs
Studying canine biology — their mouths, teeth, eyes and ears
Understanding canine anatomy and normal physiological values
Learning about the canine skeletal, digestive, respiratory and circulatory systems
Understanding thermoregulation
Exploring canine nutrition — fats, proteins, minerals, vitamins and carbohydrates
Studying the nutritional requirements of different periods — high performance, pregnancy and geriatric
Understanding allergies, poisoning, immunisation and worm, tick and flea prevention
Learning about dental, skin and nail care
Exploring basic first aid equipment and what to do in an emergency
Studying canine diseases and illnesses and treatment
Examining haemobartonellosis, babesiosis and Von Willebrand's Disease
Understanding aaortic stenosis, heart failure, heart murmurs and arrhythmias
Learning about hypertension, heartworm, vomiting, diarrhoea and giardia
Exploring intestinal worms, enteritis, IBD, diabetes mellitus and Cushing's Disease
Studying hypothyroidism, eclampsia, glaucoma, ear mites, anaphylactic shock and lupus
Gaining insights into osteoarthritis, canine degenerative myelopathy and canine distemper
Examining kennel cough, asthma, mange and ringworm
Gaining insights into the different dog breeds
Learning about German Pointers, Golden and Lab Retrievers and English and Irish Setters
Exploring Cocker Spaniels, Hungarian Vizslas, Beagles, Dachshunds, Greyhounds and Bassett Hounds
Studying Irish Wolfhounds, Australian Cattle dogs, Border Collies, German Shepherds and Corgis
Discovering Old English Sheep Dogs and various types of terriers
Gaining insights into Chihuahuas, Bichon Frisés, Pugs, Pomeranians and Cavalier King Charles Spaniels
Examining Dalmatians, Poodles, Schnauzers, Shih Tzus, Alaskan Malumutes
Understanding Great Danes, Mastiffs, Newfoundlands and St Bernards
Examining sexual behaviour and the male and female reproductive systems
Understanding de-sexing, neutering, spaying and castrating
Learning about pregnancy, parturition (labour) and birth
Exploring suckling, weaning and puppy development
Studying the canine breeding industry including illegal enterprises
Gaining insights into legislation and licensing
Examining dog behaviour and the importance of training
Learning about practical training techniques — sit, leave, lay, heel etc.
Exploring the attributes of successful dog trainers
Studying how to launch a start-up business
Gaining insights into grooming including tools and equipment
Understanding what to groom, why and how
Learning how to groom skin, hair, claws, teeth and ears
Exploring grooming in short and long-haired dogs
Studying the styles and clips involved in grooming
Gaining insights into health and training and related services
Examining assistance, daycare and long term stay services
Understanding professional dog handling 
And more!
2020's Top Dog Breeds
According to Australian Dog Lover magazine, the top 20 dog breeds this year are comprised of mixed and pure-bred dogs of all shapes and sizes. From well-known larger breeds like the German Shepherd to the smallest of dogs like the Miniature Dachshund, many of these you'll get to know well when you study animal care courses.
Cavoodle
Maltese-Cross
Labrador
Staffordshire Bull Terrier
Golden Retriever
Border Collie
German Shepherd
French Bulldog
Kelpie Cross
Labradoodle
Cavalier King Charles Spaniel
Spoodle
Jack Russell Terrier Cross
Miniature Dachshund
Staffordshire Bull Terrier Cross
Border Collie Cross
American Staffordshire Terrier
 Golden Doodle (Groodle)
Jack Russell Terrier
Pug
The World's Oldest Dog
The oldest dog ever verified was an Australian Cattle Dog named Bluey, according to the Guinness World Records. Born in 1910, he was owned by Esma and Les Hall of Rochester in Victoria and when he died in 1939, was 29 years and 5 months old (that's over 130 years old in human years!)
This feat prompted a 100-dog study of Australian Cattle Dogs to determine if the breed may have exceptional longevity. It concluded that while the breed does live almost a year longer than most other breeds in the same weight and class, Bluey was considered an exception. What a legend!
40 Amazing Facts About Dogs
Historians believe modern domesticated dogs evolved from a now-extinct population of wolves that inhabited the earth 27,000 to around 40,000 years ago. These days, man's best friends continue to delight and amaze us and studying animal care courses will make this all-too-obvious. Here are some reasons why …
The tallest dog breeds are the Great Dane and Irish Wolfhound.
The tallest dog in the world was over 1.1 metres tall when measured in 2011. He was a Great Dane named Zeus.
The smallest dog breeds in the world are the Toy Poodle, Yorkshire Terrier and the Chihuahua.
The heaviest dog breed in the world is a St. Bernard.
The Greyhound is the fastest dog in the world and can run at over 70 kilometres an hour.
The most intelligent dog breeds are believed to be the Poodle, Border Collie and Golden Retriever.
Dogs can register sounds of 35,000 vibrations a second (compared to 20,000 in humans).
Their sense of smell is around 100,000 times better than humans.
Their sweat glands are between their paw pads.
Dogs can smell feelings — when a human is fearful, they sweat, and a dog picks up on this change.
They take between ten to 30 breaths a minute (compared to 12 to 20 in humans).
Dogs have twice as many muscles in their ears compared to humans.
They have a visual field of vision of around 250 degrees (compared to a human's 180 degrees).
Dogs have three eyelids – a lower and upper eyelid and a third hidden between them.
They can see in colour but not as vividly as humans – it's more like our vision at twilight.
Dogs have better low-light vision than us because of a light-reflecting layer behind their retinas.
They have fewer taste buds us – we have around 9000 compared to their 1700.
Dogs don't have an appendix, however they have small pouch called a cecum or caecum that is similar.
Their wet noses help them absorb scent chemicals. When they lick their nose, it helps them understand what smells are.
A dog's nose prints are as unique as our human fingerprints.
The word 'puppy' is derived from the French word 'poupee', which means doll.
Puppies are born deaf and blind — they begin to hear and see around two to three weeks of age.
They are also born toothless and around four to eight weeks of age develop 28 baby teeth.
After four to seven months, puppies lose their baby teeth, and grow 42 permanent teeth.
When Dalmatian puppies are born they are pure white — they develop their spots as they grow older.
When dogs put their tails between their legs when frightened, it's the equivalent of humans hiding their face with their hands.
Turning in circles before lying down is instinctual and in the wild, it would be to turn long grass into a bed.
Curling up in a ball when they sleep is also instinctual and is done to keep them warm and protect vital organs.
Dogs actually have a sense of time, know the difference between one hour and five, and can predict future events (like walk time).
They are about as smart as a two-year-old child and can understand around 250 words and gestures.
Dogs can be trained to detect cancer and other diseases in humans because cancer cells smell different.
They can also be trained to detect epileptic seizures.
Leaving your dog with a well-scented piece of your clothing can help relieve separation anxiety.
Dogs genuinely get jealous — especially if they see you displaying affection to another creature.
They are particular about where they do their 'business' because they prefer to poo in alignment with the Earth's magnetic field.
Guide Dogs are trained to do their 'business' on command so their owners can clean it up more easily.
Patting a dog and looking into their eyes releases the 'love hormone' (oxytocin) for both you and them.
Three dogs survived the sinking of the titanic — a Pomeranian, a Newfoundland and a Pekinese.
The Bible mentions dogs 14 times.
At the end of the Beatles' song 'A Day in the Life', Paul McCartney recorded a high-pitched dog whistle for his beloved sheepdog.
Learn how to choose, groom, care for and understand man's best friend a little better with our Certificate of Dog Care.
https://www.australianonlinecourses.com.au/wp-content/uploads/Certificate-of-Dog-Care-.jpg
427
640
Australian Online Courses
https://www.australianonlinecourses.com.au/wp-content/uploads/AOC_logo.png
Australian Online Courses
2020-09-29 14:43:20
2020-09-29 14:49:03
Learn What Makes Dogs Tick With Our Animal Care Courses!