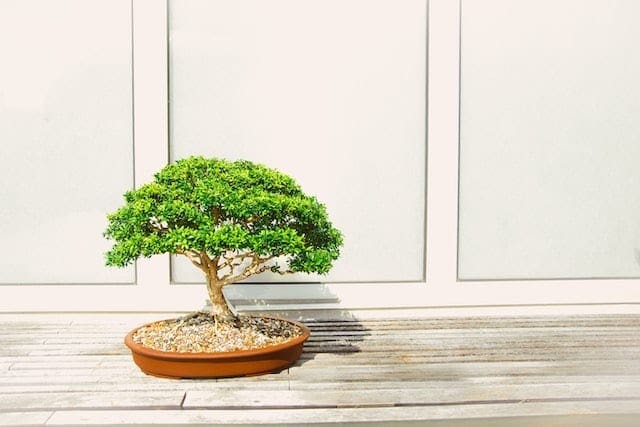 Learn the Art of Bonsai for Beginners!
Bonsai growing often starts as a passionate hobby, only to become a more serious endeavour. In fact, small backyard bonsai collections have been known to grow into lucrative part-time businesses!
Bonsai Trees for Beginners is a comprehensive course that will teach you the cultivation techniques, such as pruning, root reduction, potting, defoliation, and grafting, to produce miniature trees that resemble the shape and scale of their full-size counterparts!
In this bonsai trees for beginners course, you'll gain the knowledge and skills to propagate, grow, maintain, and style bonsai trees, as well as tips on landscaping and a history on this fascinating horticultural art! It's sure to open up possibilities to expand your hobby, inspire your business or a start a green career!
So, whether you're a passionate amateur, a professional gardener, or plan on operating your own bonsai nursery, this course is ideal for you!
Learning Outcomes  
Outcomes achieved by undertaking this bonsai trees for beginners' course include:
Demonstrate knowledge of the plant kingdom, an understanding of the taxonomic hierarchy, and an appreciation of the types of plants suitable for bonsai.
Understand the methods of propagation used in bonsai.
Learn the species of plants most suited to bonsai.
Discover a range of bonsai styles and techniques used to achieve them.
Understand the process of creating bonsai.
Appreciate the basics of thriving bonsai culture.
Recognise landscape design principles to create bonsai landscapes better.
Research a particular aspect of bonsai of interest to the student.
Learn to create different styles of bonsai.
Choose suitable plants, train and maintain them to produce a work of living art.
Study the styles and techniques for pruning and training used to create bonsai plants
Learn to identify more plants, and to select specimens suited for creating bonsai
And more…
A Brief History of the Bonsai Tree
The word bonsai is a Japanese word that translates to 'planted in a container,' but while bonsai has a strong connection with Japan, the tree was originally from China over a thousand years ago
In China, the creation of tiny trees in pots is referred to as penzai. Many myths and legends are surrounding the emergence of the bonsai tree. One legend tells the story of a Chinese emperor who created a landscape in a courtyard that represented his entire empire. Another legend is about a 4th-century Chinese poet who grew chrysanthemums in pots as a hobby in retirement.
It is believed that bonsai began in China by the year 700 AD, and was then introduced to Japan during the Kamakura period (1185 – 1333). It is at this time when Japan adopted most of China's cultural trademarks.
Buddhist monks were actually the ones who brought the ancient art of bonsai to Japan. In the beginning, bonsai was a wealthy pastime. But after the Chinese invasion of Japan in the 14th century, the art of bonsai was for everyone.
5 Bonsai Trees Over 500 Years Old!
So, these beauties aren't for the faint-hearted. They've been around for centuries and are in the expert care of bonsai masters. But if you're looking for a bit of inspiration – this collection will do nicely!
Sandai Shogun no Matsu – Age 500 years
This Tokugawa's pine is located in Tokyo, Japan and is Japanese royalty! There have been many emperors in possession of this precious bonsai, which is one of the world's oldest living bonsai trees. You can find it at The Tokyo Imperial Palace.
Red Pine Bonsai – Age 600 years
This red pine bonsai tree is found in Atami, Japan. It's also one of the biggest bonsais in the world, standing at almost 5 metres tall. You'll find this giant bonsai at the Akao Herb and Rose Garden.
Bonsai Tree at Shunka-en – Age 800 years
A stunning tree displayed at Shunka-en in Japan is tended by Japanese bonsai artist and master Kunio Kobayashi. It's one of the world's most expensive bonsai trees, estimated to be worth over a million dollars!
Ficus Retusa Linn Bonsai – Age 1,000 years
Proudly displayed as the centrepiece of the Crespi Bonsai Museum in Milan, Italy, this fiscus is over 1,000 years old! It is thought to have originated in China before being brought to Italy in 1986 by Luigi Crespi.
Juniper Bonsai Tree – Age 1,000 years
This ancient bonsai is located the Omiya Bonsai Village in Japan and is owned by the Kato family. It was collected from the wilds of Japan and is believed to be over 1,00o years old.
Best Australian Trees for Bonsai
If you want to create a uniquely Australian bonsai, why not cultivate one of our own native trees! These species of tree are well suited to bonsai.
Coast Bankia – This is a large coastal tree that adapts well to bonsai with leaves compacting down to about two-thirds and bark that becomes corky with age.
Bottlebrush – This beautiful red flowering tree makes a popular choice as a bonsai.
Moreton Bay Fig – Also known as the Australian banyan, this large evergreen tree of the family Moraceae is native to eastern Australia and is majestic as a bonsai.
Many other natives make exceptional bonsais – so do your research and learn as much as you can to create a living art piece. It's a hobby that creates a legacy and one you can gift for generations!
Learn the art and ancient craft of bonsai trees for beginners. Enrol in our Bonsai Trees for Beginners online course today!
https://www.australianonlinecourses.com.au/wp-content/uploads/Bonsai-tree.jpg
427
640
Haley Williiams
https://www.australianonlinecourses.com.au/wp-content/uploads/AOC_logo.png
Haley Williiams
2020-11-11 13:57:49
2020-11-11 13:57:49
Learn the Art of Bonsai for Beginners!