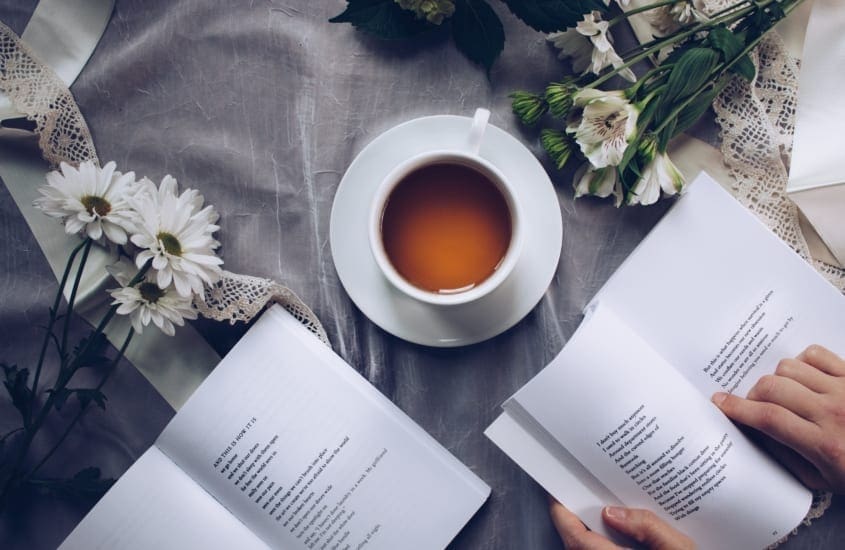 Is Poetry Your Passion Project? Discover the Certificate of Poetry.
If you love poetry, an online poetry course will help you with your passion project! Whether you want to write poetry or understand poetry, this course teaches you the technical aspects of the art.
Throughout this online poetry course, you'll grow in confidence, not only to critique poetry but also to write professional poetry. So, if you have always dreamed of entering poetry competitions or submitting work for publication, this is your chance to shine.  
Whatever your motivation for exploring poetry, this course will inspire your creativity and shape your technique to write different styles of poetry. 
You'll also explore the works of famous poets, discover the nature and scope of poetry, and how to use poetic devices in your writing. You will learn about writing resources, industry sources and the crucial steps involved in getting your work published. 
Who Benefits from This Course? 
Anyone interested in writing poetry or poetry analysis.

Writers seeking to improve their prose or develop a lyrical voice and/or tone.

Children's writers – to understand rhyming schemes and how to implement rigid or flexible structures in children's writing.

Writers wanting to develop or enhance their creative process.

People looking to engage in reflection, meditation, and healing through writing.
Learning Outcomes 
Discover how to write all types of poetry – serious, witty, funny, and so on.

Develop your ability to write and understand different styles of poetry.

Explore how you can use poetry – at home, at work, for relaxation.

Understand sound, including the study of rhythm and stress.

Recognise different types and structures of poetry.

Appreciate how to listen to self and engage in creative ideation and reflection.

Draw inspiration from everyday events using techniques such as defamiliarisation.

Develop your individual voice

Self-discovery. 
8 Types of Poetic Form 
Writing poetry is an art, and from sonnets to haikus and villanelles, there are many different types of poetry to master. 
Narrative Poetry 
A narrative poem tells a story through verse. This form of poetry often includes a narrator, characters, plot and setting – much like a novel or short story. Narrative poems often use rhyme, meter, repetition, and an enchanting and dramatic story to capture attention.
A famous example of a narrative poem is Annabel Lee, by Edgar Allen Poe.
 'Annabel Lee' by Edgar Allan Poe  
 It was many and many a year ago,
In a kingdom by the sea,
That a maiden there lived whom you may know
By the name of Annabel Lee;
And this maiden she lived with no other thought
Than to love and be loved by me.
I was a child and she was a child,
In this kingdom by the sea,
But we loved with a love that was more than love—
I and my Annabel Lee—
With a love that the wingèd seraphs of Heaven
Coveted her and me.
Haiku 
The Haiku is a Japanese poem consisting of three short lines – the first and third line has five syllables, and the second line has seven syllables. Traditionally, a haiku doesn't use rhyme, but the subject is always a juxtaposition of nature and human nature. 
'Lighting One Candle' by Yosa Buson 
The light of a candle
Is transferred to another candle – 
Spring twilight 
Sonnet
Writing poetry is one of life's love languages, and arguably one of the most romantic styles of poetry is the sonnet. Sonnets are Shakespeare's most famous works, think Sonnet 18 (Shall I compare thee to a summer's day). The sonnet consists of fourteen lines using any number of formal rhyming styles. Conventionally, sonnets have ten syllables per line and use iambic pentameter. 
Sonnet #18 by William Shakespeare 
Shall I compare thee to a summer's day?
 Thou art more lovely and more temperate:
 Rough winds do shake the darling buds of May,
 And summer's lease hath all too short a date:
 Sometime too hot the eye of heaven shines,
 And often is his gold complexion dimmed,
 And every fair from fair sometime declines,
 By chance, or nature's changing course untrimmed:
 But thy eternal summer shall not fade,
 Nor lose possession of that fair thou ow' st,
 Nor shall death brag thou wander' st in his shade,
 When in eternal lines to time thou grow' st,
 So long as men can breathe, or eyes can see,
 So long lives this, and this gives life to thee.
Ode 
An ode is a literary technique that is lyrical and typically celebrates a person, place, idea or object. Odes are generally rhyming with an irregular meter and are broken into three to five stanzas (paragraphs of poetry).
'Ode to Silence' by Edna St Vincent Millay
Aye, but she?
Your other sister and my other soul
Grave Silence, lovelier
Than the three loveliest maidens, what of her?
Clio, not you,
Not you, Calliope,
Nor all your wanton line,
 Not Beauty's perfect self shall comfort me
For Silence once departed,
For her the cool-tongued, her the tranquil-hearted,
Whom evermore I follow wistfully,
Wandering Heaven and Earth and Hell and the four seasons through;
Thalia, not you,
Not you, Melpomene,
 Not your incomparable feet, O thin Terpsichore, I seek in this great hall,
But one more pale, more pensive, most beloved of you all.
Limerick 
A limerick is a comic, rhyming poem consisting of five anapestic lines. The first, second and fifth lines have seven to ten syllables, while the third and fourth lines have five to seven syllables. 
Othello by Williams Shakespeare 
 And let me the canakin clink, clink;
And let me the canakin clink
A soldier's a man;
A life's but a span;
Why, then, let a soldier drink.
Ballad
A ballad is a poem that tells a story, usually in four-line stanzas. The ballad is extremely diverse, and poems in this form may have many different rhyme schemes and meters.
Bridal Ballad by Edgar Allan Poe
 The ring is on my hand, 
And the wreath is on my brow; 
Satin and jewels grand 
Are all at my command, 
And I am happy now.
And my lord he loves me well; 
But, when first he breathed his vow, 
I felt my bosom swell- 
For the words rang as a knell, 
And the voice seemed his who fell 
In the battle down the dell, 
And who is happy now.
But he spoke to re-assure me, 
And he kissed my pallid brow, 
While a reverie came o'er me, 
And to the church-yard bore me, 
And I sighed to him before me, 
Thinking him dead D'Elormie, 
 "Oh, I am happy now!" 
Soliloquy
A soliloquy is a monologue and a literary device, often written in poetic verse, and is used to reveal the innermost thoughts of a character. It refers to the act of talking to oneself and denotes the solo utterance of actors in a drama.
Hamlet's Suicidal Soliloquy
"To be, or not to be, that is the question:
 Whether 'tis nobler in the mind to suffer
 The slings and arrows of outrageous fortune,
 Or to take Arms against a Sea of troubles,
 And by opposing end them: to die, to sleep
 No more; and by a sleep, to say we end
 the heart-ache, and the thousand natural shocks
 that Flesh is heir to? 'Tis a consummation
 devoutly to be wished. To die, to sleep,
 To sleep, perchance to Dream; aye, there's the rub, […]"
Villanelle 
A villanelle is a poem of nineteen lines that follows a strict form consisting of five three-line line stanzas, followed by one four-line stanza. Writing poetry in a villanelle form is notoriously tricky due to their strict structure and double refrain.
If I Could Tell You by W H Auden
Time will say nothing but I told you so,
Time only knows the price we have to pay;
If I could tell you I would let you know.
If we should weep when clowns put on their show,
If we should stumble when musicians play,
Time will say nothing but I told you so.
There are no fortunes to be told, although,
Because I love you more than I can say,
If I could tell you I would let you know.
The winds must come from somewhere when they blow,
There must be reasons why the leaves decay;
Time will say nothing but I told you so.
 Perhaps the roses really want to grow,
The vision seriously intends to stay;
If I could tell you I would let you know.
Suppose all the lions get up and go,
And all the brooks and soldiers run away;
Will Time say nothing but I told you so?
If I could tell you I would let you know.
Are you interested in learning more about writing poetry? Discover our online poetry course, The Certificate of Poetry. 
https://www.australianonlinecourses.com.au/wp-content/uploads/Cert-of-Poetry-blog-image-scaled.jpg
1365
2048
Haley Williiams
https://www.australianonlinecourses.com.au/wp-content/uploads/AOC_logo.png
Haley Williiams
2020-04-30 17:01:40
2020-04-30 17:01:40
Is Poetry Your Passion Project? Discover the Certificate of Poetry.