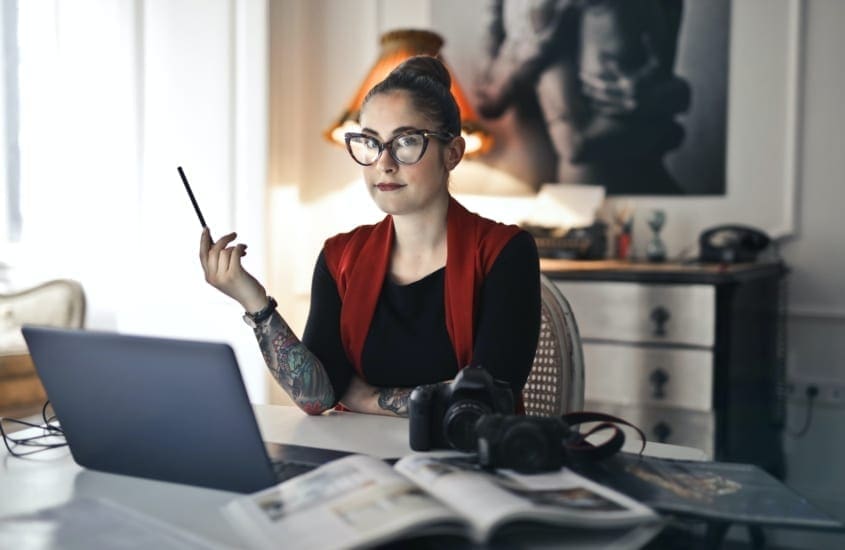 Ignite Your Passion for Writing With an Online Journalism Course! 
Ideal for anyone who loves the written word, this course will help you improve your writing skills, discover potential writing specialisations, and gain insights into how to achieve your ultimate career aspirations! From freelance writers after different writing techniques, editors wanting to attract new clients, or fiction authors who are keen to transition from one genre to another, online journalism courses can open up a world of possibilities for wordsmiths. 
Our Certificate of Journalism will teach you how to write manuscripts, books, advertising copy, bibliographies, columns, and newspapers and magazine articles, and get your work seen, acknowledged and even published by experts in the field! 
Learning Outcomes
Learning outcomes achieved by undertaking online journalism courses include: 
Exploring the categories of freelance writing

Uncovering the steps to getting started 

Understanding the necessary resources including the equipment you'll need

Learning how to research the market

Gaining insights into sources of information 

Discovering how to develop yourself as a freelance writer 

Exploring the various publishing options

Learning about industry terminology

Studying basic and essential writing skills

Exploring how to improve a piece of writing

Discovering the essential writing skills

Learning how to use informative, persuasive and imaginative language

Studying connotation and denotation

Examining literal and figurative language 

Gaining insights into formal and informal language

Learning how to clearly communicate 

Exploring how to make meanings clear

Studying ambiguity and causes of confusion 

Gaining an understanding of concise wording

Understanding how to condense your writing

Discovering in-concise writing

Gaining insights into phrases linked in a wordy fashion 

Learning about tautologies 

Exploring abstract nouns

Understanding when you've used too many words

Discovering ellipsis 

Examining active and passive language

Gaining insights into grammatical rules and errors 

Learning about the rules of speech

Exploring punctuation and spelling

Studying sentence structure and the types of sentences 

Understanding how to compose sentences 

Gaining insights into building a paragraph

Learning how to plan what you write 

Exploring conceptualisation 

Studying how to develop a concept 

Gaining an understanding of writing an outline synopsis 

Examining word budgets 

Gaining insights into writing structure 

Learning how to research

Exploring the writing process

Studying feature writing conventions and article structure 

Understanding an article's introduction, billboard paragraph, body, ending and closer 

Discovering references 

Learning how to establish a writing routine

Exploring the publishing world 

Studying how to contact publishers

Gaining insights into periodicals and books 

Examining a sample publisher's contract 

Learning how to protect your work

Exploring copyright 

Studying how to obtain income from writing

Understanding lending rights 

Gaining insights into manuscripts 

Learning how to prepare and present your manuscript

Exploring editing, self-editing and the editing process

Studying how to edit articles and manuscripts

Gaining insights into writing a sales package

Learning how to target reader synopsis

Exploring titles 

Studying the statement of objectives

Gaining an understanding of the publishing process

Examining presentation requirements

Learning how to submit your work

Exploring publishing processes for eBooks

Studying how to self-publish online

Gaining insights into newspaper writing 

Learning how to write news articles and investigate articles 

Studying how to write human interest and local newspaper articles 

Examining short features, fillers and regular columns 

Gaining insights into the interviewing process 

Learning how to plan interview questions and conduct an interview

Studying how to draw out interviewee answers and maintain note accuracy

Exploring magazine writing including articles

Examining what a publisher or editor considers 

Gaining insights into articles including feature and services articles 

Learning about travel writing

Studying how to conduct magazine interviews 

Exploring book writing including fiction

Learning how to write fiction including the plot, characterisation and setting

Examining fiction writing in terms of dialogue, conflict, structure and viewpoint

Gaining insights into your target audience 

Learning how to write with believability 

Studying textbooks and non-fiction books 

Gaining insights into fact-finding 

Discovering how to gain book contacts 

Learning about writing for advertising

Exploring PR writing including media releases 

Studying how to write promotional campaigns

Gaining insights into writing online advertising copy 

Exploring the concepts of selling, messages and effectiveness 

Studying the art of advanced freelance writing

Learning how to write and develop themes 

Exploring summary skills and sentence structure 

Studying how to write a regular column

Gaining insights into newsletter, columns and writing criticism journalism 

Learning about educational writing including interviewing skills 

Exploring scientific writing in terms of statistics and technical writing

Studying how to write a biographical story 

Gaining insights into research and developing a draft plan 

Learning how to write the final manuscript

Discovering how to write and analyse a news article 

Gaining an understanding of how to write for a sports event 

Studying how to write fiction in terms of category and mainstream writing

Exploring the characteristics of good fiction 

Learning how to write science fiction and TV and radio scripts 

Gaining insights into conducting a survey

Exploring journalism practice 

Studying how to work to specification on a problem-based learning project (PBL)

Examining the stages of a PBL 

Understanding how to write a PBL with consistency 

Gaining insights into a sustainable career in journalism 

Learning about publishing online including electronic publications 

Exploring digital online writing and the skills needed

Studying how to write and submit a digital article 

Gaining an understanding of legal changes and styling a digital article 

Examining digital writing in terms of main and chapter headers 

Learning how to set a task project and revise submitted work
Australia's Top 20 News Stories from 2019
One thing many great journalists seem to possess is the 'nose' for a good story. And according to a reader poll conducted by the ABC last year, there were some stories that, "for better or worse, you just couldn't scroll past". Undertake one of our online journalism courses and see if you can craft a better one in 2020! 
Morrison led the Coalition to victory in May after what was deemed a crushing defeat for Bill Shorten and the Labor Party.
An Australian man killed fifty-one people in two armed attacks on Christchurch mosques in March. PM Jacinda Ardern labelled the event 'one of New Zealand's darkest days'. 
Unprecedented bushfire conditions gripped NSW, and on one particularly challenging day in November, 300 new fires sparked across the state. 
A catastrophic fire engulfed the Notre Dame cathedral in Paris in April. It gutted and destroyed the landmark's spire and left French citizens stunned.
On Easter Sunday in April, bomb blasts at Sri Lankan luxury hotels and churches killed at least 200 people and injured more than 450.
Sparking what became the 'Egg Boy' phenomenon, a 17-year-old smashed an egg on Senator Fraser Anning's head as he spoke at a political meeting in March.
Many people struggle to accurately estimate how their income compares to other Australians, so this interactive tool attempted to determine how individuals fare. 
In August, a man went on a stabbing rampage that left a woman seriously injured in hospital. Members of the public apprehended him by' whacking' him with a chair.
In February, Australia's most senior Catholic cleric was convicted of sexually abusing two choirboys while he was the Archbishop of Melbourne.
A man who was recently released on parole killed four men and injured a woman when he went on a rampage across Darwin in June.
Staff at a hospital in Broken Hill assumed a teenager's painful knee was due to a sporting injury and sent him home. He died two days later of toxic shock from a deadly, flesh-eating disease.
Figures published in August revealed four elite private schools spent more money on new facilities than the poorest Australian schools combined. 
Rachel's believed her first real relationship was 'normal' until her boyfriend faked his own death. She realised the truth when she recognised him at a local restaurant.
During one of his live gigs, British stand-up comedian Ian Cognito joked to his audience, "Imagine if I died in front of you lot here". Sadly, he passed away minutes later from a stroke.
A murdered woman's former boyfriend was questioned about her disappearance in March. However, the case took an unfortunate turn when he died in what was believed to be a 'deliberate' car crash.
Domestic violence crimes involve more police resources than any other serious crime. In this story, the author spent time with two police on the frontline of this 'hidden' emergency.
The author spent time with girls and their dads and discovered that three things were raised repeatedly and backed by experts – including bonding on the sporting field.
Ash Barty livened up her Wimbledon press conferences in July with a number of references to Disney movies including The Little Mermaid, Toy Story and The Lion King.
In October, two young girls were found dead by police in their Perth home after neighbours raised concerns. Their mother was later arrested in connection with their deaths.
After an extended manhunt, Canadian police discovered the bodies of two teenagers who were suspected of murdering three people including a Sydney man.
2019 Walkley Award Winners 
Australia's annual Walkley Awards cover all media including TV, radio, print, photographic and online media. Here are a few of 2019's winners – the perfect inspiration for considering online journalism courses! 
Gold Walkley Award – journalists Patrick Carlyon and Anthony Dowsley for their reporting of the Lawyer X Informer Scandal for Victoria's Herald Sun.
Outstanding Contribution to Journalism – Sue Spencer – a pioneering documentary maker and executive producer of the ABC's Four Corners program for over seven years. 
Public Service Journalism – Mary Fallon, Anne Connolly and Patricia Drum – Four Corners/ABC TV/ABC Digital –Who Cares?
Short Feature Writing – Mick Barnes – Good Weekend/The Sydney Morning Herald – Counting Down the Days in God's Waiting Room
Sports Journalism – Nigel Gladstone and Malcolm Knox – The Sun-Herald, Caught Out: Cricket's Inflated Player Numbers Revealed
TV/Video News Reporting – Seven News Sydney, Sydney Stabbing Rampage
TV/Video Current Affairs – Dylan Welch, Janine Cohen, David Maguire, Suzanne Dredge – Four Corners/ABC TV – Orphans of ISIS
Scoop Of The Year – Al Jazeera Investigations Unit/Al Jazeera Media Network – How to Sell a Massacre
And finally, another great reason to contemplate online journalism courses … they'll teach you to write award-winning headlines as entertaining as this … 
Headline, Caption or Hook – Baz McAlister – The Courier-Mail – Halal… Is it Meals You're Sooking For?
Learn to write right in this highly competitive field! Our Certificate of Journalism will give you all the tools you need to conceptualise, write quickly and succinctly and access a wide range of useful industry contacts.
https://www.australianonlinecourses.com.au/wp-content/uploads/Cert-of-journalism-blog-scaled.jpg
1365
2048
Haley Williiams
https://www.australianonlinecourses.com.au/wp-content/uploads/AOC_logo.png
Haley Williiams
2020-05-12 14:02:49
2020-05-15 13:09:39
Ignite Your Passion for Writing With an Online Journalism Course!