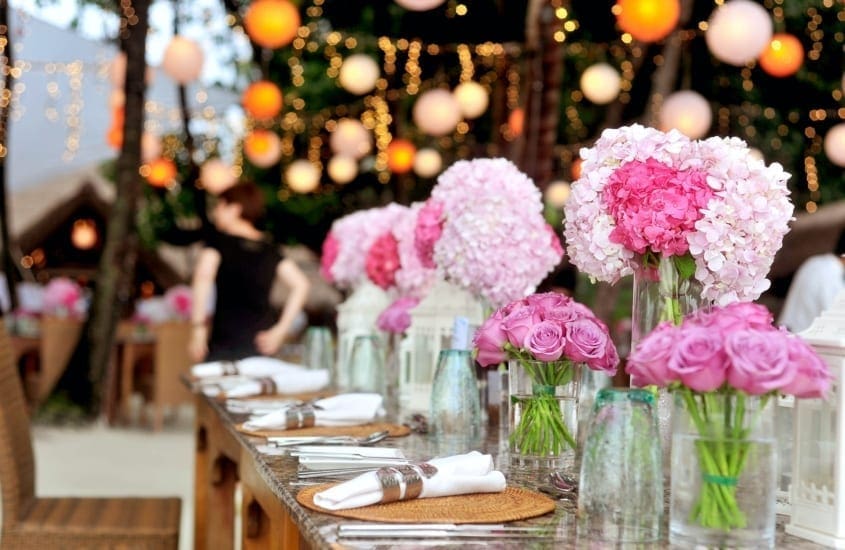 How to Become a Wedding Planner 
Before you consider how to become a wedding planner, think about why you want to study a wedding planner course. Is it to plan your own special day or that of a loved one? Or do you dream of starting an event planning business? Either way, wedding planning is equal parts art and business skill – it takes a special person to be a successful wedding planner.  
The Certificate of Wedding Planning will help you to develop and apply the talents you'll need to be a successful wedding planner. You will expand your organisational skills and technical knowledge necessary to organise and manage a significant social event.
In this professional development course, you will learn the fundamental skills required to work as a wedding planner or apply your skills to planning naming ceremonies, commitment ceremonies, renewal of vows and other significant life celebrations. 
On completion of this course, you will also have a strong foundation to pursue a host of event management and hospitality careers. 
Learning Outcomes
Outcomes achieved by undertaking a wedding planner course include: 
Describe the nature and scope of wedding planning and the wedding industry.

Present a client with options and facilitate critical decision making for a wedding.

Explain how to handle different personalities and the roles of various members of the bridal party.

Select and manage the use of appropriate locations for and associated with a wedding.

Develop a programme or schedule of activities and events associated with a wedding.

Manage those events within the time constraints of the established schedule.

Effectively control events on the day of a wedding.

Improve your ability to communicate with and assist the people who have employed you to manage a wedding to achieve the desired outcome.

Prepare to manage a wedding day, planning for all foreseeable and significant contingencies.

Establish and run a viable wedding planning service.

Run your own wedding planning business or plan your own wedding.

Learn procedures that will enable you to be highly organised.

Discover how to advise the bride and groom on the wide range of options available when planning a wedding style or type.

Learn about the tasks involved in managing a wedding event.
9 Essential Skills of a Wedding Planner
As a wedding planner, your primary role is to ensure that the wedding runs smoothly. As a result, you'll need certain traits such as sensitivity, creativity, excellent listening skills, a calm disposition and good attention to detail. Some of these skills can be taught in a wedding planner course, and others are in your nature. 
Sensitivity 

Wedding planners need to have a high degree of sensitivity to understand and meet the needs of the bride, bridegroom, and their families. It can be a delicate balance to keep everyone happy when it comes to highly emotional events like a wedding. Are you a sensitive person? Do you pick up on non-verbal cues? If so, this quality may make you a popular wedding planner – but don't let that high-sensitivity get to you. You'll also need a thick skin to deal with clients when they're emotions are running high!

Creativity

Creativity is an important attribute for any wedding planner, from what colours to theme a wedding reception to help the couple with their vows or wedding speeches. You'll need creative flair to put forward ideas to make the day as memorable and unique to the happy couple as possible.

Excellent Listening Skills

Listening to your clients will allow you to hear their ideas for the big day – and turn it into a celebration they're proud of. Listening skills do come naturally to some, but if you're not one of them don't despair – listening is also a skill that can be developed!

Calm Disposition

Being calm under pressure is a must in this business. Weddings are wonderful, but they're also stressful. This is particularly the case when you're in charge of how smoothly the event runs. So, you'll need to have a calm personality when working in such a high-pressure environment.

Good Attention to Detail

Just like creativity, attention to detail is a must for wedding planners who want to ensure their client enjoys a memorable event. Arguably, there's no more significant event in a couple's life than their wedding day. So, you'll need to be on the ball when it comes to the minor details that will make or break the big day.

Budgeting

The ability to work to a budget is one of the most important aspects of planning a wedding. After all, these are expensive events! You'll need to be able to find alternatives if the budget doesn't stretch to the expectations of the client!

Negotiating

Whether it's negotiating with the bride and groom on wedding decorations or trying to get the best price from suppliers, strong negotiation skills are a must.

Planning and Organising

Okay, this one is obvious– but the ability to manage your time, plan and organise down to the smallest detail and minute of a ceremony can make or break the happy couple's day. Make sure you have the best planning and organisation processes in place before you take on the role of a wedding planner. After all, 'planning' is in your title! A quality wedding planner course will provide guidelines on planning and organising a big event. 

Problem Solving

The big day must go off without a hitch – and you'll have to problem-solve your way out of a multitude of obstacles to get there! Problem-solving is an essential skill for wedding planners.
Events That Wedding Planners Can Manage
There are many types of events that wedding planners can take as projects. The events range from wedding receptions to a renewal of vows, naming and commitment ceremonies and any life celebration.
Wedding Ceremony
A wedding is a ceremony unites two people in marriage. Wedding ceremonies vary significantly in their traditions and customs between different cultures, ethnic groups, religions, countries, and social classes. The wedding ceremony marks the official part of a wedding. The wedding reception usually follows and is often more informal. 
Wedding Reception 
A wedding reception is the informal part of a wedding that usually involves a meal, dancing and speeches to mark the occasion. Wedding receptions can be as large or small as the couple desire, from an intimate dinner for immediate family to a lavish celebration in a restaurant for hundreds of people. 
Naming Ceremony
The birth of a baby and the choosing of a name is a special occasion for many cultures. As such, a special ceremony is planned in the child's honour. 
Commitment Ceremony 
Commitment Ceremonies celebrate the bond of love between two people. Rather than being a legally binding ceremony like a wedding, it is merely a public declaration of a couple's commitment to one another.
Renewal of Vows
A vow renewal celebrates an enduring and happy marriage. Whether the couple has been married for 2, 5, 10, 25 or 50 years together – the couple wants the world to know they'd do it over again in a heartbeat. Some couples may be prompted to reaffirm their commitment after a rough period in their relationship.
Bridal Shower
A bridal shower is a party to celebrate a bride-to-be in anticipation of her upcoming wedding. The guests usually bring gifts to mark the occasion.
Do you have a passion for weddings and a wealth of creativity to draw on? Build your dream career as a wedding planner, discover our Certificate of Wedding Planning today!  
https://www.australianonlinecourses.com.au/wp-content/uploads/Cert-of-Wedding-Planning-blog-scaled.jpg
1363
2048
Haley Williiams
https://www.australianonlinecourses.com.au/wp-content/uploads/AOC_logo.png
Haley Williiams
2020-05-20 16:34:43
2020-05-21 09:47:22
How to Become a Wedding Planner