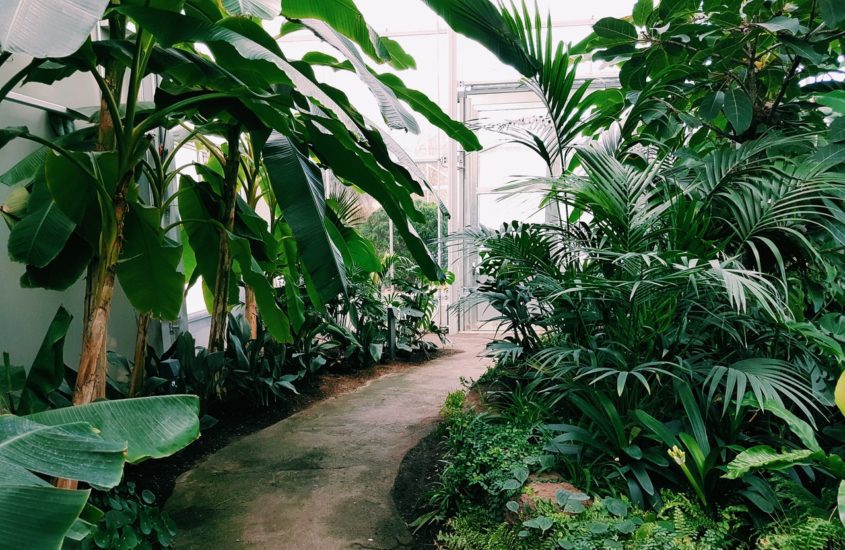 Grow your Green Thumb With a Tropical Gardening Course!
Ideal for gardeners, landscapers, horticulturalists and nursery workers, the Certificate of Gardening (Tropical Plants) will teach you how to create beautiful, sustainable tropical gardens. In this tropical gardening course you will learn about the taxonomy and culture of a range of tropical plants, including bulbs, palms, shrubs, ferns, orchids, bromeliads and more! You will also gain insights into how to prepare sketch plans and consider texture, colour and plant type to landscape outdoors, indoors and in courtyards.
Learning Outcomes
Outcomes achieved by undertaking a tropical gardening course include:
Learning what tropical plants are and how they are grown and named
Exploring plant divisions, plant families, hybrids, varieties and cultivars and monocotyledons vs. dicotyledons
Gaining an understanding of climatic zones and growing tropical plants
Studying tropical, subtropical, temperate and arid climates
Examining climatic variations, warm climate gardening and common hot garden areas
Understanding plant cultural practices, soils, nutrient availability, pH and improving fertility
Attaining knowledge of water and plant growth, water deficiency, water excess and improving water retention
Gaining insights into plant establishment methods, light requirements, mulches, tree guards, plant nutrition, nutrient elements and micronutrients
Learning about toxicities, deficiencies, propagation, seed, vegetative, types of cuttings and how to evaluate a potting mix
Exploring potting plants, taking care of young plants, pruning, controlling shape and size and rejuvenating
Gaining an understanding of tropical annuals, perennials, bulbous plants and grasses
Studying bamboos, grasses, grass-like plants and Arundinaria
Attaining knowledge of Bambusa, Carex and Cortaderia
Examining Dianella, Imperata, Liriope and Ophiopogon
Understanding Pennisetum, Phyllostachys and Saccharum
Gaining insights into bulbs and herbaceous perennials
Learning about ornamental gingers and heliconias
Exploring Zingiberales and Gingers
Gaining an understanding of Heliconias and Parrot's beak heliconia
Studying Canna, Costus and Strelitzia
Examining Cordylines, palms and palm-like plants
Understanding the palm encyclopaedia
Attaining knowledge of climbers, trees and shrubs
Gaining insights into conifers
Learning about climbers
Exploring orchids, ferns and bromeliads
Gaining an understanding of Epiphytes, Cattleya and Crucifix orchids (epidendrum sp.)
Studying Cymbidiums, Dendrobium, Odontoglossum and Oncidium
Studying Fig (ficus carica), Paw paw (cariaca papaya), Pepino (solanum muricatum), Macadamia (macadamia integrifolia and tetraphylla), Mango (mangifera indica), Pineapple (ananas comosus), Passionfruit (Passiflora spp.), Peanut (arachis hypogaea) and Pecan (carya illinoensis)
Examining how to grow tropical plants outside the tropics
Understanding indoor plant families and light requirements
Attaining knowledge of indoor plants which grow well with no heat in winter
Gaining insights of indoor plants for a dry atmosphere
Learning about potting mixes and the ideal potting medium
Exploring landscaping with tropical plants
Gaining an understanding of landscaping principles, creating landscaping effects and formal and informal gardens
Studying natural gardens, cooling effects and pre-planning information
Examine the design procedure and how to produce drawings to scale
And more!
Australia's Most Popular Tropical Plants
When you undertake our tropical gardening course you will become familiar with the vast array of species available in Australia. Whether you have a compact courtyard or a big backyard, tropical plants can give your garden an exotic look, particularly if you combine contrasting foliage and a mix of leaf shapes and sizes. Here are some of the country's most popular tropical beauties.
This plant has huge architectural leaves and stunning flowers ranging from orange to red and pink. Easy to grow, they can reach a height of 1.5 metres and will add some drama to your garden borders. Species to consider include Tropicanna Gold which has enormous black/bronze leaves and (obviously) gold flowers and Canna Durban which has hot orange blooms.
One of the simplest tropical plants to grow, Fatsia japonica will add an instant jungle vibe to your garden. They have large shapely leaves that stay green year-round and love shady, sheltered spots. They are also happy in a pot, however as they can grow up to four metres in height it should be a decent size!
Also known as New Zealand flax, in hot summers this plant will produce tall stems of red flowers. They are widely cultivated as ornamental garden plants with their striking fans of pointed leaves that provide a focal point at the edge of a lawn or in mixed plantings. They are also easy to grow as long as they have some protection in winter.
Phyllostachys Nigra has slim, polished canes that contrast beautifully with its fresh green leaves. This plant is perfect for creating living screens and can help to absorb noise from roads or neighbours. Black bamboo is hardy so requires no winter protection. It does spread but is not as rampant as some other varieties of bamboo.
Although needing a little more care than other tropical plants, the tree fern is well worth the effort as it makes a stunning garden feature. It is also a good choice for providing shade in gardens. This plant needs plenty of space as the fronds can grow to two metres long. Protect the trunk and crown in winter as it hates the cold!
Exotic and dramatic, Musa basjoo is also known as the Japanese Banana. It has huge, purple-green leaves on a sturdy stem and can grow up to 2.5 metres tall. It produces male and female flowers and inedible fruit. To encourage healthy growth, it should be cut down to ground level after winter so that it will sprout again in late spring.
This is a genus of around 15 woody flowering plants that is native to the Pacific Ocean region. It has spiky, textural leaves in purples and greens, is evergreen and will thrive in a pot. This plant typically grows up to three metres tall making it an ideal feature for contemporary courtyard gardens or as a striking addition to modern decks.
Another plant that will add drama to any garden, Aeonium has beautifully shaped rosettes of leaves, and some varieties are purple-black making them look very exotic. However, they do need a sunny spot to maintain their dark colour. These plants won't survive freezing temperatures so should be grown in a pot and moved inside in winter.
Also known as Strelitzia reginae, this is one of the more stunning looking tropical plants. Native to South Africa, it has vibrant bright blue and vibrant orange flowers that resemble the profile of an exotic bird.  They will produce flowers all year round in tropical or sub-tropical climates, but for the best blooms, need plenty of sunshine and well-drained soil.
Tigridia pavonia is an attention-grabbing plant native to Mexico. It is a striking option for the garden as it comes in bright shades that pop up on slender leaves from small bulbs. Flowers open early in the morning and close before dusk and plants will bloom in the first year after sowing. It does well in full sun and in sandy but fertile soil.
Fritillaria imperialis grows to about one metre in height and bears glossy, lance-shaped leaves at intervals along the stem. It has downward facing flowers at the top of the stem topped by a "crown" of small leaves, hence its name. It is a hardy plant, however needs well-drained soil and plenty of sun.
Also known as Campsis radicans this plant is a vigorous and woody climber that needs plenty of space to grow, so is best suited to larger gardens. Its stand out feature is the numerous clusters of red or bright orange trumpet-shaped flowers that can grow to over eight centimetres long. It is best grown against a sunny garden wall to offer it some protection from cold winds.
Also known as Passion vines, Passifloras produces exotic, eye-catching flowers and is one of the best climbing plants. Orange fruit will follow the flowers to give added interest once the blooms have faded. They are best grown in a sheltered spot on a sunny wall and should have protection from cold winds as they are quite delicate.
This is an ideal plant for gardeners who love dark-toned flowers. Also known as the Chocolate Vine, it is semi-evergreen with beautiful chocolate-maroon flowers that have a spicy vanilla scent. Yum! It prefers sandy soils with good drainage and regular watering, although it is drought-resistant.
Feel confident to create sustainable tropical gardens and landscapes for yourself or clients with a tropical gardening course like our Certificate of Gardening (Tropical Plants).
https://www.australianonlinecourses.com.au/wp-content/uploads/certificate-of-gardening-tropical-plants-.jpg
960
1280
Haley Williiams
https://www.australianonlinecourses.com.au/wp-content/uploads/AOC_logo.png
Haley Williiams
2021-11-30 11:48:38
2021-11-30 11:48:38
Grow your Green Thumb With a Tropical Gardening Course!