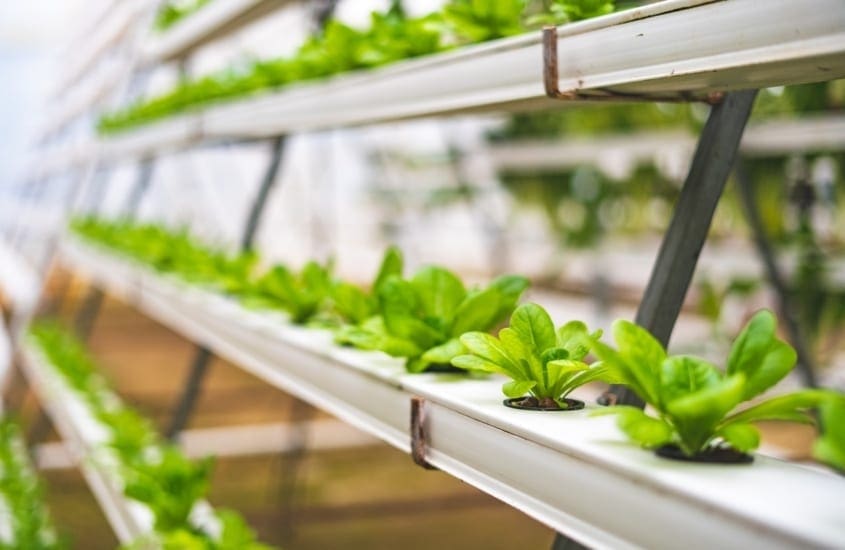 Grow Organic Food With Our Aquaponic Farming Course!
The future of sustainable farming is all about producing enough food for the world's growing population, while protecting the environment, minimising resource usage and ensuring systems are economically viable … and aquaponics does just that! Aquaponics is a food production system that combines aquaculture (raising aquatic animals in tanks) with hydroponics (cultivating plants in water). Some people operate large-scale commercial aquaponic farms, however you can also practice the principles of aquaponics in your own backyard!
The Certificate of Aquaponic Production is a professional development course that will teach you the fundamentals of aquaponic plant culture and how to set up an aquaculture system successfully.
In this aquaponic farming course, you will learn about the science of plant and animal growth, how different aquaponic systems work, and how to control the nutrition of your own system. You will also discover how to select and manage the right combination of plant and animal life, how to manage an aquaponics venture yourself, and how to troubleshoot any potential issues that arise.
Learning Outcomes
Outcomes achieved by undertaking an aquaponic farming course include:
Learning about the history of aquaponics and its advantages and disadvantages
Exploring world food and urban farming
Studying cost benefit analyses and the scale of operation
Examining different systems – open, deep water, floating raft, recirculating and non-recirculating
Understanding indoor and outdoor systems
Learning about wick, NFT, barrel ponic systems, gravel bed systems etc.
Exploring aqauponic sub systems, intermittent flow and deep water culture (DWC)
Studying commercial and backyard equipment, tanks, aeration devices and solids removal
Gaining insights into pH adjustment, heaters, chillers, alarms, biofilters and fish rearing facilities
Understanding hydroponic grow beds, water maintenance and organic vs. non-organic systems
Learning about plant growth factors and plant structure – roots, stems, leaves and reproductive parts
Exploring biochemistry, aquaponics and biochemical processes in a cell
Studying photosynthesis, plant nutrients, the mechanisms of nutrient uptake and the role of pH
Gaining insights into animal science, bony fish (osteichthyes) and crustaceans
Understanding water-soluble (ions) and less water soluble chemicals
Learning about nutrient formulae, atoms, elements, compounds and how chemical names are written
Exploring what a plant needs, calculating formulae and how to mix nutrients
Studying the symptoms of nutrient deficiency
Understanding variables in aquaponics – conductivity, pH control, oxygenation and beneficial bacteria
Learning about climate, water, food and fish food production
Exploring marketing, finance and the scale of operation
Studying the main species to grow from a range of countries and how to source them
Gaining insights into compost and earthworms
Understanding fish health, common pets and diseases and salinity and system health
Learning how to choose the right system and components, setting it up and the threats involved
Exploring greenhouse systems including management, active solar heating and controlling the environment
Studying humidity, vapour pressure, oxygen, carbon dioxide and light, air and root temperature control
Gaining insights into seeds – sources, types, sowing, propagating media and how to select them
Understanding herbs and vegetables in aquaponics
Learning about successional planning, flow charting a crop, pollination and how to control plant growth
Exploring pests, diseases, disorder control and how to identify crop problems
Studying how to market and undertake aquaponics for profit
Gaining insights into the harvesting and post-harvest management of fish, herbs and vegetables
Understanding harvested crop physiology – fruit ripening, respiration and when to harvest
Learning about storage temperature, chilling damage and CA and MA storage
Exploring the harvesting and grading of fruit and vegetables
Learning about how to manage an aquaponics venture
Exploring case studies – Speraneo, University of Virgin Islands and North Carolina State University systems
Studying research methodology and how to run an aquaponic trial
Examining water, pH, algae growth, gas, salinity, nutrient and plant problems
Understanding environmental physiological disorders and deficiency symptoms
Learning about pythium in aquaponics
Exploring fruit set management and flower and fruit development problems
Studying power losses, sediment clogging and fish-to-plant imbalances
Gaining insights into pathogenic contamination issues
And more!
Best Living Things for an Aquaponic System
Fish
Tilapia
Blue gill/bream
Sunfish
Crappie
Koi
Goldfish
Pacu
Various ornamental fish such as guppies, angelfish, tetras, mollies and swordfish
Plants
Any leafy lettuce
Bok choy
Kale
Swiss chard
Arugula
Basil
Mint
Watercress
Chives
Most common house plants
The Advantages of Aquaponics
Large-scale commercial aquaponic farms exist across Australia, but many people also have small-scale aquaponic gardens in their own backyards. If you're thinking of undertaking an aquaponic farming course, here are some of the advantages.
Environmental Benefits
Reduced water usage – With droughts a common occurrence in Australia, water is a scarce resource. In conventional farming, water is often pumped out onto the land through irrigation pumps and lost through percolation, run-off or evaporation. In aquaponic systems, water loss is minimal because tank water is recirculated.
Reduced chemical use – In an aquaponic system, nutrients are made available to plants via fish waste so the need for chemicals is dramatically reduced. In fact, the use of chemicals is very harmful to fish and can disrupt the natural interactions between fish and their environment.
Reduced pesticides – A controlled environment reduces the need for pesticides because in an enclosed aquaponics system, the likelihood of pest infiltration is dramatically reduced.
Erosion reduction – Erosion is a major issue in Australia. Many hectares of precious topsoil are often lost through wind and water erosion every year, which often results in silt build-up in our waterways. Something that doesn't happen with aquaponic farming!
Commercial Producer Benefits
Accessibility – Quality farm food production typically needs large amounts of water and land with high quality soil, and access can be challenging. With aquaponics, as long as you have a supply of water — even simple tank-stored rainwater — you're sorted!
Reduced running costs – The costs associated with running a conventional horticulture farm can be immense. With aquaponic systems, there is no need for synthetic chemicals, and no spraying or ploughing required, so large tractors that require large amounts of fuel are out of the equation!
Backyard Producer Benefits
Reduced water consumption – Many locations in Australia now have restrictions in terms of the amount of water they are allowed to use. An aquaponics system uses less water compared to growing plants in soil.
Less physical labour – Backyard gardens often require physically exertion, particularly if your garden requires ongoing digging and weeding. Aquaponic systems are generally constructed above ground level, so maintenance is a breeze!
Educational advantages – Children can learn how fish and plants grow, and the ecological interactions between them and their environment. It will also give them a great 'show and tell' project for school!
Household cost savings – An aquaponic system can provide healthy, organic food for your family all year round. Get ready to reduce your shopping bill!
Aquaponics Throughout History
Thinking of doing an aquaponic farming course, but curious as to how the practice came about? Read on …
Aquaponics has ancient roots that are thought to have begun with the Aztec's construction of ancient agricultural islands known as chinampas. Plants were raised on movable, stationary islands in the shallows of lakes, and waste materials dredged from the canals of the surrounding cities to irrigate the plants.
Examples of early aquaponics systems are also evident across Southeast Asia with the cultivation of rice in paddy fields. These were actually polycultural farming systems, where aquatic animals including fish and snails existed harmoniously alongside the plants.
A 13th century Chinese agricultural manual called Wang Zhen's Book on Farming described wooden rafts piled with dirt and mud which were used for growing rice and fodder. The text also references floating raft rice cultivation as being used as early as the 6thcentury Tang Dynasty and 8th century Northern Song Dynasty periods of Chinese history.
The development of modern aquaponics is often attributed to Dr. Mark McMurtry and his team at the USA's North Carolina State University. In the early 1970s, they devised an Integrated Aqua-Vegeculture System (iAV), which was based on the combination of aquaculture and sand-based grow beds.
In 1979, Dr. James Rakocy and his colleagues at the University of the Virgin Islands were then inspired to develop the use of deep water culture hydroponic grow beds in a large-scale aquaponics system.
Other institutions focused their research on "ebb and flow" systems, where coarse media like gravel or expanded clay replaced sand. Around the same time, ebb-and-flow irrigation cycles (called Speraneo Systems) were also being developed by the owners of aquaponics farms in Missouri, USA.
Canada saw a rise in aquaponics setups throughout the 1990s, predominantly as commercial installations raising high-value crops such as lettuce and trout. A setup based on the deepwater system was built in a greenhouse at Alberta in the US, where Dr. Nick Savidov and his colleagues researched aquaponics from a background of plant science. The team researched how to close the solid-waste loop and sustain rapid root growth in aquaponics systems. They found that compared to traditional aquaculture, systems could run well at lower pH levels.
In more recent years, floating aquaponics systems on polycultural fishponds — floating wetlands — have been installed in China on one of the largest scales ever seen. They are used to grow wheat, rice, canna lily and other crops with some installations exceeding ten thousand square metres. These experiments have today provided inspiration for the culture of aquaponics, and a foundation for the scaling-up of larger bodies of water for food production.
Set up, maintain and reap the benefits of an environmentally friendly aquaponic system with an aquaponic farming course such as our Certificate of Aquaponic Production.
https://www.australianonlinecourses.com.au/wp-content/uploads/certificate-of-aquaponic-production-.jpg
853
1280
Haley Williiams
https://www.australianonlinecourses.com.au/wp-content/uploads/AOC_logo.png
Haley Williiams
2021-01-27 12:05:00
2021-01-27 12:05:00
Grow Organic Food With Our Aquaponic Farming Course!