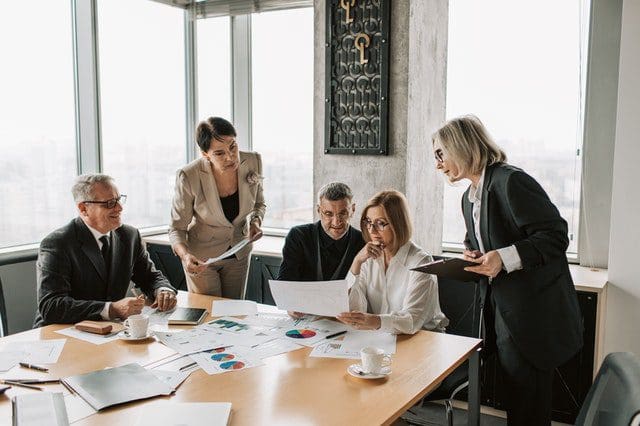 Get Onboard With a Board Governance Course!
Board members have an essential role in steering an organisation towards a prosperous and sustainable future. Whether you work in corporate governance or for a non-profit organisation, this course will provide the essential skills you need to be a responsible and effective board member.
Essential Skills for Board Members will provide you with the knowledge and skills required to undertake the diverse roles and responsibilities of the board and executive committee members. In this board governance course, you will develop your administrative skills and gain an understanding of the broader context in which committees and boards operate. You will also discover important conflict management strategies to prevent escalation, maintain compliance with regulatory requirements, and understand how to interpret financial information.
Learning Outcomes
Outcomes achieved by undertaking a course in board members' business skills including learning about board governance include:
Learning how to implement board member responsibilities
Exploring organisational history and function and the duties of board directors
Gaining an understanding of organisational goals, objectives and the roles and responsibilities within an organisation
Studying legal responsibilities, obligations, statutes, legislation and regulations
Examining relationships and communications processes, codes of practice and code of conduct for board members
Understanding codes of practice, code of conduct for board members, ethical behaviour and building relationships with Indigenous communities
Attaining knowledge of policies, procedures, operational outcomes, financial reports and how to review and make changes to operations
Gaining insights into quality improvements, a review of the board, public company requirements and Equal Employment Opportunity (EEO
Gaining the skills to understand health and safety legislation, corporations law, corporate governance
Learning about Corporation (Aboriginal and Torres Strait Islander) legislation (CATSI) and constitutions of an organisation
Examining the role of board members, the role of the chair and the calendar and code of conduct for board meetings
Understanding the process of discussing issues and reaching a decision, KPI's and management duties
Attaining knowledge of documenting guidelines and receiving and applying the advice from management
Gaining insights into instructing management to implement policy decisions
Learning about the Minutes of Meeting template
Exploring the features of an implementation plan
Gaining an understanding of reviewing management performance
Studying how to identify and manage conflict and prevent escalation
Examining levels and the nature of conflict and how it progresses from one stage to another
Understanding behaviours that indicate conflict is escalating and how to prevent it
Attaining knowledge of the roles of managers and supervisors and affective and ineffective management
Gaining insights into mediation, arbitration, Conflict Resolution Network (CRN) and Employee Assistant Programs (EAPs)
Examining how to record transactions and interpret financial information
Understanding how cash flow works, projections, financial cost analysis and resolving discrepancies
Attaining knowledge of business activity statements (BAS) and calculating depreciation
Gaining insights into ratio analysis, break-even analysis and sales analysis reports and budgets
Learning about compliance, legislation requirements, Australian Privacy Principles (APPs) and licensing and food safety legislation
Exploring acting regulatory information, non-compliance, disciplinary action, specialist legal advice, regulatory authorities and the components of an effective compliance program
Gaining an understanding of policy development, consulting with stakeholders, communicating with regulatory authorities
Studying contractor compliance, consumer legislation, business registration, employment laws, taxation and insurance requirements and how to identify a compliance breach
And much more!
What is a STEEP analysis?
When studying board governance, you will become familiar with what is known as a STEEP analysis. It is an acronym that stands for Social, Technological, Economical, Environmental, and Political aspects of a business. It is a tool commonly used in marketing to evaluate different external factors that impact an organisation. Every business should consider external factors before they make decisions. A STEEP analysis is often conducted by organisations to get a detailed overview of what external factors determine trends to help predict what might happen in the future.
Social — Social developments include factors like religion, values, advertising, lifestyles and consumer behaviour demographics.
Technological — The technology aspect of STEEP analysis focuses highly on technological advancements. It includes factors like communication, energy, innovation, patent regulations, transport, research and development and the life-cycle of products.
Economic — The economic condition is strongly associated with the consumers' buying position. In this step, factors such as international trade, taxes, inflation, interest rates, subsidies, savings, entrepreneurship and the availability of jobs are considered.
Environmental — Environmental developments involve ecosystem factors such as water, food, wind, energy, soil, environmental regulations and pollution.
Political — Political developments can highly influence organisations and individuals, and it is important to be aware of likely upcoming shifts in power. These developments can affect environmental, trade, financial markets and other kinds of laws. Factors that should be considered include tax policies, trade unions, jurisdiction, political stability, the regulation of monopolies, consumer protection and price regulations.
When undertaking a STEEP analysis, it's worth considering these five important steps:
#1 – Understand the elements being analysed
This step urges organisations to understand the factors of the environment which are being evaluated. Organisations or individuals should try to answer questions about the following:
What are the key trends and events within the element and what evidences support these trends?
How have these trends evolved historically?
What is the nature of change in the trends?
What kind of effects do the trends have on the organisation?
#2 – Assess the interrelationship between different trends
This step entails properly assessing the interrelationship that trends have with external environmental elements. It is about exploring what the conflicts between the trends are and what the interrelationships between the trends are like.
#3 – Relate the trends to issues
Organisations should then identify the trends which play a significant role in boosting or hindering the company's process to reach its objectives. The best approach to executing this step is to create a list of possible trends and then gradually decide on what the main issues are.
#4 – Forecast the upcoming direction of issues
At this stage, an organisation takes the STEEP analysis beyond the information collected in prior steps. Data can help determine what the driving forces behind the issues are. An organisation should try to identify the symptoms and causes of the trends to find the driving forces. This step can offer a wealth of insights that will guide the organisation's decision-making process.
#5 – Derive the implications
This is a crucial step as it will provide a unique opportunity to make decisions or conclusions about the external environment. It can help deduce how factors can affect any present and future strategic initiatives. Good conclusions give organisations "food for thought" and the implications should then be dealt with when executing a strategic plan. When external environmental factors like lack of investment and downturns in the economy start to take their toll on an organisation's strategic options, a STEEP analysis will give them a better understanding of how each factor affects the planning process and help them make better decisions.
What Are Some Key Conflict Resolution Skills?
Conflict is evident in most organisations, and it is the role of board members to find effective means of resolving conflict as part of their board governance responsibilities. A board governance course will help you understand conflict resolution skills.
The Conflict Resolution Network is an organisation that helps to create conflict-resolving communities in cultures of peace and social justice. They research, develop and disseminate the theory and practice of Conflict Resolution (CR) throughout a national and international network. This helps organisations build stronger and more unified organisations, more rewarding relationships and conflict-resolving communities.
Over the years, the CRN has trained thousands of trainers, developed a comprehensive range of teaching manuals, and directly taught CR skills to organisations and individuals. They have facilitated the resolution of community, personal and organisational conflicts and brought a CR focus to many social and political issues.
They aim to make CR skills, strategies and attitudes universally accessible. Therefore, they offer free training material on their website and most CRN literature can be freely reproduced.
Key Conflict Resolution Skills
Those who manage board governance use key conflict resolution skills, including:
Gain the acquired skills and competencies required to operate effectively in board member roles with a board governance course such as the Essential Skills for Board Members.
https://www.australianonlinecourses.com.au/wp-content/uploads/board-governance-course.jpg
426
640
Haley Williiams
https://www.australianonlinecourses.com.au/wp-content/uploads/AOC_logo.png
Haley Williiams
2021-11-16 11:39:28
2021-11-16 11:39:28
Get Onboard With a Board Governance Course!