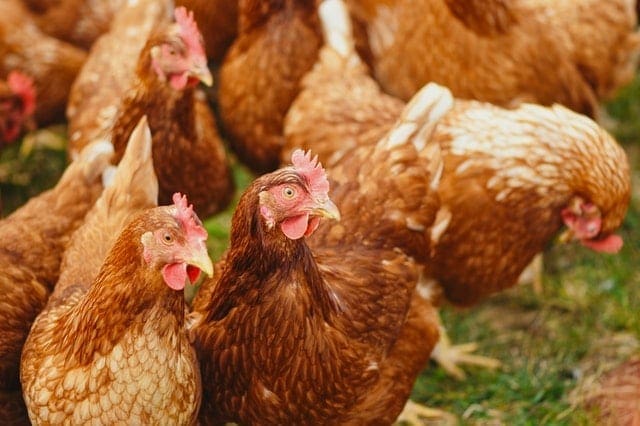 Gain Knowledge of Livestock With Our Animal Husbandry Course
Animal husbandry is a branch of agriculture concerned mainly with animals raised for milk, meat, eggs, fibre or other products. Our animal husbandry course, the Certificate of Animal Husbandry will give you a sound knowledge of animal physiology and anatomy and is ideal for those working with cattle, pigs, goats, sheep and poultry in a range of industries.
You will explore animal's tissues, cells, muscles and skeletons, and their circulatory, respiratory, nervous, urinary, digestive, reproductive and endocrine systems. You will also learn about common diseases that affect farm animals, their signs and symptoms and the causes and treatment of issues including inflammation, wounds and cell changes.
Learning Outcomes
Outcomes achieved by undertaking an animal husbandry course include:
Learning about livestock classes and products
Exploring the interrelationship between crops and livestock
Studying tissues, cells and the special properties of cells
Gaining insights into osmosis and nutrient waste
Examining the digestive system, the mouth, tongue, teeth and oesophagus
Understanding the small and large intestine, digestion and enzymes
Learning about the simple and ruminant stomach and its digestion, utilisation and absorption
Exploring the accessory organs of the digestive system
Studying mechanical action and the breakdown and action of microorganisms
Gaining insights into the utilisation of the end products of digestion
Examining the circulatory system and the composition and functions of blood
Understanding blood vessels, veins, arteries, capillaries and the clotting mechanism
Learning about immunity and the rates of heartbeats
Exploring the spleen, lymphatic system and circulatory networks
Studying the anatomy and physiology of the urinary system
Gaining insights into the kidneys, ureter and bladder
Examining excretion in different animals
Understanding the central, peripheral, automatic, nervous and endocrine systems
Learning about neurons – sensory and motor
Exploring the brain, the spinal cord, cranial and spinal nerves and reflex actions
Studying hearing and the structure and function of the ear
Gaining insights into the iris and the structure and function of the eye
Examining the structure and function of the nose
Understanding the anatomy and physiology of respiration
Learning about the bronchial tree, trachea and lungs
Exploring gaseous exchange and the rate and depth of breathing
Studying the male reproductive system including physiology, anatomy, nutrition and poor handling
Gaining insights into testes, the penis, erection, ejaculation and hormone and sperm production
Examining fertility problems in males, venereal diseases, injury and physical and emotional maturity
Understanding the anatomy of the female reproductive system — the ovaries, uterus, cervix and fallopian tubes
….And more!
Things You May Not Know About Farm Animals
From goats and sheep to pigs, cows and poultry, an animal husbandry course will give you some fascinating insights into animals' anatomy and physiology — as will the following fascinating facts:
Goats
Goats don't have teeth on their upper jaw, rather they have a hard palate that helps them grind their food.
They are great companions for other farm animals, including cows, horses and chickens.
According to many historians, they were the first animal to be domesticated.
They are among the cleanest of animals.
They eat many different species of plants, but won't eat food that has been contaminated.
A female goat is called a doe.
Some wild goats can climb trees and walk along ledges not much wider than a tightrope.
They have rectangular pupils, allowing them to see well in the dark.
They are great swimmers.
Sheep
Female sheep are called ewes, male sheep are called rams, and baby sheep are called lambs.
Sheep make a bleating sound, and baby lambs can identify their mother by her bleat.
Mature ewes produce three to nearly five kilograms of newly shorn wool a year.
Sheep have two toes on each foot.
Pigs
Pigs are considered the fourth most intelligent animal in the world (after chimps, dolphins and elephants).
A group of pigs is called a 'sounder'.
They can run over 17 kilometres miles per hour.
Pigs don't have sweat glands, so they roll in mud to prevent sunburn and stay cool.
Cows
Cows can recognize their names (although don't expect them to come when they're called!)
They have a memory of around three years.
Cows are social animals that form bonds with each other, and in herds, will often form cliques.
They can sense a storm coming and will often lie down.
Poultry
Some breeds of chickens can lay coloured eggs — even green and blue.
Chickens have over 200 distinct noises they make for communicating.
Male ducks are called drakes and female ducks, hens.
Ducklings are born ready to leave the nest within hours of hatching.
Ducks' feathers are waterproof — a gland near their tail produces oil that covers the outer coats of their feathers.
Geese are very faithful and mate for life. They will even mourn when their partner dies.
A male goose is called a gander and a group of geese is called a gaggle.
Tips on Caring for Farm Animals
When it comes to animals, consistent care and good hygiene will ensure they have a happy, healthy existence. An animal husbandry course will give you insights into caring for them responsibly, but it's also important you understand their unique needs. Here are our top tips for some of the more popular farm animals.
Cattle
Cattle can be raised for meat or dairy in smaller herds on a reasonably small block. One of the benefits of cows is that they don't require elaborate facilities and can be easily treated effectively for illnesses. However, they do need a diet rich in fibre, fencing to stop them straying, shelter to protect them from weather, and clean and plentiful supply of water. They should also be regularly checked for parasites and pests.
Goats
Goats are hardy animals, well suited to the Australian climate, and can be kept for dairy, meat or as pets. However, as companion animals, you will need at least two goats otherwise they will suffer (and cause trouble!) Goats are great escape artists, so need to be contained with fences of the appropriate height. They also need shelter from the weather, and plenty of water and feed roughage to stay healthy.
Pigs
In terms of housing, pigs only need a basic shelter, but it should include shading as they can get sunburnt easily! It should also have an outside run so they can exercise and use their natural instinct to forage, which will alleviate their propensity to become bored and destructive. They also need to be able to partake in a mud bath in hot weather because they can overheat easily. Pigs will eat almost anything, including compost, but need a diet that suits their nutritional needs.
Sheep
Sheep are another popular small farm animal that can be raised for fleece, meat and even milk. In terms of nutrition, they need access to fresh, clean water and good pasture with a variety of different herbage and grasses. Weed control is also an important part of pasture management as some weeds are poisonous to sheep. And while they aren't high maintenance, you should look out for worms and other parasites, and they should be kept in a flock in order to thrive.
Chickens
Chickens are possibly the easiest livestock of all to manage on a small block or even in a suburban backyard! Their basic needs are plenty of fresh, clean water, protection from weather extremes, and a dry place to nest, sleep and lay their eggs. Safe shelter and proper fencing are essential to protect them from predators including snakes, foxes and dogs. In terms of food, a good quality feed pellet ensures dietary needs are met and veggie scraps added for variety. Chickens are social birds so three or four is generally a good number depending on the space available.
Gain a solid introduction to animal health, which will kick-start your career in the industry or allow you to manage your own business with animal husbandry courses, like our Certificate of Animal Husbandry.
https://www.australianonlinecourses.com.au/wp-content/uploads/Animal-husbandry-courses-1-1.jpg
426
640
Haley Williiams
https://www.australianonlinecourses.com.au/wp-content/uploads/AOC_logo.png
Haley Williiams
2020-10-20 11:54:50
2020-10-20 11:54:50
Gain Knowledge of Livestock With Our Animal Husbandry Course