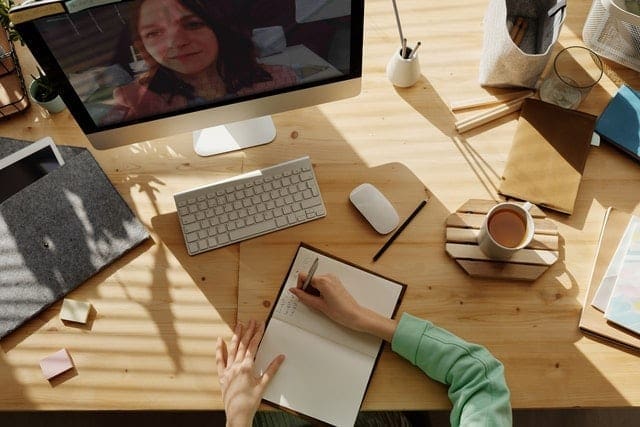 Gain In-Demand Skills With Course Writing Training
Course writing is very different from other types of writing, and its focus is essentially on communicating a learning pathway. Ideal for teachers, trainers and even students themselves, our Certificate of Course Writing and Development will introduce you to the fundamentals of course creation.
You will learn how to understand study levels and recognition and accreditation systems, write curriculum materials to meet learning outcomes, and identify and obtain qualified sources to support course materials.
You will also study educational applications for digital technologies; summative, cumulative and formative assessments; educational applications for digital technologies; how to be guided by assessment policies and procedures; and the marking guidelines for assignments.
Learning Outcomes
Outcomes achieved by undertaking course writing training include:
Learning about approaches to education and specialist or generalist education
Exploring teacher-centred learning and competency-based training
Studying student-centred learning – PBL, experiential, Montessori, self-paced learning
Gaining insights into delivery modes, course aims and trends, ethics and equity
Understanding issues for learning – lifelong learning, reinforcement, foundation skill development
Learning about education contextualisation
Exploring how to develop courses, course outlines, study notes and curriculum documentation
Studying continuous or periodic course review and development
Gaining insights into identifying needs – educator, student, family, community and industry perspective
Examining how to identify student and teacher resources
Understanding writing aims, competencies, assessment criteria, course notes and how to code courses
Learning about course components – assignments, brainstorming, case study, guest speakers, tutorials etc.
Exploring how to apply strategies for flexible delivery
Studying how to determine the appropriate level of study – quantitative and qualitative factors
Gaining insights into duration, descriptors, assessment, levels of training and lesson plans
Examining how to identify student needs and allow for different modes of study
Understanding how to structure, time, evaluate and improve a lesson
Learning about levels and the kinds of language including professional language
Exploring competence and skills and training objectives
Studying curriculum documentation and its structure and layout
Gaining insights into course materials including PBL projects and learning and teaching resources
Examining course material creation – developing and applying knowledge and review and reflection
Understanding the types of support materials – technical aids, documentation and visual elements
Learning how to write for distance education – problems and solutions
Exploring consciousness and how to improve clarity and write concisely
Studying the differences between guidelines, instructions and procedures
Gaining insights into the correspondence course structure
Examining audio materials and recorded presentations
Understanding digital technology and educational applications
Learning about multimedia and the internet
Exploring how to review and update courses
Studying change and inertia in education
Gaining insights into policies and procedures to support change
Examining how to review a course and change an established course
And more!
How Are Courses Developed?
If you are undertaking course writing training, it's worth understanding how they are developed. Courses typically use written documents that describe, define, detail and outline the contents and direction of a specific course. The three types of documents that are commonly used to develop a course are curriculum documentation, course descriptions and study notes.
Curriculum Documentation
This is generally seen and used only by the staff of schools, such as teachers and administrators. In government accreditation systems, it is usually one of the first things to be written, and the process involves seeking and applying input from a number of designated experts. For example, a Curriculum Advisory Committee may set the framework for writing the documentation, and they will then meet with course writers periodically to review their progress.
However, they can be costly to write and maintain. Therefore, if they are not required for accreditation, it's worth weighing up the benefits before deciding to allocate budgets and resources to this type of documentation.
Typically, these documents define what a course is and what its purpose could be, including as:
A reference point to be used by anyone writing study guides, course notes or even delivering practical sessions or lectures.
A document to be submitted for accreditation purposes.
Course Descriptions
Course descriptions or outlines describe the course in its entirety, or by breaking it down into its lessons and/or modules. This documentation is usually seen by both students and teachers, and mostly used in the pre-enrolment phrase for marketing or to assist with course selection. For less formal courses like hobby classes or adult education, they may act as a guide for teaching staff to follow as they deliver the course.
Study Notes
These are documents like handouts, textbooks, study guides, accompanying notes, worksheets or any other documentation that serves to:
Provide a source of information, or
Provide a guide or pathway for the student to follow.
How Are Courses Continually Updated?
The relationship between course development and time doesn't just follow a process of developing a course, finishing its development, delivering it and well, that's it! If you've decided to do some course writing training, you'll be happy to know that courses are typically reviewed regularly, which keeps content fresh and relevant. This generally occurs in one of two ways:
Periodic Review
Here curriculum documentation (or the course outline if no curriculum document has been developed) is revised using a similar procedure to what was used for its original development. It is typically reviewed by a curriculum writer and a committee, and then adjustments are made and alterations approved. The time frame for this process is usually around five years.
Continuous Review
This process involves seeking regular input from teaching staff and/or students and often the relevant industry. Major changes to a course may not take place at any one point in time, rather, the documentation could be altered daily, weekly, monthly or even irregularly if need be. Pre-computers this approach would have been more problematic, however in today's tech-savvy world, it is relatively easy to change course outlines, study notes and curriculum documents as often as required.
Types of Assessment
When studying course writing, you will become familiar with a range of assessment types. These include formative, summative and cumulative assessment, and they allow the evaluating and monitoring of a student's progress along their learning path.
Formative assessment
Formative assessment determines whether there is a gap in a student's learning at a particular point in time. It is heavily reliant on feedback, and can also involve adapting the learning path to facilitate any additional learning needs. In an educational context, assessment practises are adopted at the end of a unit, term, semester and/or year to determine what a student understands, knows and can do.
Summative assessment
This is the assessment of students where the focus is on the outcome of a learning program. The goal is to evaluate student learning at the end of the program by comparing it against a benchmark or standard. However, the word 'end' doesn't necessarily mean the end of an entire course — assessments can be distributed throughout a course. In an educational context, they are weighted more heavily than formative assessments, and examples include a final project or end-of-term exams.
Cumulative assessment
Cumulative assessment involves 'spaced' testing to encourage students to study more frequently and distribute their learning over the length of a course. It also helps to minimise procrastination! In an educational context, it can give students more opportunity to effectively study what they last learnt before their final exams, rather than 'cramming' an entire term's worth of information in at the last minute!
What is Student-centred Learning?
Student-centred learning refers to a wide variety of learning experiences, educational programs and instructional approaches that are intended to address the distinct learning needs, aspirations and interests of individual students. In terms of course writing, it can take a number of forms, including:
Problem-based learning (PBL)
This student-centred pedagogy revolves around students learning about a subject through solving an open-ended problem presented in 'trigger' material. It allows for the development of communication and knowledge acquisition and allows learners to develop skills that can be valuable to their future endeavours. 
Montessori Method
This educational method was developed by Italian physician, Maria Montessori, and it emphasises independent learning over conventional measures of achievement like tests and grades. In this era of digitisation, the internet has allowed for the development of self-paced e-learning methods that have provided the modern workforce with the opportunities to learn new skills when and how they want.
Self-Paced Learning
This is a specific learning method where the learner can control the amount of material they consume as well as the time they need to retain the knowledge that results. Most e-learning methods offer self-paced learning that is autonomous in nature and is able to capture and record individual's interactions via the platform in which they learn.
Learn how to write and develop resources for course creation and facilitate educational programs with course writing training, such as our Certificate of Course Writing and Development.
https://www.australianonlinecourses.com.au/wp-content/uploads/Course-writing.jpg
427
640
Haley Williiams
https://www.australianonlinecourses.com.au/wp-content/uploads/AOC_logo.png
Haley Williiams
2020-12-09 08:15:01
2020-12-09 08:16:27
Gain In-Demand Skills With Course Writing Training