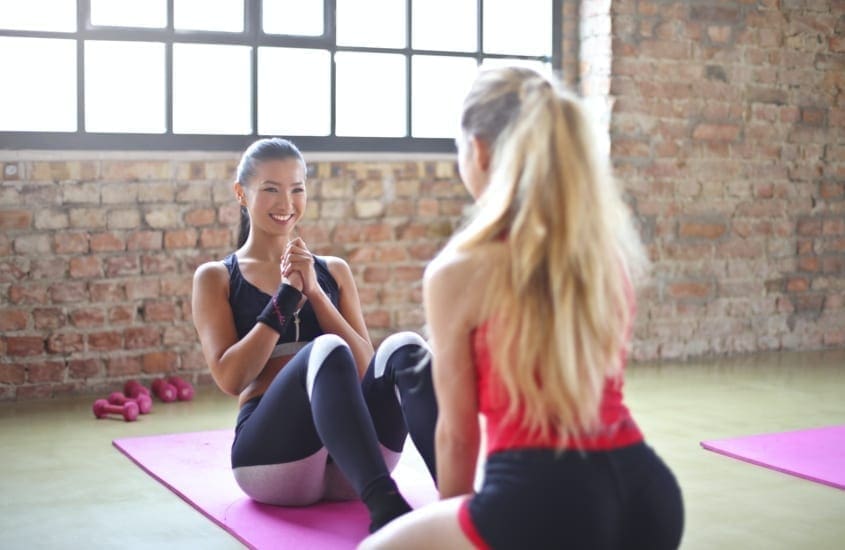 Exercise Your Career Ambition With Health and Fitness Qualifications!
Experts are predicting strong growth in the health and fitness sector over the next five years, particularly for those who have undertaken personal training courses. Job opportunities are also increasing in line with society's awareness of the health benefits of physical activity and growth in health consciousness.
Because this sector is also not clearly defined, it overlaps into many fields including medicine, natural therapies, sports, recreation, tourism and education … so the career possibilities are endless! 
Our new course, the Certificate of Health and Fitness, is ideal for anyone keen to improve their own wellbeing as well as help others achieve their health goals. This includes personal trainers, gym and group instructors, fitness services coordinators, or those who work in other health and fitness-related sectors.
Learning Outcomes
Learning outcomes achieved by undertaking personal training courses include: 
Exploring the scope and nature of the health and fitness industry 

Studying the definition of fitness 

Learning about the components of physical fitness 

Gaining access to health and fitness resources 

Studying health and fitness organisations

Gaining insights into exercise physiology

Learning about muscle and muscle contraction

Exploring fast and slow muscle 

Studying how exercise affects muscles 

Examining pulse rate and the cardiorespiratory system

Learning about energy and enzymes 

Exploring food as an energy source 

Studying the recommended daily intake of nutrients

Gaining an understanding of respiration and exercise recovery

Examining exercise principles and cardiorespiratory programming

Gaining insights into the relationship between heart rate and workload 

Learning about the biology of the circulatory system

Exploring blood composition, blood functions and blood vessels

Studying the heart, pulse rate and cardiac output 

Examining heart disease and cardiovascular disease 

Gaining insights into the spleen and the lymphatic system

Learning about biomechanics and risk

Exploring the skeleton and the muscular system in terms of risk

Studying the risks involved with training

Gaining an understanding of the common musculoskeletal injuries

Examining back and spinal injuries

Gaining insight into how to prevent injury

Learning about fitness program design and the typical process

Exploring the kinds of exercise used in a fitness program

Studying how to develop the physique and provide a balanced program

Gaining an understanding of indoor and outdoor locations and the equipment and music needed

Learning how to deliver a fitness program

Exploring fitness leader functions including teaching, counselling, motivation and evaluation

Studying leadership communication and the barriers to communication 

Gaining an understanding of how to communicate with children and young people

Examining communication techniques including whistling and raising an arm

Gaining insights into motivation including intrinsic and extrinsic motivation 

Learning about the factors that affect motivation

Exploring self-belief and self-talk

Gaining an understanding of relationships with your participants 

Gaining insights into motivating for fitness and weight control

Learning about nutrition and sport 

Exploring sports psychologists and fitness programs

Studying the elements of a session or class and how to deliver and conclude them

Gaining insights into how to write an exercise program

Learning how to support participants' needs 

Exploring communication strategies including active listening and reinforcement

Studying how to deal with problems and conflict 

Understanding safety, injury and general wellbeing

Examining safety considerations including those in aerobic activities 

Gaining insights into dealing with injuries including giving First Aid 

Learning about occupational health and safety regulations

Studying how to identify hazards and the legalities of the fitness sector 

Gaining insights into how to pre-screen clients

Learning about suitable surfaces, clothing and footwear 

Exploring anthropometric measurements 

Studying cancer and general wellbeing when it comes to fitness 

Gaining an understanding of fitness programs for special groups

Understanding inclusive program management 

Examining exercise variables including frequency, duration and intensity

Gaining insights into training zones 

Learning how to deliver programs for older adults 

Studying how to deliver programs for those with physical and mental disabilities 

Understanding how to deliver programs for ethnic groups 

Examining the principals of weight control and how to deliver weight control programs

Learning how to evaluate cardiorespiratory and muscular strength and endurance
Australia's Top 5 Fitness Influences on Instagram
Many personal trainers these days are more than just influencers, they're downright celebrities! The following fitness gurus are fantastic examples of how personal training courses can ignite your passion, and you can use your knowledge to launch an Insta-worthy business! 
#1 – Kayla Itsines – over 12 million followers 
Kayla began her fitness journey in 2008 after graduating from a PT course. Her business includes a series of fitness E-books, and a meal planning and workout app called Sweat with Kayla. Kayla has inspired thousands of women to achieve their 'bikini-confident body' and believes that healthy eating is a vital part of weight loss.
#2 – Tammy Hembrow – over 11 million followers 
Tammy and her sister Emilee have combined their skills to develop a global, multi-million dollar health, fitness and fashion business empire. The sisters are the creators of the Tammy Fit app, which is used by nearly half a million people worldwide, and they also have a leisure clothing line known as the Saski Collection. 
#3 – Emily Skye – over 2 million followers 
Fitness model Emily shows women of all ages and body types how to tone, trim and shape their entire bodies via motivational exercise videos and nutritionist-developed meal plans. Her workouts can be done both in and out of the gym, and she is a prime example of how personal training courses can lead to a successful career in the industry.
#4 – Amanda Bisk – over 720K followers 
Amanda was previously a Commonwealth Games pole vaulter, and national high jumper and gymnast at the West Australian Institute of Sport. She now brings all of her training and knowledge to her work as a coach and fitness trainer. Her personal mantra is to lead, learn and love your active journey empowered with health, balance and happiness.
#5 – Dan Conn – over 290K followers
A former NRL star who played for the Gold Coast Titans, Sydney City Roosters and Canterbury Bulldogs, Dan is passionate about the future of the health and fitness industry. After being sidelined with a neck injury, Dan decided to share his knowledge of fitness and extends his reach through modelling, social media and TV commercials.
Characteristics Of Good Personal Trainers 
Personal training courses can equip you with the knowledge and skills you need to work in the sector, but what other characteristics make for a good personal trainer?
They Have Experience 
One of the most important qualities of a good PT, many trainers will attest to having learnt a lot about what they know from achieving their own fitness goals. From tailored exercises to technique, rest times, and sets and reps – they have probably gone through the motions thousands of times before! And if their venue of choice is a gym, they would have also had the bonus of sharing what they have (or haven't) learnt with similarly motivated people, including qualified trainers.
They Care About Your Goals 
Whether a client's fitness goals are weight-related, sports-driven or simply a need for a healthier lifestyle, it's a PT's job to motivate clients in ways they couldn't achieve themselves. Many PT's are on a long-term journey with their clients to meet personal training goals, and in fact, clients are a reflection of their PT's work. Successes and failures are shared, and they will invest in them as much as their clients do. 
They Have Great Communication Skills 
There is no point in a trainer spouting textbook moves or medical phrases that their clients don't understand – it just leads to confusion, frustration and a lack of motivation. Good PT's should be able to communicate their knowledge – ideally learned from personal training courses – inefficient and straightforward terms. Communication should also be two-way in that clients should feel comfortable talking to their trainer about their goals before, during and after their sessions.
They Know Their Limitations 
Great PT's should be honest about understanding any limitations in their own expertise. Trainers come from a variety of backgrounds and have experience in different areas. These range from nutrition, rehabilitation and strength and conditioning to group training and even yoga and pilates. Because it is unwise to give recommendations on subjects they are not qualified in, PT's should also have alliances with medical and other allied health professionals to arm themselves with accurate and up-to-date information. 
They Practise What They Preach 
For clients to have complete faith in their PT, they need to see that they care as much about their physical health as they demand! They need to personally understand what it's like to train hard and be disciplined about their fitness. However, fitness isn't just about the perfect physical body. In other words, it's not just what they look like, but what they should be like. They should have knowledge, integrity, character and passion. And more importantly, they should want to help clients achieve a healthier and more sustainable lifestyle. 
They Make Excercise Enjoyable
Training sessions should be fun, and something clients look forward to rather than dread. Good PT's will encourage and clients to train beyond their capabilities, so they are challenged. Patience is also a key to a great client-trainer relationship, as achieving fitness certainly doesn't happen overnight! Tailoring sessions to a client's individual needs will ensure they are not pushed beyond their limits, which can cause frustration, let alone exhaustion. Ultimately, it's a fine balance between trust, understanding and compromise.
They Are Adequately Trained 
This is undoubtedly the most important quality as PT's need to be able to help clients achieve their goals safely and professionally. Personal training courses can assist those who are keen to work in the sector in a variety of ways. They help PT's stand out as experts by understanding how the body works, and they can look for warning signs that certain actions could compromise a client's wellbeing. Ultimately, having skills and knowledge in health and fitness helps trainers not just talk the talk, but walk the talk! 
Keen to develop and operate a health and fitness program for individual or groups that will positively change people's lives? Get your career up and running with our Certificate of Health and Fitness!
https://www.australianonlinecourses.com.au/wp-content/uploads/Cert-of-Health-and-Fitness-blog-scaled.jpg
1413
2048
Haley Williiams
https://www.australianonlinecourses.com.au/wp-content/uploads/AOC_logo.png
Haley Williiams
2020-05-12 14:43:46
2020-05-12 14:43:46
Exercise Your Career Ambition With Health and Fitness Qualifications!