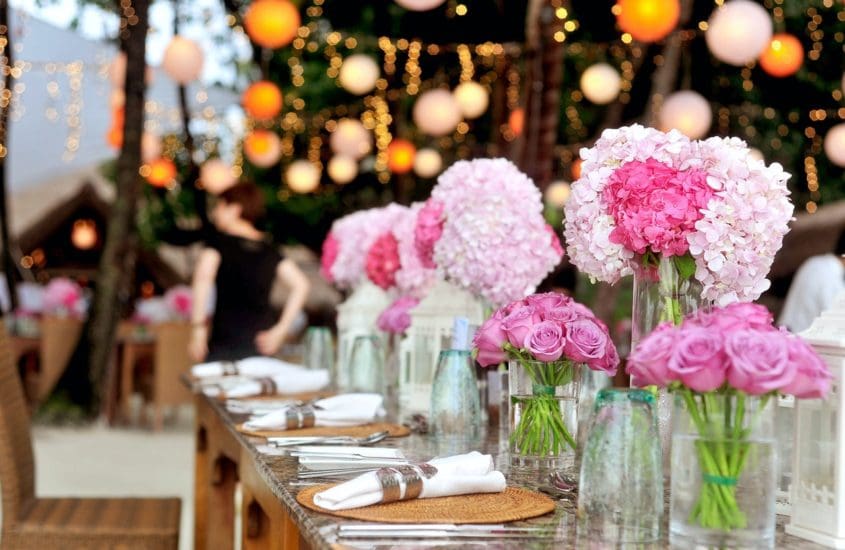 Events Management Course to Launch Your Career?
If you've ever thought about becoming an events manager, you've probably wondered what's involved and how to gain entry into this competitive career. An events management course can provide you with the skills you need to launch your career, but first, let's look at this exciting role to see if it's all that you imagined!
Events managers are responsible for overseeing the design, set-up and execution of events, whether for business or pleasure. An event manager could be responsible for a wedding one week and corporate wellness retreat the next. It's certainly a job that offers variety with no two days ever being the same!
What's obvious is that no matter the occasion or event, these people-centric professionals must put on a show! The endgame for all event managers is to ensure that people enjoy and get the most out of the events they attend.
What is Event Management?
Events management is a project management role that is specifically about organising and executing events. The duties of an event manager are varied, from finding a suitable location to follow-up on attendee satisfaction.
The following duties are typical in event management:
Promote conferences, conventions, trade shows to clients
Respond to enquiries about services and costs of equipment hire, catering and related expenses
Meet with clients to discuss their needs and outline options
Arrange and coordinate services – facilities, catering, signage, displays, audio-visual equipment, accommodation, transport, activities
Organise registration of attendees
Plan and organise the events, keeping within financial and time constraints
Book venues and schedule guest speakers
Meet with clients to coordinate the event
Assess and compare options for catering, decorators, musicians etc.…
Negotiate with business/services to achieve the most favourable terms for the client
Hire, train and manage staff involved in the event
Appraise staff and provide reports
Manage all event operations – preparing the venue, invitations, food, drinks etc.
Track and record event expenses regularly
Do event budget planning
Stay within the budget
Oversee event activities
Propose solutions to problems as they occur
Evaluate event's success, follow up with attendees and submit reports
What Skills Do You Need to Be an Events Manager?
The events manager must be multi-skilled to create a successful event plan that meets client and attendee needs. So, with that in mind, here are the top ten skills that we think event managers need to be successful in their careers. Keep in mind, these skills can be acquired or improved with work and events management courses.
A Marie Kondo-like ability to stay organised
Multitask like a magician
Content to work nights, weekends and public holidays
Strong communication and listening skills
Creative – an ideas person
Energetic – enjoy the fast-paced nature of the role
Ability to be calm and focused during chaos
Flexibility when inevitable challenges arise
Confident and calm decision making
Willingness to learn and expand skills
Passion for the dynamic events industry
What's the Outlook for Events Managers?
According to the Australian Government's Job Outlook, there were 23,400 Conference and Event Organisers in Australia, which is projected to increase in the next four years to reach 23,600.
Employment Snapshot
Size: This is a medium-sized occupation.
Location: Conference and Event Organisers work in many regions of Australia.
Industries: Most work in Administrative and Support Services; Accommodation and Food Services; and Arts and Recreation Services.
Earnings: Full-time workers on an adult wage earn around $1,347 per week (similar to the average of $1,460). Earnings tend to be lower when starting and higher as experience grows.
Full-time: Many work full-time (71%, higher than the average of 66%).
Hours: Full-time workers spend around 44 hours per week at work (compared to the average of 44 hours).
Age: The average age is 34 years (compared to the average of 40 years).
Gender: 75% of workers are female (compared to the average of 48%).
Certificate of Wedding Planning and Event Management  
There are many fast-paced and exciting jobs in event management. So, if you have a passion for planning, a love of people and enjoy surprises, this double wedding and event management course is the perfect combination for a rewarding career!
The Certificate of Wedding Planning & Event Management is an online program that will teach you wedding and event management fundamentals to create the perfect event for any occasion.
In this wedding and events management course, you will understand all aspects of planning and managing events. You will learn the management, organisation and event planning skills required to be a successful event planner.
Discover the different styles of weddings, types of ceremonies and receptions, working with caterers, photographers, reception venues and celebrants to create the perfect wedding for your clients.
You will discover event concept development and how to manage physical and human resources, project logistics, marketing, finance and operations. So, whether it's conferences, concerts or weddings, you'll feel confident to plan and manage events of every type and size.
On completion of this course, you will feel inspired to launch your career in the dynamic and exciting world of wedding and event management or start your own business, such as a boutique wedding venue!
Learning Outcomes
Outcomes achieved by undertaking a painting and decorating course include:
Wedding planning skills
Wedding ceremony types
Legalities
Types of receptions
Themed weddings
Reception venues
Destination weddings
Managing people
Conflict handling techniques
Anger management
Venues, locations
Wedding photography
Table and seating planning
Managing the program
Schedules and travel
Managing services
Wedding cakes, stationery, invitations, wedding dress, floristry, photography, gifts, beauty and hair
Managing the client
Contracts, cancellations and contracts
Wedding planner's survival kit
Planning a wedding business
Planning an event or conference
Developing a concept
Hiring equipment
Safety in planning
Public events
Managing physical and human resources
Logistics, contingencies, legalities
Minimising risks
Public relations
Sponsorship
Developing a business plan
Financial management
Staging the event
Measuring success
Dealing with complaints
Evaluation checklist
And more …
Gain the knowledge and skills required to start your career as a wedding planner and event manager with an events management course, such as our Certificate of Wedding Planning and Event Management.
https://www.australianonlinecourses.com.au/wp-content/uploads/certificate-of-wedding-planning-event-management-.jpg
851
1280
Haley Williiams
https://www.australianonlinecourses.com.au/wp-content/uploads/AOC_logo.png
Haley Williiams
2021-11-25 13:31:35
2021-11-25 13:31:35
Events Management Course to Launch Your Career?