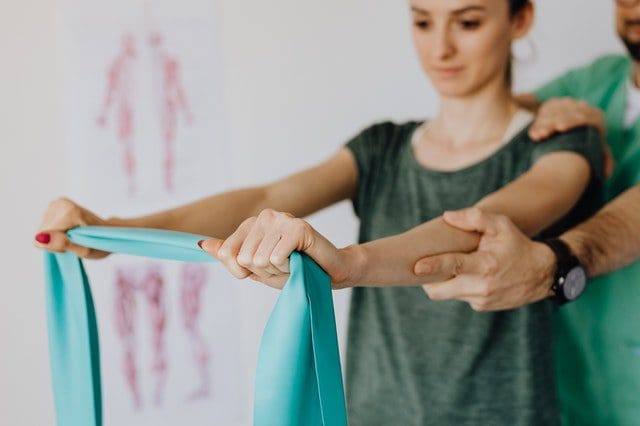 Enhance Your Health Career with an Allied Health Assistance Course
Occupational therapy assistants play a vital role in supporting occupational therapists adjust their clients' environments accordingly to help them gain the skills necessary to participate in everyday life activities.
The Certificate of Occupational Therapy Assistance will provide you with the skills and knowledge required to assist with therapy programs. You will learn how to assist with movement and promote clients' independence and physical, social, emotional, and psychological well-being. You will also study how to prepare for a therapy session, use, clean and store equipment correctly and safely, assist in designing therapy materials, complete administrative tasks and understand workplace health and safety.
Learning Outcomes
Outcomes achieved by undertaking an allied health assistance course include:
Learning how to assist an individual with movement including confirming their requirements and risk factors, relevant personnel and preparing an individualised plan
Exploring how to select, prepare and adjust equipment according to the individual's requirements and the individualised plan
Gaining an understanding of preparing the environment, explaining the procedure to the individual, answering their questions as required and according to the appropriate protocols.
Studying how to seek the client's consent and cooperation
Examining how to prepare procedures according to safe working practices
Understanding how to carry out movement using the appropriate safe handling method and equipment using a range of techniques
Attaining knowledge of how to take appropriate action to ensure the individual's comfort and safety throughout positioning or transfer
Gaining insights into encouraging the individual where possible
Learning how to communicate with the individual during movement according to appropriate protocols.
Exploring how to clean equipment in accordance with organisation policy and procedures
Gaining an understanding of how to report equipment faults immediately in accordance with organisation procedures, industry standards and guidelines.
Studying how to support an individual's independence and wellbeing and recognise their social, cultural and spiritual differences.
Examining how to consider the individual's needs, stage of life, development and strengths when engaging in support activities.
Understanding how to recognise, respect and accommodate the person's expressions of identity and sexuality as appropriate in the context of their age or stage of life.
Attaining knowledge of how to support an individual in identifying and acknowledging their own strengths and self-care capacity.
Gaining insights into promoting and encourage daily living habits that contribute to a healthy lifestyle
Learning how to recognise indications that the person's physical situation is affecting their wellbeing and report them according to organisation procedures.
Exploring how to encourage and facilitate participation in social, cultural, spiritual activities, using existing and potential new networks and as per the individual's preferences.
Gaining an understanding of how to identify aspects of supporting an individual's wellbeing outside their scope of knowledge, skills and/or job role and seek appropriate support.
Studying how to identify any cultural or financial issues impacting on the individual's wellbeing.
Examining how to recognise and report possible indicators of abuse or neglect and report according to organisation procedures.
Understanding how to prepare for therapy sessions,and confirm and discuss therapy and treatment plans and programs with supervising allied health professionals.
Attaining knowledge of how to prepare the individual for therapy under direction of supervising allied health professional.
Gaining insights into taking the appropriate actions to ensure the comfort, safety and privacy of the individual.
Learning how to reinforce, clarify and explain therapy goals to individuals under the supervision of allied health professionals.
Exploring how to deal with accidents and incidents appropriately and report to the supervising allied health professional.
Gaining an understanding of following work health and safety (WHS) guidelines for particular pieces of equipment.
Studying how to document information according to organisation policy and procedures.
Examining how to assist the allied health professional to identify gaps in therapy material resources and develop solutions.
And more!
Australian Occupational Therapy Organisations
As you will learn when undertaking our allied health assistance course, there are four major players in the
Australian occupational therapy landscape. All exist to benefit the occupational therapy profession in Australia, but each is responsible for different aspects, including:
The OTBA is the national registration body for occupational therapists and students. Its focus is to protect the public by setting a standard that all occupational therapists must comply with. The OTBA ensures all occupational therapists are suitably trained and qualified, and are practising in an ethical and competent manner, and it:
Develops codes, registration standards and guidelines for occupational therapists.
Considers and makes decisions on complaints about occupational therapists.
Approves programs of study for registration purposes.
Approves accreditation standards developed by the Occupational Therapy Council of Australia (OTC).
AHPRA support the Occupational Therapy Board of Australia to regulate the profession and supports the 15 National Boards as the first point of contact for all enquiries and complaints. AHPRA performs the administrative work relating to:
The registration and renewal of health practitioners under the National Registration and Accreditation Scheme.
The national register of health practitioners available to the public.
Investigations into performance, professional conduct or health of registered health practitioners on behalf of the National Boards.
Audits to ensure practitioners meet the mandatory registration standards set by the National Boards.
The OTC are responsible for the accreditation of study programs and the assessment of overseas trained occupational therapists. It carries out accreditation on behalf of the OTBA by:
Developing education program accreditation standards.
Accrediting and monitoring occupational therapy programs of study and education providers.
The assessment, monitoring and support of internationally qualified occupational therapists who want to practise in Australia.
OTA is the peak body representing occupational therapists Australia-wide. The association supports and represents the interests of occupational therapy through:
The promotion, advocacy and lobbying for the entire profession.
Developing frameworks, position statements and evidence-based guides to good practice.
Providing opportunities for networking, mentoring and continuing professional development (CPD) courses.
Fostering research through grants and scientific conferences.
Networking for Occupational Therapists
The Allied Health professional landscape is changing. Whereas decades ago a health professional might look to secure a job for life, today's generation of professionals, including those who have undertaken an allied health assistance course,will probably shift between a number of different jobs over their career.
Strong professional networks can help you to not only adapt to changing circumstances, but enable you to find the best applications of your skills as you reach your full potential.
Why Networking Matters
Your education and studies help to lay the foundations of your career, while the skills and experiences you develop along the way form the actual building blocks. Professional networks can provide the additional "scaffolding" to take your career even further. Surrounding yourself with a strong, supportive network allows you to:
Learn and seek out advice from like-minded peers.
Stay informed about the latest developments in your practice domain.
Discover new career opportunities.
Collaborate on new programs and initiatives.
Build a series of references to vouch for your achievements and skill
How To Connect
Like all skills, networking takes time and effort. Even for seasoned professionals, the process isn't always easy. While your practical and clinical skills may have already been refined, networking presents an entirely new skillset to master. Occupational Therapy Australia (OTA) members will be already connected to Australia's largest community of OTs. But how can you make connections to help enrich your professional network?
OTA Conferences. Whether it's a national or state conference, conferences provide ample opportunities to not only mingle with other delegates, but to also meet exhibitors and connect with high-profile keynote speakers.
Continuing Professional Development Events. Workshops and special interest groups present great opportunities to meet like-minded peers. Plus, having attended the group/event together, you'll already have something in common when you first approach them.
Social Media. Whether you discover an online contact through one of OTA's social channels or as part of an existing Facebook group, don't be afraid to reach out. Consider simple interactions such as retweeting their idea, replying back to their comment or connecting with them on LinkedIn.
Across the Internet. Look for blogs and websites that cover areas of interest to you, or make note of OTs profiled in news articles. Either contact them directly or reach out to the publication to express your interest.
What Next?
Once you've established an initial interaction, it's important that you nurture the connection. Building networks for the long-term begins with giving more than you take. For you to benefit from the relationship, the other party doesn't have to give up the equivalent amount of time or expertise.
After identifying the type and range of peers who can help you succeed, approach and engage those professionals, offering them value. Whether that's through your support or time, consider what they'll get out of the interactions too.
Some contacts may offer to assist or mentor you out of sheer goodwill, but don't forget they don't owe you anything. View networking not as a transactional exchange, but as a mutual benefit.
Successful networkers put the effort in regularly. A simple way to start is by offering the person something without an expectation of reciprocation. It could take the form of sharing an interesting piece of research you've seen that they might be interested in, or offering a compliment on their presentation.
A piece of knowledge taken for granted by an expert could completely change your outlook on your career, and the enthusiasm expressed from a passionate student could inspire an academic to approach their research from an entirely new angle. A valuable away of approaching network is not from the mindset of what you can gain from them, but what can they gain from you?
Help occupational therapists assist individuals to live full, happy and productive lives with an allied health assistance course such as our Certificate of Occupational Therapy Assistance.
https://www.australianonlinecourses.com.au/wp-content/uploads/allied-health-assistance-course.jpg
426
640
Haley Williiams
https://www.australianonlinecourses.com.au/wp-content/uploads/AOC_logo.png
Haley Williiams
2021-09-28 15:24:07
2021-09-28 15:24:07
Enhance Your Health Career with an Allied Health Assistance Course