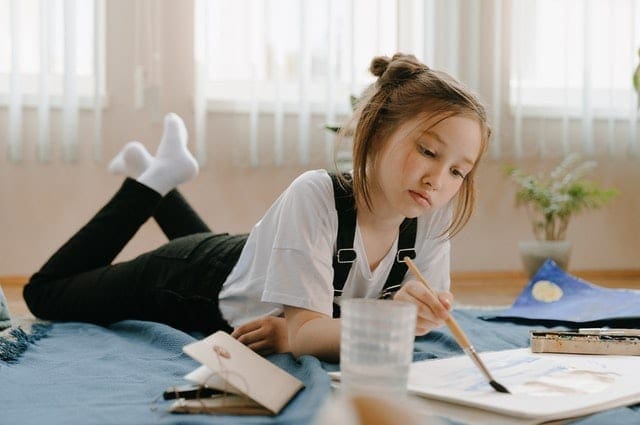 Discover Our Art Therapy Courses Online!
You may have heard of art therapy, but our Certificate of Creative Therapies is unique, as it incorporates art, writing, music, singing, craft, reminiscence, and drama to boost psychological and physical health. 
Creative therapies help those with mental, emotional, or physical health conditions to recover, especially people with trouble verbalising their concerns. This course is particularly beneficial for those who work in disability, aged care, or youth services. 
Did you know that art therapy courses are also important to build physical ability? For example, people with osteoarthritis can benefit from a creative hobby like knitting, crochet or painting as encourages movement in their hands.
The Certificate of Creative Therapies is an online art therapy course that will teach you how to incorporate art, music, writing, singing, drama, and craft into treatments to help clients to improve their psychological wellbeing or aid recovery from illness or injury.  
So, whether you want to take your skills into aged care, disability support or youth programs, this course is perfect for you!
Learning Outcomes 
Outcomes achieved by undertaking art therapy courses include: 

Clients who benefit from participating in creative therapy

Caution should be taken with some clients

Benefits of creative therapies 

Scientific evidence

Preparing for creative therapies

Giving instructions

Different learning styles

Planning for choice

Options for a response

Improving creativity

Health and safety

Insurance

Selling your craft

After creative therapy

Counselling skills – soler

Scientific evidence

Art therapy techniques

Art therapy with children

Scientific evidence and historical anecdotes of craft 

Therapeutic benefits of craft 

Crafting examples

Knitting, ceramics and quilting

The skills required in model making

Model building

Woodworking/carpentry

Creativity and the individual – find their creativity

Therapeutic benefits and scientific evidence of singing therapy 

What is writing therapy?

Hiding the pain

Non-verbal communication

Classification of non-verbal communication

Haptics, proxemics, occulesics

What is drama therapy?

Individuals who benefit from reminiscence work

Neurocognitive deficits

Neurocognitive disorders (NCD)

How does reminiscence therapy work?
…And more!
Where do Art Therapists Work?
Art therapists work across many disciplines, including health, education, community, and social welfare sectors and in private practice. 
As a profession, art therapists confront many challenges from trauma, to mental and emotional health issues, disabilities, relationship difficulties and addictions. 
Art therapists provide positive change towards emotional, psychological, and physical growth through facilitating creative therapies. 
7 Creative Therapies for Happiness 
Creative therapies aren't just for dealing with difficult emotions; they can also be used to tune into happiness, positivity, and gratitude. Art therapy courses online can help you plan creative therapies to suit clients needs, but here are a few activities that help people reflect on their personal happiness. 
Paint a Perfect Day

 – use watercolours to paint an ideal day, whether it's at the beach, in a rainforest or even relaxing in your backyard. A visual reminder that better days are just around the corner is the perfect pick-me-up on difficult days. 

Collect Photos of Beautiful Things

 – stick them on cardboard and then have the collage framed to as a visual reminder of what's right with the world!  

Turn an Inspirational Quote into a Work of Art

 – you could use different typographical artwork on a computer or hand-drawn calligraphy.

Create a Mandala

 – a mandala is an abstract work that's usually in circular form. Usually, a mandala starts with a central point, which then has an array of symbols, lines, shapes and structures surrounding it. These intricate drawings represent a person's inner world and outer reality, which is inspiring and therapeutic. 

Draw in Sand – 

a Zen garden is a perfect canvas for releasing stress and tuning into positive energy. It's also a relaxing activity that has the ability to clear a busy mind. 

Create a Zentangle

 – the 

Zentangle Method

 is an easy-to-learn, fun and relaxing way to create beautiful images through drawing structured patterns. The art combines lines, dots, curves, and orbs on small pieces of paper, which can then be assembled into a mosaic. 

Invent Something Magical

 – think of a wild invention that would make life more comfortable or happier for you. Now draw it in cheerful colours, such as pastel blues, yellows, and pinks. 
A Brief History of Art Therapy 
The emergence of art therapy as a profession began in North America, Europe, the U.K, Australia, and parts of Asia. 
A British artist by the name of Adrian Hill was the first to coin the term art therapy in 1942 and published ideas in a book Art Versus Illness in 1945. Hill first became aware of the therapeutic nature of art while sketching objects from his hospital bed while recovering from tuberculosis. 
In 1939, he was invited to teach drawing and painting to other patients, including injured soldiers from the war. He found the art seemed to divert the patient's attention away from their suffering and mental distress. 
Hill worked tirelessly to promote art therapy, becoming president of the British Association of Art Therapists which was founded in 1964. Increasingly, he found himself at odds with the associations focus on psychoanalysis and in 1968 he was elected president of the Royal Institute of Oil Painters. 
Discover how to take creative therapies into client care with our art therapy courses online, enrol in our Certificate of Creative Therapies today! 
https://www.australianonlinecourses.com.au/wp-content/uploads/Art-therapy-young-girl-painting-.jpg
425
640
Haley Williiams
https://www.australianonlinecourses.com.au/wp-content/uploads/AOC_logo.png
Haley Williiams
2020-11-19 11:59:14
2020-11-19 12:00:40
Discover Our Art Therapy Courses Online!