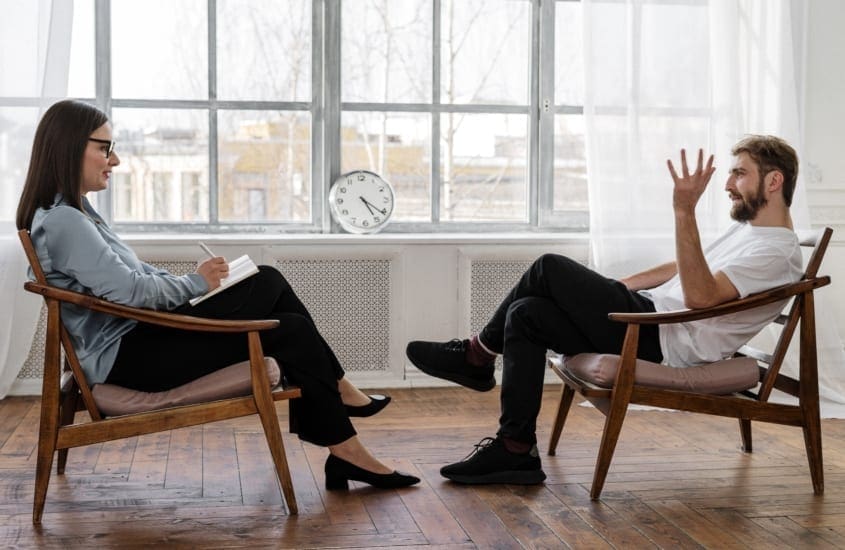 Develop Your Mentoring Skills With Our Business Coaching Course!
A business coaching course can teach you how to help clients achieve goals and develop their full business potential through results-focused strategies. This can be achieved through time management, leadership development, growing revenue and identifying new opportunities. Business coaches also provide mentorship to provide managers and business owners with the skills to improve their work/life balance and realise their business and personal goals for both short and long-term success.
Our Certificate of Business Coaching is ideal for anyone working in the financial planning, life coaching or business consulting sector or those keen to establish their own practice as a business coach.
Learning Outcomes
Outcomes achieved by undertaking a business coaching course include: 
Learning about the nature and scope of business coaching
Exploring business, life and sports coaching
Studying business coaching terminology
Understanding why people use business coaches
Examining business coaching case studies
Gaining insights into business failure or success
Learning about the initial consultation
Exploring cognitive behaviour therapy
Studying goal-centred, reality-based and motivational approaches
Understanding the first contact
Examining SWOT analysis
Gaining insights into replacing negative habits with positive ones
Learning how to monitor and evaluate progress
Exploring business coaching case studies
Studying how to consider alternative actions
Understanding how to develop a business plan
Discovering feasibility studies
Examining formal documentation
Gaining insights into operational management
Learning about strategic and operational planning
Exploring the components of a business plan
Studying how to implement ideas
Understanding how to change behaviour
Learning how to look after long term viability
Exploring partial sell-offs
Studying restructuring
Examining research and development
Understanding how to change products and services
Learning how to buy a new business and employ staff
Exploring selling and winding down
Studying how to improve productivity
Understanding quality circles
Discovering cause and effect diagrams
Examining the Pareto Analysis
Gaining insights into brainstorming
Learning about motivation
Exploring internal and intrinsic incentives
Studying the incentives external to the working environment
Understanding social reinforcers as incentives
Discovering tangible rewards
Examining marketing and marketing strategies
Gaining insights into starting out in business
Learning how to make contact
Exploring how to control growth and improve results
Studying how to build better staff
Understanding staff recruitment and development and training
Examining team building and team management
Gaining insights into improving resource management
Learning about Business Resource Management (BRM)
Exploring stress management
Understanding the significance of the knowledge of interviewing and assessment
Discovering incentives and motivational strategies
Examining productivity and marketing strategies
Learning theoretical information to derive sensible solutions
Exploring initial business coaching assessments for a specified business
Studying actions for improving and sustaining the level of performance
Learning how to put it all into practice via Project-Based Learning
Why Do People Have Business Coaches?
 Business coaching is considered a great method of intervention to improve businesses because it can be effective, efficient, outcome-focused and individually tailored to a client's requirements. People who have undertaken a business coaching course can offer clients expert insights, relevant advice and a good dose of morale-boosting! But what are their areas of expertise and why should people engage with a business coach?
Establishing a Vision Identifying what your business stands for and the goals you want to achieve gives direction and credibility and helps customers understand your product or service offering.
Setting Goals Good business is built on creating and also achieving goals. A business coach can help you establish your priorities and give you the strategies to meet your goals.
Writing a Business Plan Every business needs a plan, which should be updated regularly. Business plans should be current and comprehensive and a business coach can help you formulate and fast-track one.
Growing Revenue There is a myriad of reasons why even the best businesses might be underperforming. A business coach can offer a trained set of eyes to help identify why in order to enhance profits and business growth.
Managing Time Time is money, so implementing strategies to use it well can increase productivity and free business owners up for a better work/life balance.
Identifying Customers Business coaches can help owners and managers know more about their customers, and target potential new customers to increase profit.
Training Leaders Training helps employees hone their skills and knowledge and enhance their career opportunities. Fostering a culture of leadership also allows them to feel valued so their talents can shine.
Meeting Targets Like goals, business is all about targets whether it be growth, safety or sales targets. A business coach can help organisations identify them and provide strategies to meet them.
Planning for Succession Whether owners are looking to spend less time in their business or pass it on to someone else, a solid succession plan is crucial – and way before retirement age!
Selling a Business Selling a business can be complicated, particularly in terms of its monetary worth. A business coach can help highlight its future potential, and offer insights into how to maximise its appeal.
Six Traits Of A Great Business Coach
For great business coaches to be effective, they must establish an environment of trust, respect, challenge and accountability to motivate their clients to take action. (And of course, our business coaching course can help with this). But what traits set business coaches apart from the rest?
#1 – They Have Had Business Success
Great business coaches know how to grow and sustain a business and have had proven coaching success. Ideally, they have real-life experience and have both failed and succeeded, allowing their clients to benefit from their wisdom.
They also have testimonials from former mentees readily available that are positive, personal and detailed. These people have been through the process and their success is a good indicator of the quality of a coach.
Being active in the business community is also a good sign, particularly if they have written books, are interviewed by the media and/or regularly give lectures. It also means they will have longstanding relationships with people who can benefit their clients. Sometimes it is about who you know!
#2 – They Are A Good Listener
Being a good listener is important for success in both your personal and professional life, but what does it actually mean? Firstly, it takes other-orientation. Great business coaches will focus their attention on their clients and their communication — both verbal and non-verbal.
During sessions, they will also treat their clients as if they are the most important thing at that time, and be confident and engaging with their feedback. Good listeners also backtrack by repeating what their clients have said in order to ensure they've understood their comments clearly.
#3 – They Love To Teach
Teaching is a skill that people improve at over time. Great coaches love helping clients and actually enjoy the act of teaching. The initial consultation meeting is where clients can start to 'feel' a coach out. If the interactions are positive and passionate, it is a good indicator of how the relationship will progress.
Experienced coaches also understand that people learn in different ways, and they will tailor their sessions towards their client's preference. For example, visual learners prefer diagrams, images and videos or demonstrations. Auditory learners learn best through the process of talking and listening. And kinaesthetic learners learn primarily by doing.
#4 – They Have A Positive Mindset
So much of what we call success these days comes down to mindset, and a great attitude comes with experience and time. A great coach will have been through challenging times, but have a relentlessly positive outlook on life anyway! They don't see failure as a negative but as a learning experience, and this mindset helps their clients develop the resilience to thrive when they themselves are challenged.
They are also able to see the big picture, are patient, persistent and determined, and are capable of envisaging great things for their clients. Business coaches are their clients' biggest fan!
#5 – They Are Accessible
Expert business coaches make sure they are as accessible as possible to their clients. They go beyond just scheduled sessions by answering phone calls, text messages and answering emails whenever possible.
Those in business coaching are also willing to customise a program for you because they know that one size certainly doesn't fit all. They care about your individual concerns and challenges. They are also willing to share all of their experiences with their clients — both good and bad — and are often radically transparent!
#6 – They Practice Accountability
Great coaches actually care about whether or not their clients succeed. They are accountable for their own actions but practice 'tough love' by holding clients accountable for their own personal growth and results.
Clients don't simply disappear after their sessions are done. Interestingly, they care about how clients progress, enjoy sharing successes and often turn out to be friends for life!
Help business owners establish a vision, set goals, enhance productivity and achieve a healthy work/life balance with a business coaching course like the Certificate of Business Coaching!
https://www.australianonlinecourses.com.au/wp-content/uploads/Business-coach-scaled.jpg
1365
2048
Haley Williiams
https://www.australianonlinecourses.com.au/wp-content/uploads/AOC_logo.png
Haley Williiams
2020-06-10 14:38:48
2020-06-10 14:59:46
Develop Your Mentoring Skills With Our Business Coaching Course!