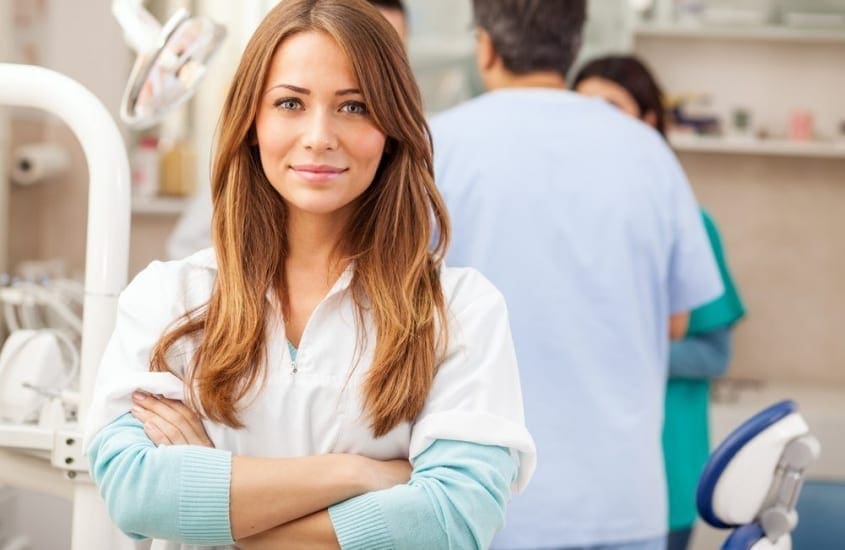 Dental Study Something to Smile About
Have you considered a career as Dental Assistant?
As a Dental Assistant, you provide chair-side and administrative assistance to dentists to ensure dental procedures run smoothly and efficiently. Your role involves providing a high level of patient care and comfort as well as assisting with reception duties when not involved in clinical procedures.
There is a lot to smile about when it comes to a career as a Dental Assistant. First, your work hours are regular and don't usually infringe on weekends, with work hours generally scheduled from Monday to Friday.
Dental Assistants are also in-demand with plentiful job opportunities and the profession is recession-proof – after all, we can't do without good oral hygiene.
Dental Assistants also enjoy good income and comfortable working conditions.  Your work environment is an indoor medical environment, either in the clinical setting or reception rooms.
As this job is in the health industry, you're also involved in a helping profession, which adds to increased job satisfaction.
So, if you have good communication skills, a positive attitude, a caring disposition and can multitask, why not consider this rewarding and flexible career option?
Take a look at the Certificate of Dental Reception and Office Administration at Australian Online Courses and take the first step towards your career as a Dental Assistant today.
https://www.australianonlinecourses.com.au/wp-content/uploads/become-a-dental-assistant.jpg
684
1000
Australian Online Courses
https://www.australianonlinecourses.com.au/wp-content/uploads/AOC_logo.png
Australian Online Courses
2017-08-23 00:00:00
2019-10-29 14:30:12
Dental Study Something to Smile About