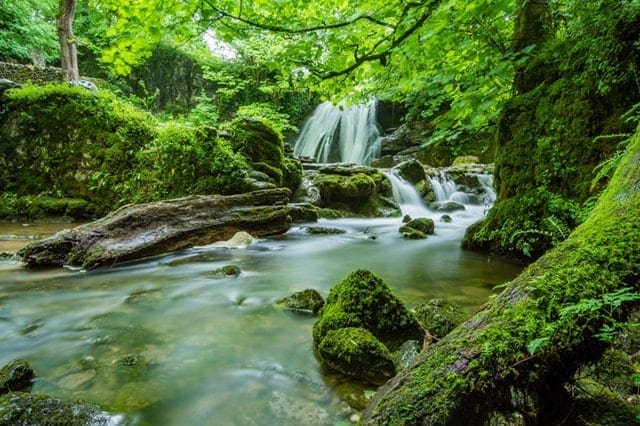 Certificate of Nature Park Management – New Course!
Listed in 1872, the world's first National Park was Yellowstone National Park in the US. However, Australia wasn't far behind with what is now known as the Royal National Park in NSW, which was listed in 1879. By 1916, every other Australian state had a least one designated National Park, and today they cover more than a million hectares. And that's only national parks – the mind boggles when you think about how many nature parks there are – from wilderness areas to camp and picnic grounds! 
Our point? With so much of this beautiful country to explore, we need experts who can provide recreational and educational experiences without comprising these natural environments. Study our Certificate of Nature Park Management, and you could be one of them! 
Learning Outcomes
Study the role of nature parks, including national parks, wildlife parks, zoos, reserves and picnic grounds

Learn about the role of community groups in nature parks

Explore the benefits of indigenous remnant vegetation and naturalised plants 

Learn how to identify and classify plants and animals 

Study basic ecology and its application, including climatic zones and the constituents of an ecosystem

Understand soil management in nature parks, including erosion, salinity, soil degradation and chemical residues

Learn about how to name, sample and improve soils, including exploring pH, nutrients and fertilizers

Study how to select plants in terms of costs, longevity and aesthetics

Discover natural gardening techniques, how to plant for succession and how to compost and dispose of waste

Explore the procedures for planting, including when to plant and how to stake plants

Gain an overview of the machinery used for park maintenance

Study nature park design including landscaping and design procedures 

Learn how to design animal enclosures, including cages, pens and open-range enclosures

Explore the characteristics of weeds and how to control them

Study plant pathology and how to inspect plants for suspected issues

Gain an understanding of insect biology and classification and the common fungal problems affecting plants

Learn how to manage pests and diseases, both chemically and non-chemically

Study how to grow indigenous plants, including techniques like pocket planting, wattling and slope serration 

Explore arboriculture, the roles and maintenance of trees and how to perform tree surgery

Gain an understanding of turf care, including choosing turf varieties and how to establish and maintain them

Find out what turf suits feature lawns, picnic areas and sporting grounds, gardens and parks

Study rehabilitation problems and solutions, including overcoming problem wet and dry areas

Explore the factors affecting rehabilitation – debris, water, topsoil, mass plantings and exotic organisms

Learn about the impact of recreation and park visitors on wildlife and natural environments 

Discover how to design and manage visitor amenities and provide interpretative facilities  

Study how to design access routes and walking tracks

Learn how to conserve and manage natural water bodies 

Gain an understanding of how to market and promote nature parks 

Study how to identify, minimise and manage safety issues and natural hazards

Learn how to prepare an appropriate risk management plan
Australia's Top 10 National Parks
There are over 500 national parks in Australia with a range of breathtaking natural environments from lush rainforests and pristine beaches, to sandy deserts and snow-covered mountains. So nominating the top 10 is not easy! However, these are probably the largest, most well-known and the most frequently visited. (They are also in continentally-clockwise order to prove we're not biased!)  
#1 – Uluru Kata-Tjuta National Park, NT
Every year thousands of visitors from all over the world visit this World Heritage site, and not just because of Uluru (although it's a pretty valid reason in itself!). Stretching over 1325 square kilometres, it's not only a geological wonder, but it's also filled to the brim with breathtaking scenery and generations-old rock art. It's also the spiritual centre of its indigenous inhabitants, the Anangu people.
#2 – Kakadu National Park, NT
Covering almost 20,000 square kilometres, Kakadu boasts a diverse array of flora and fauna. Surprisingly, it's also home to a third of Australia's bird population. Listed as a World Heritage site in 1981, there are ample opportunities here for photos, including of the iconic Barramundi Gorge. It's also a wonderful mix of barren landscapes and billabongs – although watch out for the crocs!
#3 – Daintree National Park, QLD
One of the world's most ancient rainforests at around 110 million years old, the Daintree pre-dates the dinosaurs and the Amazon River. Wow! World Heritage-listed, it is home to an exceptional and unique biodiversity of animals, including cassowaries and tree kangaroos. Its waterfalls and swimming holes make for wonderful refreshment in summer. However, this time of year is also monsoon season, so be prepared for lots of rain!
#4 – Great Sandy National Park, QLD
The parks first section, Cooloola, stretches between Noosa Heads and Rainbow Beach. It is filled with subtropical bushland and ocean waters teeming with amazing marine life. Fraser Island – the world's largest sand island – forms part of its second section and features endless beaches lapped by crystal clear waters. Iconic sites here include Lake McKenzie, Seventy Five Mile Beach and the Maheno Shipwreck. 
#5 – Kosciuszko National Park, NSW
New South Wales' largest national park is also home to the country's highest mountain, which rises to 2,228 metres tall. Here you can ski your way around Perisher or Thredbo in winter, and in summer it's a perfect spot for kayaking, hiking and cycling. The Snowy Mountains region is here as well which is recognised as a UNESCO Biosphere Reserve. Meaning? You'll find animals and plants here not found anywhere else in the world. 
#6 – Blue Mountains National Park, NSW
Another World Heritage area, this area is filled with iconic landmarks including Wentworth Falls, the Three Sisters and the Jenolan Caves, which are over 340 million years old. This area offers a range of fantastic outdoor activities including swimming amid the waterfalls of the Leura Cascades. There is also a vast range of cycling trails and over 140 kilometres of hiking tracks – the adventurous at heart should try the Cliff Top Walking Track.
#7 – Port Campbell National Park, VIC
This dramatic stretch of coastline is part of the aptly named Shipwreck Coast, and its wild seas have shaped some spectacular natural formations including the Grotto, London Arch and the Twelve Apostles. While you're here, it's also worth taking a walk to Loch Ard Gorge. Several crew members sheltered in a cave here in 1878 after their ship ran aground on nearby Muttonbird Island. It's also an excellent spot for photos – mainly of penguins! 
#8 – Flinders Ranges National Park, SA 
This area is the scene of several priceless heritage features including fossils, Aboriginal rock art and the ruins of early pioneering settlements. It's also filled with rugged mountains, spectacular gorges and creeks lined with river gums. A must-see here is Wilpena Pound, a huge crater-like basin that spans over 100 kilometres. It was formed from the erosion of an ancient mountain range millions of years ago.
#9 – Purnululu National Park, WA
Home to the 350-million-year-old Bungle Bungles, this 240,000-hectare national park features an imposing mountain range in an area rich with indigenous artwork. Here you'll also find some amazing orange-and-black-striped sandstone domes surrounded by a hidden world of craggy gorges and tropical swimming holes. Camping and hiking are the activities of choice here, in between enjoying an exciting 4WD adventure!
#10 – Cradle Mountain-Lake St Clair National Park, TAS
Two massive landmarks exist in this park – its 1545-metre-high mountain and Australia's deepest lake. This Wilderness World Heritage Area is surrounded by glacial valleys, ancient rainforests and the world-famous Overland Track. This 65-kilometre hike meanders its way among abundant waterfalls, towering mountains, beautiful meadows and the region's highest peak, Mt Ossa.
Imagine a career that allows you to spend all of your working hours amid breathtaking natural environments. Now you can stop imagining because with our Certificate of Nature Park Management it could become your reality! 
https://www.australianonlinecourses.com.au/wp-content/uploads/Cert-Nature-Park-Management-blog-small-size.jpg
426
640
Haley Williiams
https://www.australianonlinecourses.com.au/wp-content/uploads/AOC_logo.png
Haley Williiams
2020-02-26 10:31:37
2020-02-26 10:31:37
Certificate of Nature Park Management – New Course!