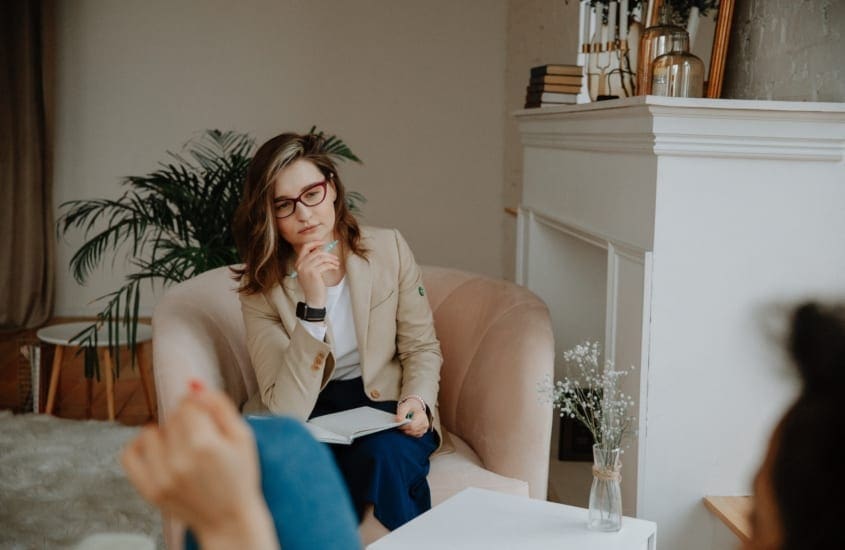 Certificate of Crisis Counselling – New Course!
Offering counselling in a crisis is a unique and valuable skill. Most crises are part of people's everyday life experiences. However, some crises require expert intervention. These include mental illness, relationship issues, various kinds of loss and events like the COVID-19 pandemic.
Chronic exposure to stress or trauma can lead to mental illness. So counsellors must have the skills and knowledge to help clients cope. This enables them to offer assistance around resources, assistance, support and stabilisation. 
If you are working in or planning to work in counselling, psychotherapy, psychology or a health profession or caring role, counselling courses online – like our new Certificate of Crisis Counselling – can broaden your counselling repertoire.
Learning Outcomes
Understanding the methods of crisis intervention 

Learn about situational and existential crises

Study crises responses and intervention 

Gain an understanding of who provides crisis intervention?

Examine how to respond to a crisis and the problems that might be encountered

Gain insights into useful definitions for crisis intervention

Learn about critical incident stress management (CISM)

Explore stress, psychological and critical incident stress debriefings (CISD)

Study law enforcement personnel and CISD

Understand the criticisms of psychological debriefing and CISD

Examine the ethical, professional and legal issues involved with crisis counselling

Gain insights into professional responsibilities and Duty of Care 

Learn about conflicts of interest and sexual exploitation

Explore group counselling

Understand diminished capacity

Examine cultural issues and respect

Gain insights into client records and confidentiality

Learn about dual relationships

Explore professional consultation and professional and specialist skills

Study how to support people who are grieving

Gain an understanding of suicide 

Learn how to deal with anger 

Gain insights into referral and termination 

Study dependency

Gain insights into ending the counselling process

Explore the dangers of crises and effective intervention 

Examine transference and counter-transference

Study suicide, the types of suicide and suicide intervention

Examine suicide and autonomy and professional ethics and suicide

Gain insights into risks to the professional

Undertake a case study of the South Asian tsunami

Learn how to debrief the de-briefer

Explore developmental crises including situational crises

Study Erikson's Stages of Psychosocial Development model

Learn about teenage crises, the causes and interventions and grief as a unique adolescent experience

Examine how children cope with disaster and crisis

Study the differences in grief 

Gain insights into grief and children and preparing a child for the death

Explore the area of sudden deaths and what happens after a death 

Learn about childhood responses to grief and how to support a grieving child

Study children with severe problems with loss and grief 

Understand what is OK and what is not OK

Gain insights into the common symptoms of Post-traumatic Stress Disorder (PTSD)

Examine the types of PTSD and the components of treatment

Learn about avoidance and PTSD 

Explore common responses to sexual assault 

Study sexual assault trauma syndrome

Gain an understanding of assault grief

Learn about male survivors of sexual assault

Study stalking, pursuit behaviour and false stalking syndrome

Gain insights into sexual abuse counselling

Study terrorist attacks, violent attacks and how violence can affect the victim

Learn about crisis and drug addiction

Explore the traumatic effects that lead to drug abuse

Understand why people use drugs and the symptoms

Gain insights into men, depression and substance abuse

Study disasters and substance abuse or dependence

Learn about PTSD and alcohol abuse

Explore effect treatment patterns

Examine family crises including child abuse, stranger abusers and the triggers 

Study transitions including grandparenthood 

Gain an understanding of PTSD and the family

Explore whether counselling and therapy culture-bound

Examine culture shock and dealing with cultural change

Study the traumatic stress reactions

Learn about crisis intervention

Understand behaviours and the recovery process 
Tips For Managing Mental Health During COVID-19 
The outbreak of the coronavirus, COVID-19, has impacted people in a variety of ways on a global scale. And it is understandable that during times like these, people are feeling a range of emotions – afraid, anxious, overwhelmed, depressed and even bored.
This is also heightened excessive media coverage and the continually changing alerts regarding the spread of the virus. Practising social distancing, self-isolation and/or quarantining can also be stressful and impact our mental health. Here are some tips on how to look after yourself and others during these difficult times, and where to find support if you need it.
What You Can Do For You
In terms of mental health, it's essential to stay positive – as much as the situation is unpleasant, it will pass. Following a 'calm yet cautious' approach is also helpful – this includes observing good hygiene habits and following medical advice and directives issued by the Government. 
You should also try and be mindful not to contribute to widespread panic that hinders efforts that can positively affect the outbreak. This includes limiting 'panic buying' and managing your exposure to media coverage by relying on reputable and accurate sources of information. We have added a list of these at the end of this blog.
COVID-19 doesn't discriminate – it can affect anyone regardless of their gender, age or ethnicity. So it's crucial we realise we can also cope if we connect and support others with kindness and compassion. Sticking to a routine and keeping busy by reading, watching movies and even learning a new skill can be beneficial as well.
If COVID-19 has forced you to work from home, you're probably dealing with additional challenges. Read about how to manage your mental health when working remotely here. 
What You Can Do For Others 
Staying connected with friends and family, whether it's by email, phone or video can also offset negative mental health impacts in others. If you think someone is struggling in social isolation – like a neighbour, for example – reach out to them. Never underestimate the power the hope you can offer has to another person. It can be as easy as sending an email, leaving a note under their door or calling them to check on their welfare.
You can also stay connected by getting creative with your interactions, particularly if you are self-isolating. Setting daily digital challenges (like sharing a creative pursuit, a mindful practice or a healthy habit) with a friend or group that shares similar interests can increase motivation. 
Or you can join your local community's social media group, which will keep you up to date with what's happening in your neighbourhood. It might also be a chance to easily offer support to those that are finding it hard to cope. These types of strategies help both parties, so it's a win-win! 
What You Can Do For Your Children
Children are particularly vulnerable during challenging times like these, and it understandable given they are seeing and hearing a lot about COVID-19 that they may not understand. If possible, try to minimise their exposure to the media and give them extra reassurance and attention. This includes taking the time to talk and encouraging them to share their feelings. 
You can start by finding out what they know and whether they have any questions. Then use a calm, reassuring tone to point out the facts. For younger children, it's best to keep it brief and straightforward. For older ones, offer more detail. If children are frightened or worried, ask them how they're feeling, and share your feelings and the strategies you are using to cope. You can read more about talking to your children about COVID-19 here.
What You Can Do For Older People
People aged 70 years or older or 65 years or older with chronic medical conditions are one of the most vulnerable groups in terms of catching COVID-19. That's why social distancing and self-isolation is recommended. The Government has placed limits on visits to the elderly, including those in aged care facilities. However, these measures can leave older people feeling lonely and isolated, and it can have negative impacts on their mental health.
One simple way you can assist is by checking in with them regularly. Offering to help with a trip to the supermarket or chemist on their behalf can also help those who can't go out on their own. If this is not possible, the Government's My Aged Care website has put in place arrangements to help older people access food and essential household items. This includes an agreement with some supermarkets for priority ordering and delivering. Other general tips can be found on the Aged Care Guide website.
Helping older people become established online, and accessing video call services like Skype or FaceTime can also be valuable. Be Connected has some great resources designed to help them develop their online and digital skills.
If you are regularly in contact with someone living with dementia, it's also important to maintain communication as much as possible. Resources like Dementia Australia's website can help carers, family and friends assist during this challenging time. 
Reputable Sources Of Information
Australian Department of Health
Where To Go For Support 
Lifeline:
Phone: 13 11 14 (24 hours/7 days)
Text: 0477 13 11 14 (6pm-midnight AEDT, 7 nights)
Webchat (7 pm-midnight, 7 nights)
Kids Helpline:
Phone: 1800 55 1800
Beyond Blue: 
Phone: 1300 22 4636
Head to Health: 
SBS:
Assistance for non-English speaking Australians 
The effects of COVID-19 will be far-reaching and long-term. Up-skilling with counselling courses online like our Certificate of Crisis Counselling will allow you to offer front-line support for those most in need when it's needed.
https://www.australianonlinecourses.com.au/wp-content/uploads/Crisis-counselling-blog-scaled.jpg
1365
2048
Haley Williiams
https://www.australianonlinecourses.com.au/wp-content/uploads/AOC_logo.png
Haley Williiams
2020-04-28 13:16:54
2020-04-28 13:16:54
Certificate of Crisis Counselling – New Course!