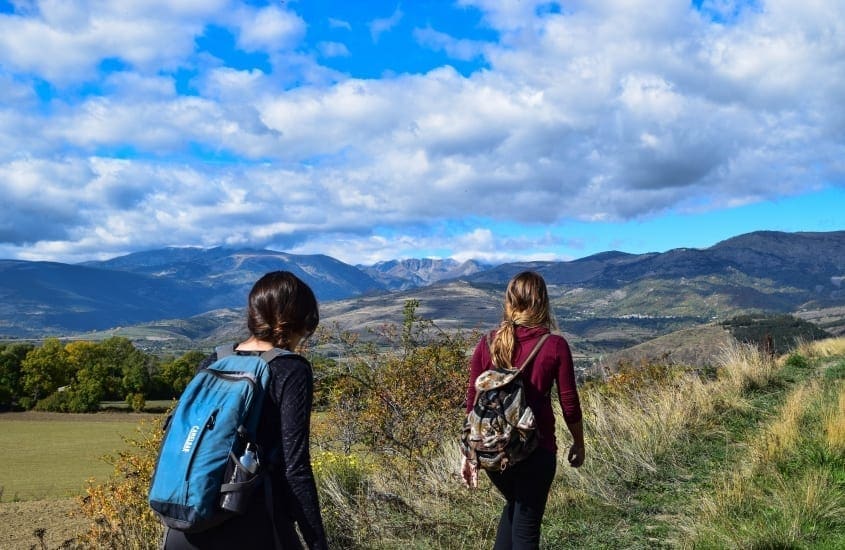 Certificate of Bushcraft and Survival – New Course!
Our new course, the Certificate of Bushcraft and Survival, is ideal for anyone who has a recreational interest in wilderness exploration. This includes tour guides, scout leaders, campground managers, park rangers, people in the tourism or leisure industries, and those wanting to work for outdoor equipment or camping supplies businesses. And if you're currently self-isolating or out of work, now is the ideal time to study! 
COVID-19 has been tough on many businesses, and according to the Australian Bureau of Statistics, two-thirds have reported a reduction in revenue or cash flow. The travel and tourism sector, in particular, has been hit hard due to border closures, travel restrictions and mandatory self-isolation policies. However, the industry will recover eventually, and when it does, it will need knowledgeable and skilled employees to help it get back on its feet.  
Learning Outcomes
Learn about living things including ecological relationships

Explore climatic zones and the interrelationships between climate, soil and vegetation

Study the associations between plants

Gain an understanding of the continental drift

Understand the impacts of weather on wilderness activities

Examine features of weather including highs and lows, thunderstorms and atmospheric pressure

Gain insights into the changes in storms 

Learn about weather symbols and weather terminology

Study participant fitness levels in terms of how to test current physical fitness

Learn about the minimum essential items for a survival kit

Understand what is included in an individual medical kit

Study what sort of clothing is needed on a wilderness adventure 

Explore the nutrition required including how to package food

Learn about liability and insurance and how to undertake a risk assessment

Gain an understanding of First Aid procedures

Examine hypothermia (exposure) and hyperthermia (heat exhaustion)

Learn how to build a wilderness shelter and light a fire

Gain insights into how to maintain mental strength

Study how much water you'll need and how to find it including planning ahead

Discover how to obtain water from landscape vegetation, tree roots and soakage water

Learn how to look for animal signs when finding water 

Study how to make an above-ground still 

Gain insights into Australian Bush Tucker foods and how to use it

Explore how to prepare plant food and use animals for food

Discover how to navigate and find directions

Learn how to use a compass and map 

Study longitude and latitude, scale, contour lines, distance estimation and pacing

Gain insights into navigation by the sun, moon and stars 

Learn how to deal with emergencies

Explore venomous creatures like snakes, the symptoms of a poisonous bite and how to give First Aid if needed

Study the dangers of arachnids and how to provide First Aid if needed

Understand the dangers of marine creatures and how to provide First Aid if needed 

Gain insights into carnivorous mammals like bears and big cats

Examine poisonous plants and their effects 

Learn about the dangers of bushfire emergencies 

Study how to set up an effective and efficient campsite 

Understand the different styles of camping

Discover how to achieve successful camp programming

Learn how to deal with waste disposal when camping

Study passive land-based activities like orienteering, plant collection and environmental activities 

Examine water-based adventure activities like scuba diving, snorkelling and sailing

Learn more about water-based adventure activities like speed boating, water skiing and jet skiing

Study water-based adventure activities like canoeing and white-water rafting

Gain insights into active land-based adventure activities like abseiling, hang gliding and rock climbing

Examine active land-based adventure activities like skiing and snowboarding 

Learn more about active land-based adventure activities using motorised vehicles 

Study active land-based adventure activities like mountain biking and horse riding
Australia's Top 10 Wilderness Explorers 
Whether they traversed mountains, braved the Poles or trekked across desert plains, our nation's greatest explorers have helped fashion the intrepid Australian spirit. And today, they provide amazing inspiration to anyone looking to study a bushcraft and survival skills course. Here is our pick of the top trailblazers who pushed beyond boundaries to change the way we see the world. 
#1 – Burke and Wills 
Born in Ireland and England respectively, Robert O'Hara Burke and William Wills arrived in Australia in 1853. In 1860, both joined the Royal Society of Victoria' expedition to cross the continent – Burke as appointed leader and Wills as expedition surveyor.
After the expedition reached Cooper Creek in Queensland, Burke decided to scale down provisions and fast-track north with two other party members, John King and Charles Gray. They reached the Gulf of Carpentaria successfully, but Gray died soon after from malnutrition. Burke and King decided to return to the main camp in Coopers Creek however were disappointed to find that the rest of the party had left only hours earlier. 
Tragically, both Burke and Wills died two months later within a few hundred metres of each other. King managed to stay alive for another month before a search party found him. He recovered but later died of tuberculosis in 1872 aged 33. Many memorials were dedicated to the expedition throughout Victoria and Burketown, and the Burke River were both named after Robert.
#2 – Emily Creaghe
 Born Emily Robinson in 1860, Creaghe moved to Queensland with her family in 1876, and at the age of 21 married station manager Harry Creaghe. In 1882, the couple joined Ernest Favenc and his wife Elizabeth on an expedition to explore the rugged Gulf of Carpentaria region. But after landing at Normanton, Elizabeth became ill and was evacuated to Sydney. The rest of the party continued with their journey from Normanton in Queensland to Katherine in the Northern Territory battling flies, low supplies and fierce tropical heat. However, despite the hardships, a pregnant Creaghe never complained. And her adventures didn't stop there! 
Following her husband's death in 1886, Emily joined a trip to New Zealand on the Perthshire. The ship ended up drifting for seven weeks after the propeller shaft broke in the Tasman Sea before they were rescued. Her diary, published in 2004, is now safely housed in the State Library of New South Wales.
#3 – George Ernest 'Chinese' Morrison
Born in Geelong in 1862, Morrison decided to walk the 1200-kilometres to Adelaide via a mostly uninhabited coastline after graduating from college. At the age of 20, he then travelled by boat through the Torres Strait and walked the 3200 kilometres back to Melbourne alone from the Gulf of Carpentaria. This route was the same one that had led to the demise of Burke and Wills just 20 years before. 
In 1883, he was financed for an expedition to go further than any white man into the New Guinea interior. About a month into the journey, the indigenous population became hostile, and he was struck by two spears and almost died. Morrison then travelled to Scotland where he recovered, obtained his medical degree and then decided to walk 5000 kilometres across China.
In 1910, he rode 6000 kilometres across Russia and became a senior political advisor to the Chinese Government. His vast collection of Chinese maps, books and manuscripts are in the Oriental Library in Tokyo.
#4 – Sir Douglas Mawson OBE
Born in 1882, Mawson migrated to Australia at the age of two, and by 16 was studying engineering and geology at the University of Sydney. In 1907, he was asked to join Sir Ernest Shackleton's 1907 British expedition to Antarctica and led the first party to reach the South Magnetic Pole. It was here that he summited 3794-metre Mount Erebus despite hunger, frostbite and extreme exhaustion.
He became the leader of the Australasian Antarctic Expedition 1911, and over three years travelled more than 500 kilometres inland collecting scientific and geological data. During one of his inland journeys in 1912, Mawson's two companions died, leaving him alone, injured and severely malnourished more than 320 kilometres from base.
Thirty days later, Mawson staggered back to base only to discover that his ship had left for home just hours before. He spent another winter alone in Antarctica and when he finally returned to civilisation, was knighted and received the Polar Medal and the Founder's Medal of the Royal Geographical Society. Mawson's name is enshrined in the Australian Antarctic Station named after him, and in the heritage-listed hut that he lived in at Cape Denison between 1911 and 1914.
#5 – Robyn Davidson
Born in Queensland in 1950, Davidson's vivid imagination was encouraged by her father, who was a naturalist and bushman. In 1968, Davidson hitchhiked to Sydney, and it was here she learned zoology. She then relocated to Alice Springs to serve an apprenticeship with a cameleer.
A chance meeting with photographer Rick Smolan led to a National Geographic sponsorship which she used to fund a camel trek. In 1977 she set out with four camels and her dog Diggity and trekked over 2700 kilometres from Alice Springs to the Indian Ocean across some of Australia's most remote deserts. 
Known as The Camel Lady, Davidson's best-selling book, Tracks, was eventually made into a film and she continues to be an inspiration for a new generation of young women.
#6 – Andrew Lock OAM
Born in 1961, Lock was 24 years old and a policeman in Wagga when he started to entertain the thought of climbing an 8000-metre peak. Inspired by mountaineer Greg Mortimer's ascent of Mount Everest, over the next nine years, he learnt to climb mountains at gradually higher altitudes before he was ready to enter 'the death zone'.
In 1993, he scaled his first 'eight-thousander' – K2 – the world's second-highest peak and arguably one of the most dangerous. Of the six climbers who summited on the same day as him, three died on the descent.
Lock is the first Australian to successfully climb all 14 of the world's 8000-metre peaks – either solo or alpine-style – including four that he has summited twice. In 2011 he was awarded the Medal of the Order of Australia for his outstanding service to mountaineering. Now, that's one awesome bushcraft and survival story! 
#7 – Tim Cope
Born in 1978, Cope was raised in Gippsland, Victoria and is the eldest of four children. His father, Andrew, was an outdoor educator and instilled in his children a love and respect for the bush. In 1998, he trained as a wilderness guide before setting out with fellow Australian Chris Hatherly on an expedition that saw them ride recumbent bicycles from Moscow to Beijing. The journey of over 10,000 kilometres took them 14 months.
In 2001, Cope and three others rowed a five-metre boat 4200 kilometres down the Yenisey River in Siberia, after which he began planning his greatest expedition. In 2004, he took equestrian long-riding to the extreme, spending over three years covering 10,000 kilometres to become the first person in modern times to follow Genghis Khan's march from Mongolia to Hungary. 
He has earned both Adventurer of the Year from National Geographic and Young Adventurer of the Year and Adventurer of the Year awards from the Australian Geographic Society, and his books and films have inspired audiences across the globe.
#8 – Andrew Harper OAM
Born in Deniliquin, Harper was a jackaroo on a sheep station near Longreach when he came across a sign marking the Tropic of Capricorn. While backpacking in Morocco three years later, Harper was inspired to traverse Australia's Tropic of Capricorn by camel when he returned home. 
In 1999, he undertook a 4637-kilometre journey that took 229 days, and his passion has since allowed him to conquer more of Australia's desert lands than any other contemporary desert explorer. He is a Fellow of the Royal Geographical Society and was awarded a Medal of the Order of Australia for his service to research, adventure tourism and environmental science.
#9 – Jon Muir OAM
Born in Wollongong in 1961, Muir became obsessed with rock-climbing and mountaineering, and after seeing a documentary on Mount Everest, dropped out of high school two years early to pursue climbing full-time. Rock-climbing in Australia was followed by alpine climbing in the European Alps and New Zealand, and then two attempts of Everest.
After 11 years, he finally conquered the world's highest summit, alone and without Sherpa support – a first for any Westerner. In 1999, he reached the South Pole and in 2002, the North Pole – both without huskies or mechanised support. In 2001, he made the first-ever unassisted crossing of Australia from Port Augusta in South Australia to Burketown in Queensland covering over 2500 kilometres in 128 days. In 2007, he completed a solo walk to the geographic centre of Australia, and in 2015 attempted to make the first unsupported crossing of the Gibson and Little Sandy deserts in Western Australia.
Jon Muir has been awarded a Centenary Medal, Australian Geographic Society's Adventurer of the Year and a Medal of the Order of Australia for services to mountaineering.
#10 – Linda Beilharz OAM
 Born in Melbourne in 1960, in 2004 Beilharz became the first Australian woman to ski 1100 kilometres from the edge of Antarctica to the South Pole. 
 On a North Pole journey in 2010, she trekked for 56 days over a total of 780 kilometres. In the final days of the trek, her team endured a ruthless push to the end, covering 27 kilometres in 17-hour days with only an hour of sleep per day. 
 In 2013, Linda and her husband Rob returned to Patagonia, this time successfully crossing the icecap. She is the first Australian woman to successfully ski to both the North and South poles as part of a larger challenge to cross the world's four ice caps, including Greenland and Patagonia. Known as the Icy Pole Lady, in 2010 she was named Australian Geographic Society's Adventurer of the Year. She was also awarded the Medal of the Order of Australia for her adventure efforts.
Keen to help others explore some of the wildest parts of the planet? Now is an excellent time to up-skill while nurturing your love of the outdoors with our Certificate of Bushcraft and Survival.
https://www.australianonlinecourses.com.au/wp-content/uploads/Bushcraft-and-Survival-blog-scaled.jpg
1365
2048
Haley Williiams
https://www.australianonlinecourses.com.au/wp-content/uploads/AOC_logo.png
Haley Williiams
2020-04-21 15:47:48
2020-04-21 15:51:38
Certificate of Bushcraft and Survival – New Course!