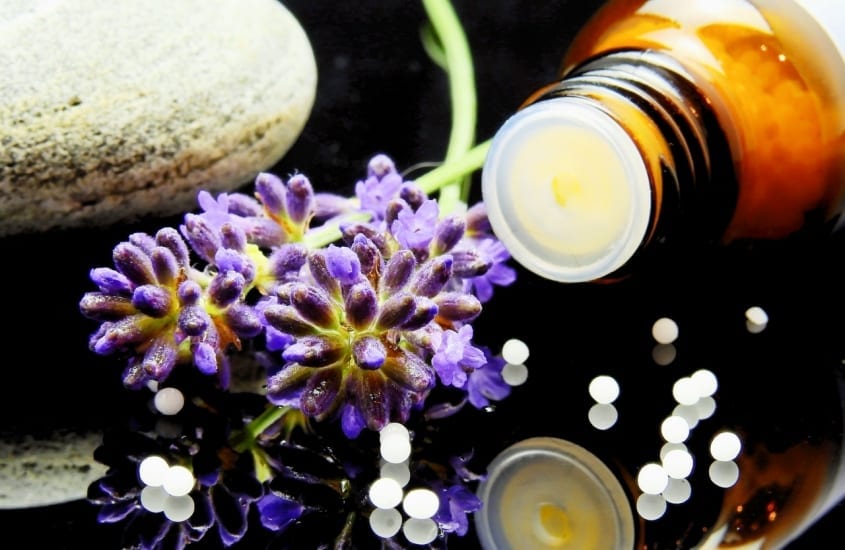 Certificate of Aromatherapy – New Course! 
Are you interested in the healing power of plants? If so, aromatherapy courses can equip you with the knowledge to improve your mind and body through the powerful use of essential oils. 
The Certificate of Aromatherapy incorporates plant knowledge and essential oil production, as well as properties of essential oils, how to use essential oils, creating therapeutic blends, and safety aspects.
What is Aromatherapy?
Aromatherapy is a complementary healing treatment that uses essential oils derived from plants. There are many ways to use essential oils – both for yourself and for others.
Aromatherapy courses provide the skills and knowledge to use essential oils with confidence to uplift body, mind, and spirit, enhancing physical and emotional health.
Carriers Help Oils Work Better
Essential oils, with a few exceptions, should never be put directly onto the skin. Instead, most oils are best used in conjunction with carrier oils. 
Carrier oils ensure the essential oil is distributed evenly and avoids irritation or discomfort that can occur if an applied directly to skin. 
Combining essential oil with a carrier will also ensure faster results, as this helps speed up absorption into the skin. 
Vegetable oils are the most common oils in aromatherapy and have a variety of properties and benefits. 
Popular Carrier Oils
In aromatherapy courses, you will discover the different types of carrier oils and their significant benefits.  
Sweet Almond Oil
Sweet Almond Oil is ideal for dry, chapped skin and stores well. It is also highly nutritious, and studies have shown that it is twice as effective as olive oil in reducing cholesterol levels.
Apricot Kernel Oil
High in polyunsaturated fatty acid, Apricot Kernel Oil has a light texture and is perfect for facial massage and dry, mature skin. 
Avocado Oil
Highly nutrient and rich in chlorophyll, Avocado Oil has powerful moisturising properties and is ideal for sun-damaged skin, eczema and nappy rash.
Canola Oil (Rapeseed Oil)
Popular in food preparation, Canola Oil has a very high content of unsaturated fat and is light in texture.
How Are Essential Oils Used? 
The most common way to use essential oils is to inhale them, for their scent and therapeutic properties. But essential oils can be used in many ways, such as:
In an oil burner or diffuser 

In steam inhalations

In bathwater

On a tissue or like inhale

Mixed in oil or lotion and applied therapeutically to the body
10 Essential Oils and Their Uses
Eucalyptus
Eucalyptus Oil is popular for its powerful antibacterial and antiseptic properties, and as such is ideal as a cleaning product to help kill germs and bacteria. A native Australian oil, Eucalyptus cools and soothes skin when used in a carrier oil and is an excellent pick-me-up.
Juniper
Juniper is ideal for relieving nervous tension, is a potent detoxifier, an immune booster, and naturally improves short and long-term ailments.
Lavender
Lavender is popular to soothe and calm the mind and body. It has a profoundly relaxing scent and is used to ease stress, relax both the body and the mind and promote restful sleep.
Lemon
Lemon essential oils also have antibacterial qualities – lemon essential oil steam inhalations are a fabulous way to alleviate a cold. And even better, the uplifting nature of the scent can improve your mood!
Chamomile
As an essential oil, Chamomile has been used for a variety of conditions, from digestive issues to wound healing and anxiety and insomnia.
Peppermint
Peppermint is popular as for its antiseptic and anti-inflammatory qualities. It's also used to nourish dry skin when blended with a carrier oil. Peppermint's robust and refreshing scent is also ideal for fighting fatigue and tension and can enhance concentration. 
Clary Sage
Clary Sage is popular for its relaxing, soothing and balancing properties. It is used to promote restful night's sleep and can improve the condition of hair and scalp. 
Ylang Ylang
A mood-enhancer, Ylang Ylang has a fresh, delicate scent which also fights fatigue and promotes a restful sleep. Applied topically, it softens the skin. It's also known for its aphrodisiac properties!
Sweet Orange
Sweet Orange has a sharp, citrus scent that can help to lift the mood in times of stress. It also has potent anti-inflammatory, antiseptic, and aphrodisiac properties.
Tea Tree
A powerful antiseptic and antibacterial essential oil, Tea Tree has a strong, fresh scent. It's popular for cleaning, deodorising and deterring insects. 
What Does an Aromatherapist Do?
A trained Aromatherapist can provide relief and treatment for a wide range of specific ailments, as well as treatment for balancing and restoring emotional well-being, through the proper use of massage and essential oils.
Learning Outcomes
Develop a basic understanding of the safe use of aromatherapy oils and their production.

Describe the classification system used for naming plants and identify the family, genus and species names of plants used to produce essential oils.

Define aromatherapy and its history and understand how aromatherapy works, and the basic chemistry behind it.

Identify a range of essential oils and their uses.

Ensure that essential oils are used in a safe and controlled manner.

Identify what can be used as a carrier for essential oils and why they must be used.

Describe methods which can be used to grow, and harvest herbs used in essential oil production.

Describe methods used to extract essential oils from plants.

Identify herbs and oils acknowledged as hazardous to people, and which should not be used in aromatherapy, or with great care.

Understand about how plants are named.

Provide scientific names of ten different plants from which essential oils are derived.

Understand how herbs are promoted to the public to sell them.

Understand the history of aromatherapy and essential oil use.

Suggest different blends that can be used for several complaints.

Discuss a range of oils that would be suitable for a travel kit.

Demonstrate your understanding of a range of oils that would be considered safe to use for children.

Understand different types of vegetable oils appropriate for use in massage and indicate what types of skin the oils are good for.

Explain how oils enter the body and how a carrier will assist with this entry.

Understand how aromatherapy oils can be used in the bath.

Understand why some herbs tend to be collected in the morning, some before flowering, some during flowering, and others at various times of the year and what impact this has on the essential oil.

Understand why some oils cost more others.

Discuss different methods of oil extraction and list their benefits and disadvantages.

Comprehend the difference between essential oil and aromatic oil.

Be able to compile a detailed costing for processing herb materials to produce essential oils.

List a range of essential oils that are not safe for use in aromatherapy.

Discuss how essential oils can be used safely and ways in which they should not be used.

Understand which essential oils may not be safe for use during pregnancy.
Whether you're interested in aromatherapy as a career or a hobby, consider aromatherapy courses, such as The Certificate of Aromatherapy to ignite your passion for the healing power of plants. 
https://www.australianonlinecourses.com.au/wp-content/uploads/Aromatherapy-blog.jpg
960
1280
Haley Williiams
https://www.australianonlinecourses.com.au/wp-content/uploads/AOC_logo.png
Haley Williiams
2020-02-28 12:37:09
2020-02-28 12:37:09
Certificate of Aromatherapy – New Course!