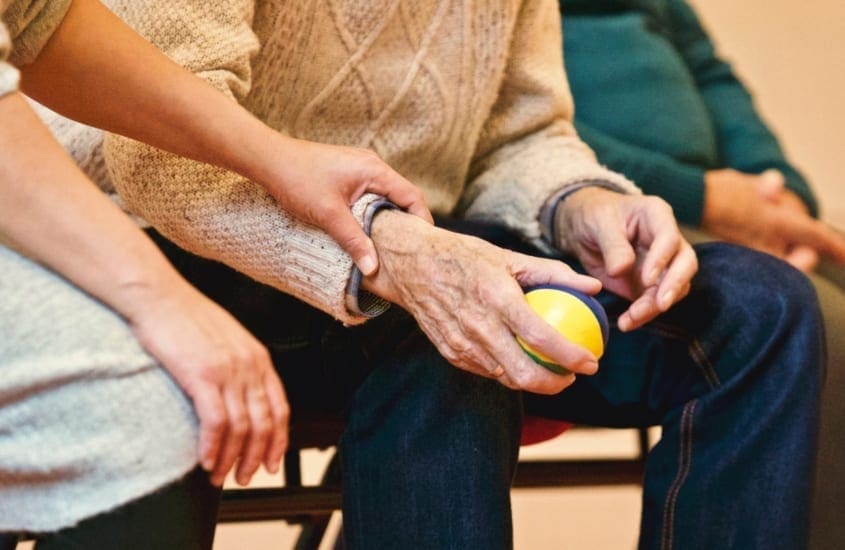 Certificate of Aged Care Counselling – New Course!
Our new course, the Certificate of Aged Care Counselling, will enable you to understand these issues with compassion and empathy and provide the appropriate support for those approaching or already in their 'twilight' years.
The study of aged care is of immense value to society. The world's population is not only expanding, but the proportion of the population classified as 'elderly' is also increasing, particularly in developed countries. Depending on our health, where we were born and our access to health services, we are also tending to live longer. But as people age, they face particular changes and challenges that require the skills of experts to assist them – and this demand is increasing! 
Learning Outcomes
Understand ageing in terms of gerontology, theories of human development, physical health problems, and the effects of the ageing population.

Explore the ageing theories of Erikson, Levinson and Atchley, including theories of activity, retirement and disengagement. 

Discover how lifestyle changes affect the elderly in terms of relationships with partners, friends, children and grandchildren.

Learn about the psychological impacts of changes that occur as a person ages, including the areas of intelligence, cognitive changes, depression, sexuality, and bipolar and unipolar disorder.

Explore the scope of support services including occupational therapists, physiotherapists, counselling professionals, preventative services and complementary practitioners.

Understand common risks for the elderly and enablement techniques, including the benefits of sport, exercise and pets.

Learn about an older person's deterioration of health, including physical changes to their skin, hair, eyes, height, senses and reflexes.

Explore health problems like gout, osteoarthritis and rheumatoid arthritis. 

Study the areas of aged care diet, nutrition, eating habits, exercise, stress, pain relief and medication.

Learn about ethics and intervention in terms of confidentiality, competence, addressing a client's needs and the barriers to aged care counselling. 

Explore common legal and ethical issues in aged care, including decision-making capacity, informed consent and euthanasia.

Learn how a variety of counselling techniques can be applied to specific grief and loss situations when counselling older people.

Develop strategies for counselling an older person who has been diagnosed with a debilitating or terminal illness.

Develop strategies for counselling an older person who has lost a loved one.

Determine when and how to intervene in the life of an older person.
Why Study This Course?
The demand for those with aged care counselling qualifications is expected to grow very strongly over the next five years, from around 176,000 workers in 2018 to approximately 245,000 by 2023.
This course may be studied by itself or as part of higher-level qualifications, and is aimed at those working in, or hoping to work in:
Aged care

Health care 

Homecare 

Counselling roles

Psychology roles

Carer roles

Community services 
You also don't have to be working in the industry to study this course. An aged care counselling certificate can also be of benefit if you are looking to expand your professional development in terms of caring for an aging parent, relative, neighbour or friend.
Trends in Life Expectancy 
 Life expectancy is the most commonly used measure to describe population health, and it reflects the overall mortality level of a population. It measures how long a person is expected to live based on the current age and sex-specific death rates. In summarising mortality patterns, it is often expressed as the number of years of life, from birth, that a person is expected to live.
 In Australia, life expectancy has improved dramatically for both sexes in the last century. According to the World Health Organisation, as of 2018, the life expectancy of males in Australia is around 81 years and for females, 84.8 years. This is compared to people born in the mid-1930s, where the average life expectancy was 63.5 years for men and 67.1 years for women! 
Fun Facts
The oldest person in history, whose age has been independently verified, was Jeanne Calment of France, who was 122 years of age when she died in 1997. As of January this year, the oldest living person is Chitetsu Watanabe of Japan. Born in January 1903, she is 117 years of age and is the only verified living person who was alive when the Wright brothers took their first powered aircraft flight! 
Anyone who reaches the age of 100 is known as a centenarian. However, those who have reached 110 are supercentenarians – which we think is SUPER impressive! 
Like to help older people get the most out of their twilight years? Put your compassion, knowledge and skills to wonderful use with our Certificate of Aged Care Counselling.
https://www.australianonlinecourses.com.au/wp-content/uploads/Cert-aged-care-counselling-image-blog-scaled.jpg
1152
2048
Haley Williiams
https://www.australianonlinecourses.com.au/wp-content/uploads/AOC_logo.png
Haley Williiams
2020-02-05 11:50:04
2020-02-05 11:50:04
Certificate of Aged Care Counselling – New Course!