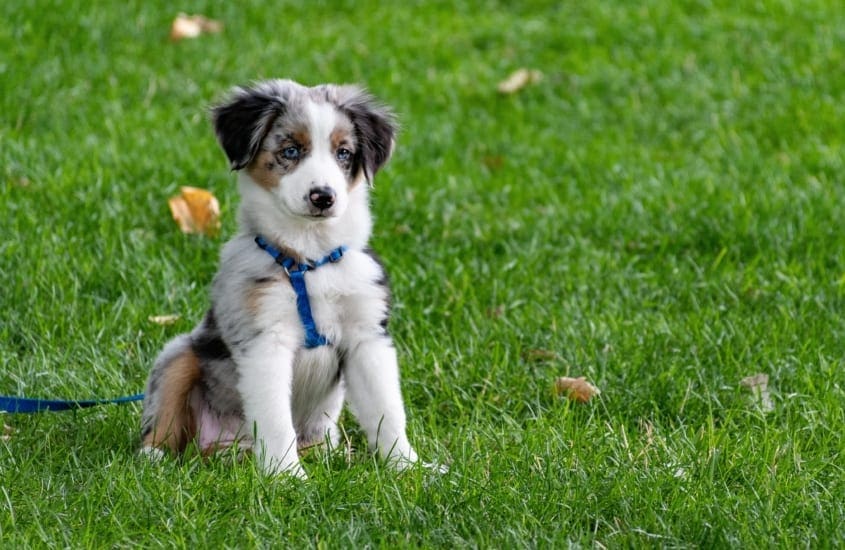 Canine Careers! The Certificate of Dog Psychology and Training
Whether you want to understand your own dog, establish a dog training business or work with dogs, this online dog training course is ideal for you.
The Certificate of Dog Psychology and Training is an online program that will give you the knowledge and skills required to understand canine psychology to implement successful obedience training programs.
On completion of this online dog training course, you will have an in-depth understanding of dog psychology and obedience training methods to build respectful and responsive relationships with dogs. 
Learning Outcomes 
In this online dog training course, you will build on your knowledge and solidify what you know, fill skill-gaps, and gain a professional development qualification. 
Describe how canine animals think and discuss the relevance of understanding canine psychology to people.

Explain how canine animals communicate and formulate an understanding of possible ways that a human may communicate with a dog.

Understand behaviours that are natural and predictable in canines and learn to recognise and understand signals that dogs give.

Explain how dogs develop behavioural characteristics throughout the stages of their life.

Describe commonly occurring behavioural problems in dogs.

Develop a program for training a new pet dog when it is brought into a household.

Explain how to train a dog to perform predetermined actions upon command.

Describe how the movement of dogs can be controlled, both through training and other methods.

Describe how dogs can be trained to perform tasks required as a working dog, including a sheepdog, tracking dog, blind dog, or substance detection dog.
7 of the Smartest Dog Breeds
As a dog trainer, you'll have your work cut out for you! But some dogs will make your job a little easier. The following breeds are considered the most intelligent by a canine psychologist. 
These bright working dogs tended to learn a new command in less than five exposures and obeyed commands at least 95 per cent of the time!
1. Border Collie
The Border Collie was bred to gather and control sheep in the hilly border country between Scotland and England. This breed has unlimited energy, stamina, and working drive – all-important for herding sheep on farms and ranches around the world!
2. Poodle
Ranked second most intelligent dog breed behind the Border Collie, the Poodle is skilful in many dog sports and activities, such as agility, obedience, tracking, herding, circus performance, and assistance dogs.
3. German Shepherd
Obedient, intelligent, curious, alert, loyal, confident, and courageous, the German Shephard is a popular working dog – particularly in law enforcement. 
4. Golden Retriever
The Golden Retriever is a medium to large dog that was bred to retrieve shot waterfowl, such as ducks and upland game birds, during hunting. The name "retriever" refers to the dog's ability to retrieve shot game undamaged due to their soft mouth.
5. Doberman 
The Dobermann is a medium to large breed of dog originally developed around 1890 by Karl Friedrich Louis Dobermann, a tax collector from Germany. 
6. Shetland Sheepdog
The Shetland Sheepdog, made famous by the television show "Lassie", is often known as a Sheltie. This breed is popular as a herding dog and originated in the Shetland Islands of Scotland.
7. Labrador Retriever
The Labrador Retriever, also known as a Labrador or Lab, is a medium to large breed of retriever-gun dog. This breed is both a friendly companion dog and a useful working dog. Historically, they were fishermen's helpers – hauling nets, fetching ropes and retrieving fish from the ice-cold North Atlantic!
7 Canine Industry Careers
If you're considering a canine career, you're onto a lucrative path with expenditure on pet-related products and services in Australia estimated at more than $13 billion a year! And from dog breeding to grooming and obedience training – there's a profession for everyone's taste. 
You're also living in the right country. Around 40% of Australian households include at least one dog, making them the most popular type of pet!
Whether you take an online dog training course and develop your own obedience school or dog walking business or set up a grooming salon – you're spoilt for choice when it comes to working with pets (and, specifically dogs). 
Dog Breeder
Animal breeding is a popular hobby, but it can also be a highly specialised and sophisticated career or business. What's important, whether working in zoos, wildlife sanctuaries, agricultural research stations or from a home-based business, is a genuine interest in and empathy for animals.
Dog Groomer
Professional dog groomers own profitable businesses, with the steadily increasing trend to pamper pets. So, if you've got a passion for pets, there's never been a better time to start your own business or gain employment as a professional groomer.
Dog Obedience and Trainer
Australians spend $0.4 billion on training, behaviour, or therapy annually. So, studying an online dog training course is a profitable investment if you turn it into a business venture. Dog obedience professionals work with companion dogs and their owners but may also specialise in working with scent dogs, search and rescue dogs, agility dogs and police dogs.
Dog Boarding or Kennel Enterprise
One of the drawbacks of pet ownership is that most holidays aren't pet-friendly. As such, pet owners seek quality boarding and kennel services. There has also been an increasing demand for pampering kennels or "pet holidays." Australians spend $0.7 billion on dog boarding services annually. And with the rise in dog-ownership, it's a figure that's likely to keep growing. So, this is also a lucrative business to be in right now. 
Dog Walker and Pet Sitter
Many professionals who own a dog are asset rich but time-poor, so taking their pooch out for a leisurely stroll can be difficult. As a result, dog walkers and pet sitters are in demand and can create booming businesses. 
Pet Shop Business 
The Australian market for pet products and accessories is estimated at $1.2 billion annually – $600 million of which is attributed to dog owners. Popular items include food bowls, bedding, leads, litter trays, toys, and clothing.
Canine Behaviour Therapist
A canine behavioural therapist or "dog psychologist" modifies or changes a dog's problematic behaviour. They can be hands-on dog handlers, who have developed their experience over many years, or they can acquire formal qualifications.
There are many careers you can pursue to work with (wo) man's best friend. And an online dog training course is just one of many options. Discover our Certificate of Dog Psychology and Training to learn about what makes our furry companion's tick.  
https://www.australianonlinecourses.com.au/wp-content/uploads/Cert-of-Dog-Psychology-and-Training-blo-scaled.jpg
1365
2048
Haley Williiams
https://www.australianonlinecourses.com.au/wp-content/uploads/AOC_logo.png
Haley Williiams
2020-05-06 15:44:00
2020-05-07 14:59:50
Canine Careers! The Certificate of Dog Psychology and Training