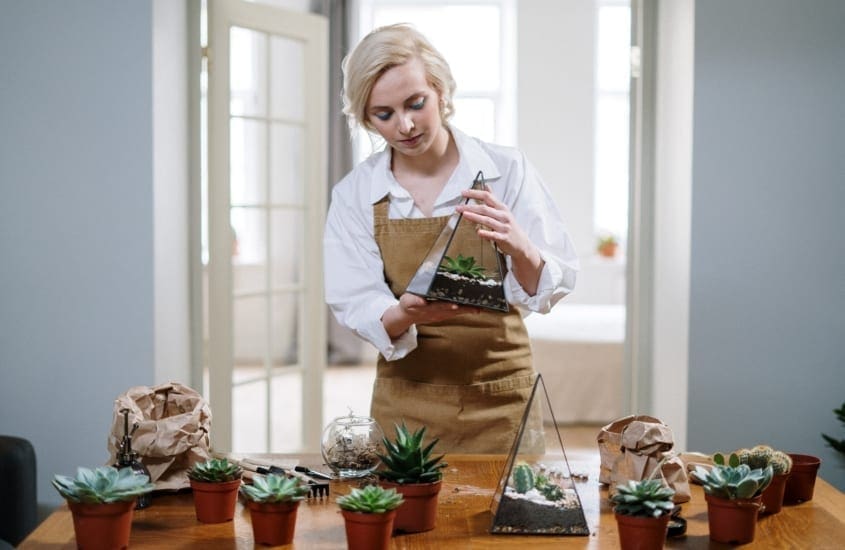 Beautiful Gardens Bloom with Our Home Gardening Course
Gain the confidence to create and maintain a beautiful and economical green space with our home gardening course! All you need is a green thumb attitude and knowledge to begin planning and planting a home garden you can be proud of.
It's not easy to create and maintain a garden like a pro, but it is possible when you know why professional gardeners make certain choices and decisions. 
So, if want to develop your gardening skills, spark your creativity, and save money, our Certificate of Home Gardening course is ideal! 
In this online course, you will learn practical gardening skills so that you can cultivate your garden just like a professional at a fraction of the cost.
You will also learn about the different type of plants, soil and nutritional requirements of gardens and lawns, and how to control pests and weeds. 
This gardening course will also cover landscape design techniques, and how to create indoor and outdoor gardens, including vegetable, fruit, and herb gardens.
Learning Outcomes
You will achieve the following learning outcomes in this home gardening course: 
Identify plant health problems and know treatments

Know the plant naming system and how plants are classified

Understand the effect of soil structure and texture on plant growth

Comprehend plant terminology and planting methods

Learn plant pruning requirements and methods

Know plant nutrition requirements

Understand soil conditions and when they require improvement

Recognise a range of pests and diseases and the methods of control

Recognise a variety of weeds and know various control methods.

Know a range of garden styles and the history behind them

Have knowledge of landscape construction techniques

Understand the elements and processes of landscape design

Understand various propagating techniques

Propagate plants by multiple methods

Understand the soil preparation and requirements to establish or renovate a lawn

Know lawn maintenance requirements.

Understand needs, including environmental and nutritional aspects of growing plants indoors (including hydroponics and greenhouses).

Know how to select plants suited to growth indoors

Develop knowledge of vegetable growing procedures and requirements.

Have knowledge of a range of fruits and berries suited to the home garden

Have knowledge of a variety of commonly grown herbs and flowers
6 High Protein Plants to Grow at Home
Whether you're a vegetarian or simply want to boost your protein intake via plant sources for health reasons, these plants pack a powerful punch. Discover tips on how to help them grow and be inspired by the recipe idea.
Spinach 
Spinach is a true superfood that's high in protein and packed full of nutrients and antioxidants. Darkly, leafy greens like this one are essential for skin, hair and bone health – providing protein, iron, vitamins and minerals!
Growing tip – Spinach does best when growing in moist, nitrogen-rich soil.  
Recipe idea – Spinach, pear and parmesan salad 
Kale 
Kale is a member of the cabbage family and is excellent in salads and smoothies. It's also a superhero food that comes in green and purple with a powerful protein punch! Kale contains fibre, antioxidants, calcium, vitamins C and K, iron and many other health-promoting nutrients!
Growing tip – Kale grows well in full sun but will tolerate partial shade. 
Recipe idea – Healthy green juice  
Quinoa 
Pronounced 'keen waa" this super grain is popular for its nutty flavour, versatility and nutritional profile. It's also packed with protein, fibre and various vitamins and minerals – and is gluten-free!
Growing tip – Plant in spring by sowing seeds slightly covered with soil in uniform rows. Keep the seeds moist until the seedlings sprout! 
Recipe idea – Quick halloumi and grain salad 
Sunflower 
Sunflowers are beautiful, so they add a glorious pop of colour to any garden, but their seeds are also good for you! Sunflower seeds make for a nutty, crunchy protein-packed snack on the go.
Growing tip – Sunflower seeds can be started indoors. When planted outside, they are tolerant to heat and drought but make sure they're never waterlogged. 
Recipe idea – Ronnit Hoppes seed brittle
Broccoli
It's not the most popular veggie on the dinner plate, especially with the kids, but this mean green packs a powerful protein punch.  
Growing tip – The most foolproof way to grow your broccoli is to grow them from seedlings. 
Recipe idea – Jamie Oliver's quick green pasta
Hazelnuts 
Hazelnuts are rich in dietary fibre, folate and are an excellent source of vitamin E and healthy fats.
Growing tip – Hazelnuts are the easiest nuts to grow – perfect for the nervous first-timer! They are generally grown as a bushy shrub and can be kept to a manageable size with regular pruning. 
Recipe idea – Hazelnut brownies 
The Indoor Garden 
Whether you love or loathe the outdoors, you can enjoy a beautiful garden! The indoor garden gives you green space inside your home or office and provides many benefits.
You might be particularly keen on creating an indoor garden if you live in an apartment or spend a lot of time indoors for work. 
Having an indoor garden has the following benefits:
Boosts your mood

Reduces stress and fatigue 

Cleans indoor air by reducing toxins, increasing humidity and producing oxygen 

Fragrant plants naturally perfume the air 

Enhances productivity 

Promotes restful sleep 
6 Best Indoor Air Purifying Plants
The best indoor plants for purifying the air include English ivy, snake plants, spider plants, and chrysanthemums.
Flamingo Lily
Appreciated for their bold, exotic looks, the Flamingo Lily is an excellent choice for any houseplant-lover looking to add a pop of colour to their home.
Aloe Vera 
A beautiful addition to your home, Aloe Vera has many uses such as relieving heartburn, keeping fruits and vegetables fresh and soothing skin irritations.
Pineapple Plant
Have you ever thrown out the top of a pineapple? Next time keep it – you can grow your own pineapple plant!
Peace Lily
The Peace Lily is one of the most popular, hardiest and most attractive of the smaller indoor plant varieties.
English Ivy
A traditional houseplant, English Ivy remains trendy thanks to its easy-going nature, elegant style and versatile stems.
Chrysanthemums
The official flower of Mother's Day, these colourful plants are perfect for indoors as they require little care, other than watering, good soil and drainage.
Eager to make gardening more efficient, exciting, and full of possibilities? Put that green thumb to work with the guidance of a home gardening course like our Certificate of Home Gardening.  
https://www.australianonlinecourses.com.au/wp-content/uploads/Certificate-of-Home-Gardening-1-scaled.jpg
1365
2048
Haley Williiams
https://www.australianonlinecourses.com.au/wp-content/uploads/AOC_logo.png
Haley Williiams
2020-08-19 16:30:46
2020-08-19 16:35:35
Beautiful Gardens Bloom with Our Home Gardening Course