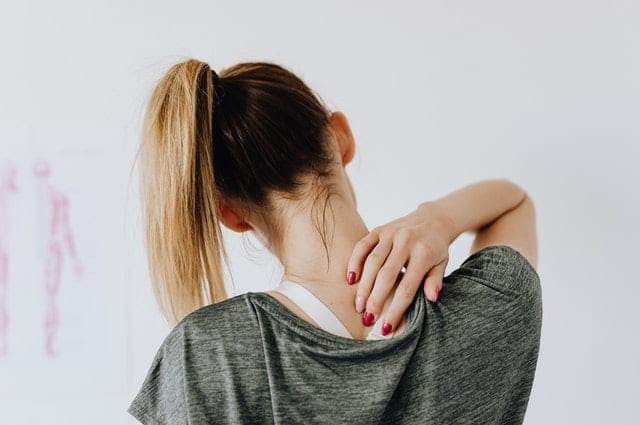 Be an Advocate for Spinal Health With Our Back Health Course
Over sixty per cent of Australians will suffer from back pain at some point in their lifetime. It can have a significant impact on all aspects of our lives including work, family life, recreation, and daily and social activities. Those with knowledge in this area are vital to managing and maintaining our population's holistic health.
The Certificate of Back Health Care is a professional development course that is ideal for health care workers; those working in complementary health care; coaching, fitness or WHS professionals or anyone with has an interest in back health.
In this back health course, you will learn about the types of back injury, back anatomy and physiology, the patterns, causes and effects of back problems, and how to screen for and prevent injuries. You will also gain insights into rehabilitation, back health maintenance and surgical, professional and pharmaceutical treatments.
Learning Outcomes
Outcomes achieved by undertaking a back health course include:
Learning about the patterns, causes and effects of back problems
Exploring the red flags for back pain
Studying pain on only one side of the back
Gaining insights into back injuries
Understanding the connections between back pain and depression
Learning about work-related back pain and posture and ergonomics
Exploring back anatomy and physiology
Studying the skeleton and the skeletal system of the back
Gaining insights into spinal curvatures
Understanding the relationship between muscles and the skeleton
Learning about the nervous system's supply to the back
Exploring pain, muscles and trigger points
Studying how to prevent back injuries
Gaining insights into lifestyle issues and habits
Understanding diet, correct lifting techniques and good posture
Learning about ergonomics, preventative treatments
Studying muscles and flexibility
Exploring how to manage back-related injuries
Studying how to manage inflammation and tape up an injury
Gaining insights into the types of back injury
Understanding spinal, musculoskeletal and neurological injuries
Learning about pinched and trapped nerves
Exploring assessment and screening
Studying how to collect client information
Gaining insights into a functional, physical and psychosocial assessment
Understanding the symptoms of a spinal, muscular and neurological back injury
Learning about clinical assessment procedures
Exploring professional treatments
Studying back care professionals
Gaining insights into complementary therapies
Understanding psychological treatments for chronic pain management
Learning about surgical and pharmaceutical treatments
Exploring pharmaceutical interventions
Studying prescription medication addiction
Gaining insights into surgery
Understanding back health maintenance
Learning about best practice and specific practitioner issues
Exploring changing habits and the mind's impact on the physical body
Studying legal issues and ethics
Gaining insights into practising a holistic approach
Understanding rehabilitation
Learning about back pain and grief
Exploring progressive program design
Studying how to provide psychosocial support
Gaining insights into establishing and monitoring exercise quotas and intensity
Understanding personal and professional rehabilitation and care
And more!
Main Causes of Back Pain
According to a 2019 report done by the Australian Institute of Health and Welfare, one in six Australians suffered from back problems in 2017 to 2018 — that's around four million people. So undertaking a back health course is definitely a wise career choice!
Most people with back pain don't have any significant spinal damage — the pain comes from joints, muscles and ligaments. The cost common causes are:
Repetitive or heavy lifting
A sudden awkward movement
Being too sedentary and not exercising enough
Poor posture
Being obese or overweight
Stress and muscle tension.
Some health conditions are also linked to back pain, including:
There are also a number of issues that will cause back pain to become persistent, including:
Living with or developing negative beliefs about your chances of recovery
Living with or developing anxiety or depression
Work-related issues.
In a small number of people, back problems are caused by serious conditions such as infection, cancer, inflammatory problems or a compression or fracture of the nerves in the spine.
Fascinating Back Facts
The primary structure of our back is our spine or backbone. It is the support, the strength, the flexibility and the foundation for our bodies. Study our back health course and you will begin to truly appreciate this fascinating structure, but here are 20 amazing facts that may surprise you.
When we are born, our spines consist of 33 individual vertebrae.
As we age, some of the 33 vertebrae fuse together.
We have three sections to our spines — the lower back, middle back and the neck.
Humans have seven vertebrae in their cervical spine, also known as our neck.
We have twelve vertebrae in our thoracic spine, also known as our middle back.
We have five vertebrae in our lumbar spine, also known as our lower back.
Most of us have five lumbar vertebrae, but some people have six!
The first bone of our necks is called the Atlas, named after a Greek mythological figure who was burdened with "carrying the world on his shoulders".
We have over 100 joints, 120 muscles and 200 ligaments in our body that support our spines.
Our spines have four main movements — bending backwards, forwards, twisting and side bending.
The discs between each of our vertebrae are primarily made up of water.
We are taller in the morning! This is due to changes in our back's disc pressure that affects our spinal length and cartilage.
Gravity can also cause the cartilage to contract and expand. That's why many astronauts returning from space are taller!
Our spines are so flexible that if we were to bend it around, it would almost form a circle.
A quarter of our spine's length is created from the discs or cartilage that separate one vertebrae from the next.
We get shorter as we grow older due to the reduction in our back cartilage.
There are over 13.5 million nerve cells (called neurons) in our spinal cord that weight about 35 grams.
Our spines are so robust they can sustain the pressure and weight of hundreds of kilograms.
Spines have memories and become used to your posture, which is why it's important to adopt good habits early.
Giraffes and humans have the same amount of vertebrae in their necks!
Complementary back treatments
As you'll discover in our back health course, in terms of treatments the word "complementary" typically refers to treatments that are used alongside conventional medicine. They can help people manage pain and fatigue, deal with stress and anxiety, sleep better and feel in control of their own health. Some of these include:
Acupuncture –involves the insertion of fine needles into various positions on your body. These correspond to important treatment points in Chinese medicine.
Alexander Technique – involves learning to sit, move and stand in a way that minimises pressure and strain on your body.
Aromatherapy – the use of aromatic essential oils to promote mental, emotional and physical wellbeing.
Chiropractic –the manipulation and manual adjustment of your spine. It's based on the notion that if your spine is out of alignment if will affect the health and functioning of other parts of your body.
Massage – a hands-on therapy that involves manipulating the soft tissues of your body, especially your muscles. It can ease muscle tension and improve relaxation and blood circulation.
Meditation – a practice involving focusing the mind on your breathing, a sound or the present moment. It can help improve mood, sleep, reduce pain and relieve stress.
Naturopathy – a treatment based on the theory that your body can heal itself using nutrition, exercise, herbs, vitamins and massage.
Osteopathy – a hands-on treatment based on the notion that your body's wellbeing depends on your muscles, bones and other soft tissues functioning smoothly together. It typically involves massage, stretching and physical manipulation.
Reflexology – a hands-on treatment where pressure is applied to specific points of your hands or feet. These are believed to align with other parts of your body and massage or pressure can treat health problems in that corresponding area.
Tai chi – a low impact exercise that uses focused breathing, gentle movement and mental focus to promote balance and correct body posture.
Vitamins and herbal supplements – these include glucosamine, chondroitin, arnica, ginger and turmeric.
Yoga – involves meditation, breathing, physical postures and mental exercises that promote strength, flexibility and relaxation.
Broaden your knowledge of back health including the types of back injuries, the causes of back problems and how to prevent and rehabilitate injuries with a back health course, such as our Certificate of Back Health Care.
https://www.australianonlinecourses.com.au/wp-content/uploads/Back-health-image.jpg
425
640
Haley Williiams
https://www.australianonlinecourses.com.au/wp-content/uploads/AOC_logo.png
Haley Williiams
2021-02-02 10:09:02
2021-02-02 10:17:54
Be an Advocate for Spinal Health With Our Back Health Course