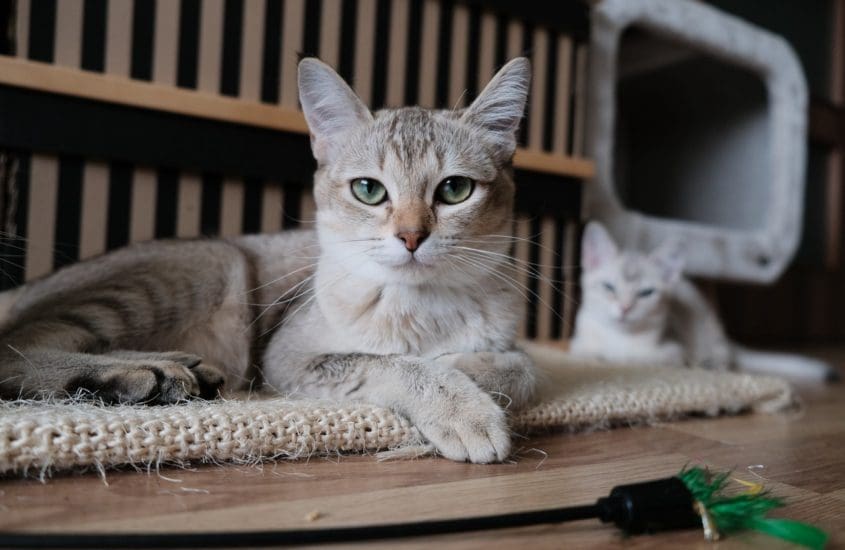 Our Cat Care Course is Purrrfect for Animal Lovers!
Explore a new income stream, employment opportunity or understand and care for your own pet better with this cat care course. Ideal for cat owners, breeders, pet shop owners and attendants or those who work in animal welfare, our Domestic Cat Care course will give you insights into the primary care of domestic cats – including diet, shelter, grooming and housebreaking. You will also study complex feline care – from understanding digestive and reproductive health to illnesses, emergency medicine and care, problem behaviour and specialised dietary requirement.
You will also learn about breeding and raising kittens, from ethical considerations to genetics and socialisation, and how to establish a business in the feline services industry, including grooming, boarding, retail and manufacturing, therapy cats, pet funerals and more.
Learning Outcomes
Outcomes achieved by undertaking a cat care course include:
Learning about basic feline needs and the basic duets of a cat owner
Exploring food, water, shelter and containment, grooming, bathing and claw trimming
Gaining an understanding of travel, housebreaking and health care for sick cats
Studying how to introduce a new cat at home
Examining cats and dogs and cats with babies and children
Understanding cat breeds – pedigrees and non-pedigrees
Attaining knowledge of feline biology
Gaining insights into cats' skin, eyes, ears, nose, mouth, tongue, teeth and gums
Learning about the digestive and reproductive systems
Exploring females (Queens) and males (Toms)
Gaining an understanding of domestic cat breeds and international and national associations
Studying long haired, semi-long haired and short-haired breeds.
Examining Persian, Maine Coon, Birman, Balinese, Ragdoll (Ragamuffin), York Chocolate, American Shorthair, Cornish Rex and Russian Blue
Understanding Siamese, Sphynx, Manx, Scottish Fold, Japanese Bobtail, Egyptian Mau and Singapura
Attaining knowledge of characteristics, common health problems, personality and temperaments and care
Gaining insights into history and background
Learning about feline health care, preventative care, vaccinations and how to recognise ill health
Exploring how to deal with emergencies, artificial breathing and heart massage and how to induce vomiting
Gaining an understanding of how to deal with burns, wounds, dehydration, hypothermia, poisoning, wounds, shock (and many more)
Studying restraining for treatment and the transportation of an injured cat
Examining bandaging and de-sexing
Understanding feline illnesses
Attaining knowledge of internal parasites including roundworms, hookworms, tapeworms and whipworms
Gaining insights into lungworms, stomach worms, bladder worms and flukes
Learning about worm treatments and external (exo-) parasites
Examining how to breed and raise kittens and ethics in animal breeding
Understanding genes, sexual behaviour and the socialisation of kittens
Attaining knowledge of legislation
Gaining insights into meiosis and sexual behaviour
Learning about feline services including grooming services for short and long-haired cats
Examining laws and small business, the importance of keeping records and how to buy an established business
Understanding how to buy a franchise and approaches to business planning
And more!
The Worlds Rarest Cats
In our cat care course you will learn about a wide range of cat species, but here are some of the rarer varieties from across the globe.
Fascinating Cat Facts
After some motivation to undertake our cat care course? Read on …
In terms of development, the first year of a cat's life is equal to the first 15 years of a human life. After its second year, a cat is 25 in human years. And after that, each year of a cat's life is equal to about 7 human years.
Cats can rotate their ears 180 degrees.
The hearing of the average cat is at least five times keener than that of a human adult.
A cat cannot see directly under its nose.
Most cats have no eyelashes.
Cats have five toes on each front paw, but only four on the back ones. It's not uncommon, though, for cats to have extra toes.
Cats spend between 30 to 50 percent of their day grooming themselves.
Purring doesn't always mean a cat is happy. Cats also make the sound when they're sick, hurt, stressed or giving birth.
A group of kittens is a kindle. A group of full-grown cats is called a clowder.
If you love cats, you're an ailurophile. It's derived from the Greek word for cat, ailouros, and the suffix –phile, meaning "lover."
Cats first went to space in 1963. The feline's name was Félicette and she made it safely to the ground following a parachute descent.
The world's oldest living cat is 31 years old. The average lifespan of a cat is 12 to 18 years.
Cats don't always land on their feet, however, more often than not all four paws end up touching the ground. This is because cats have a fantastic sense of balance, so they're able to tell up from down and adjust their bodies accordingly.
The musical Cats is based on a collection of author T.S. Eliot poems called Old Possum's Book of Practical Cats which was published in 1939.
One in 200 cats are believed to have asthma – and this number continues to rise among as they are more frequently exposed to dust, cigarette smoke, pollen and human dandruff.
Ancient Egyptians loved cats and worshipped a half-feline goddess named Bastet. People who harmed or killed cats faced harsh legal sentences, including the death penalty.
Cats are believed to be the only mammals that can't taste sweetness.
Your cat has more bones than you do – 244 compared to a human's 206.
Most cats don't like getting wet because they lose control.
Cats sweat through their paws and sometimes when they get very hot they pant.
Beyond grooming all the time, a cat spends nearly two-thirds of its life asleep.
Approximately 200 feral cats roam the grounds of Disneyland where they help control the amusement park's rodent population.
Quotation marks have a feline connection. The Hungarian word for "quotation marks," macskaköröm, literally translates to "cat claws."
Cats can jump up to five times their own height.
Their claws all curve downward, which means that they can't climb down trees head first – they have to back down the trunk.
Cats have whiskers on the backs of their front legs as well.
They have the largest eyes relative to their head size of any mammal.
Cats find it threatening when you make direct eye contact with them.
Certain cats go crazy for foods you wouldn't expect like potato chips and olives.
Unlike humans, cats can drink sea water in order to survive.
Cats dream, just like us!
Every cat's nose print is unique, much like human fingerprints.
 Gain a comprehensive understanding of all aspects of cat care with a cat care course such as our Domestic Cat Care course.
https://www.australianonlinecourses.com.au/wp-content/uploads/domestic-cat-care-.jpg
853
1280
Haley Williiams
https://www.australianonlinecourses.com.au/wp-content/uploads/AOC_logo.png
Haley Williiams
2022-01-18 14:13:35
2022-01-18 14:13:35
Our Cat Care Course is Purrrfect for Animal Lovers!