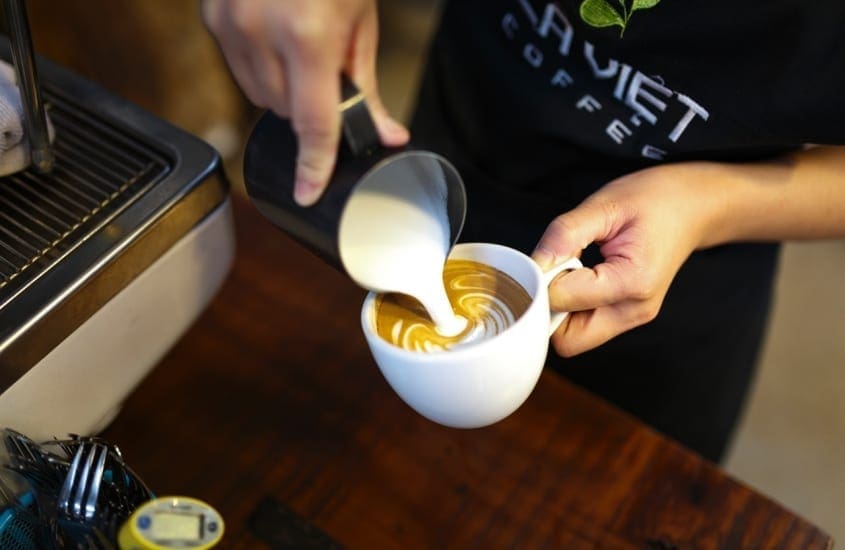 Barista at Heart? Discover the World's Best Coffee!
If you're a barista at heart, follow your passion around the world. One of the world's most popular beverages, coffee was first cultivated by fifteenth-century Arabs. Now billions of people around the world enjoy this morning (or whenever!) pick-me-up.
But regardless of whether you're a latte lover or a cappuccino connoisseur, ever wondered where you might find the world's best coffee? Here is a rundown of where to find your favourite brew in some of the world's most iconic destinations.
Italy
Although they weren't the first to harvest or brew coffee, Italians did invent the coffee culture, with the first coffee house opening in Venice in 1629. Rome is home to the quintessential espresso, which is traditionally made by forcing a smallish amount of almost boiling water under pressure through finely-ground coffee beans. It's a heart-starter!
Cappuccinos are one of the more popular styles of coffee – made by a barista with a shot of espresso followed by steamed milk and then foamed milk on top. Vienna is renowned for their 'capps' and in fact, coffee is such a vital part of the city's culture that their coffee houses are 'Intangible Cultural Heritages' through UNESCO.
Fun fact: Italians have coffee four or five times a day (busy baristas) and generally drink it standing up. If you prefer to sit down at a café to partake, you'll probably pay more. They
London
This city's obsession with coffee has escalated over the years with tiny, artisan coffee shops continually popping up. The flat white is a popular choice with its tell-tale combination of natural sweetness, velvety milk texture and a hit of strong coffee. 
Many of London's coffee establishments are also affiliated with Australian-based coffee brands, guaranteeing to banish any feelings of homesickness. However, whether you prefer an espresso, a cold-drip Americano or an authentic flat white, it's worth checking out the local guides.
Fun fact: Aussie baristas opened London's first espresso-focused coffee establishments over a decade ago, which are said to have instigated the city's flat white craze. 
Paris
Coffee was first introduced to Paris in 1669 by the ambassador to the court of King Louis XIV of France. Two years later, an Armenian everyone called Pascal (but of course!) opened a coffee drinking booth at the St.-Germain fair. Renowned for their café crèmes and hearty espressos, cafés in Paris line every corner of every arrondissement. Although Le Premier arrondissement is famous for its espressos, and the bohemian 18th arrondissement their authentic flat whites, there are twenty arrondissements in Paris to explore – check out this guide for some local tips.
Fun fact: Parisians love a large milky brew – but only for breakfast! After 10 am, un café (black coffee) or espresso is the traditional brew of choice for most French people.
USA
America gets a bit of a bad rap when it comes to coffee, and movies featuring local diners serving up horrible drip filtered versions probably hasn't helped their cause! In the mid-'90s, there were less than 300 coffee shops in the US – today, there are around 30,000. But unfortunately, if you're used to a smooth, foamy flat white, then you might be bitterly disappointed here (pun intended)! Unless you head to Starbucks of course, which debuted this Aussie favourite in its American stores in 2015.
Your best bet for sourcing great coffee in the US? Do your research and use apps like Beanhunter and city-based guides like the Great LA Coffee Map to lead you to the expert baristas. 
Fun fact: Flat whites began to be sold in a variety of Aussie cafes in NYC several years ago, which included the Hugh-Jackman-owned venue that stocked his charity-based coffee.
Asia
According to Lonely Planet's Global Coffee Tour Guide, Asia's best coffee cities are Ipoh in Malaysia, Chiang Mai in Thailand, and Tokyo in Japan. Ipoh is the birthplace of the much-loved 'white' coffee, which is famously hot, sweet and buttery in taste. Thailand's northern city, Chiang Mai, is famous for serving up single-origin beans which are grown locally – many only an hour or two from the coffee shop itself.
And Tokyo is the place to go for the highest number of third wave-style coffee shops. This movement considers coffee an artisanal food (like wine), "whose consumption experience can be enhanced with greater education, connoisseurship, and sensory exploration beyond just a cup of coffee". Translation – they're pretty serious about coffee!
Fun fact: Asians must know a bit about coffee, or at least how to make it look good! Locals took out second, third, fourth, fifth and sixth place at the World Latte Art Championships (an Italian took the top spot).
Australia 
Australia has a long history of coffee – espresso culture was thought to have grown from cafés owned by Italian and Greek migrants during the 1950s and '60s to become the nationwide obsession that it is today. In fact, according to some, Australia has some of the best coffee (and baristas) in the world.
But regardless of your favourite 'flavour' and whether you prefer a homemade version or one prepared by your favourite local barista, coffee can up the happiness factor and improve your energy levels – both great side effects when it comes to studying. Coffee's your Hug in a Mug!
Fun fact: Although it was thought to have been invented in Sydney, the flat white has been crafted to perfection by New Zealand baristas over the years where it's become the nation's unofficial national beverage.
https://www.australianonlinecourses.com.au/wp-content/uploads/Barista-makes-coffee.jpg
853
1280
Australian Online Courses
https://www.australianonlinecourses.com.au/wp-content/uploads/AOC_logo.png
Australian Online Courses
2019-11-14 00:00:00
2019-12-04 09:33:47
Barista at Heart? Discover the World's Best Coffee!