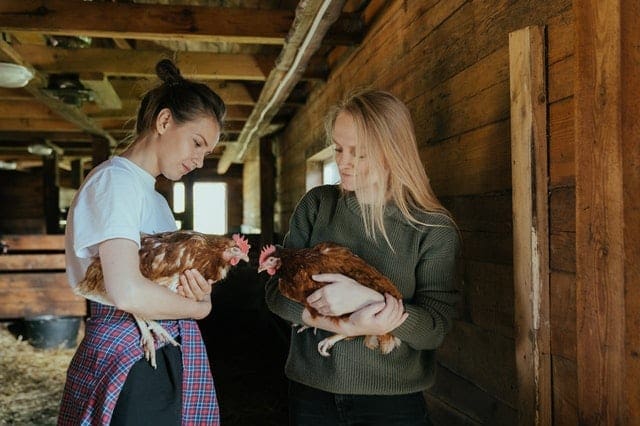 Balance Plant and Animal Life With a Permaculture Farming Course
Ideal for those who have completed a basic permaculture course, farmers looking to diversify the use of their land, or those who are passionate about self-sufficiency and sustainability, our Certificate of Animal Permaculture will teach you how to grow the right plants alongside the right animals in a balanced ecosystem.
In this permaculture farming course, you will learn how the benefits of permaculture systems can be maximised through design and cultural management decisions. You will gain insights into how a variety of animals can enhance a permaculture environment, including insects, bees, poultry, grazing animals like goats, sheep rabbits and pigs, and larger wildlife and livestock.
You will also study how to plan and prepare garden 'zones', the role of aquaculture production systems in permaculture, and the range of aquatic species suitable for permaculture systems.
Learning Outcomes
Outcomes achieved by undertaking a permaculture farming course include:
Learning about how to locate and integrate animals into a permaculture system
Exploring how to maintain a balance in the permaculture system
Gaining an understanding of intensive animals, small livestock and free-range animals
Studying the functions of animals in the system including birds in permaculture
Gaining insights into fodder trees
Examining the role of insects and other small animals
Understanding ecosystem components and ecological concepts
Learning about the web of life
Exploring insects and their classification, control and feeding habits
Studying snail farming and earthworm and red worms
Gaining insights into controlling pests, applied insect control and pollutants in the ecosystem
Examining the role of poultry in permaculture
Learning about chickens, turkeys, ducks and geese
Exploring how to hatch chicks
Studying poultry products and uses
Gaining insights into poultry forage and useful plant species
Understanding bees, bee hives, lids, supers, bases, excluders, and to bar hives (TBHs)
Learning about frames, foundations and spur wheel embedder
Exploring bee brushes, emlocks, bee smokers and hive tools
Studying how to locate a hive and buy an established hive
Gaining insights into swarms
Examining nucleus hives
Understanding grazing animals – sheep, goats, pigs and rabbits
Learning about the advantages and disadvantages of working off grass
Exploring paddock size, types of fencing, water supply, production systems and shelters
Studying environmental controls
Gaining insights into rearing and management systems
Understanding how to manage larger livestock and wildlife
Learning about deer, alpacas, horses, llamas and beef and dairy cattle
Exploring how to choose your dairy breed
And more!
13 Organisations Transforming Australia's Food System
Australian businesses, government projects and non-profit organisations continue to transform our food systems. These include introducing new ways to engage with food, farmers and communities in need. From food rescue groups to permaculture farmingtraining institutes and courses, here are thirteen organisations working towards a more ethical, sustainable and equitable Australia … through food!
The AbCF aims to build viable economies on Aboriginal lands through savanna fires, land and livestock management and carbon-storing farming practices. In 2018, it launched a Reducing Carbon Building Communities program to support rural farming and Indigenous communities.
ACIAR encourages agricultural scientists to use their skills to benefit Australia and other developing countries. It focuses on agribusiness, crops, livestock, soil and horticulture to help farmers and policymakers deal with agricultural challenges.
This is a farmer-led advocacy network that strives for better preserved waterways and soils, enhanced livelihoods for farmers and food security for all Australians. It also campaigns to raise awareness on the importance of ethical and sustainable food systems.
This is Australia's national science agency, and is uses research to solve issues on the planet to secure a better future for communities. This includes research to transform farming techniques, animal breeding and agricultural innovations and technologies. In 2019, it launched software combining machine learning, AI and geospatial technology to monitor and assess rural land to advise farmers on data ranging from rainfall to productivity.
This organisation uses advocacy, consulting and research and development to support protein alternatives like cell-based and plant-based meats to Australian entrepreneurs, businesses, scientists, governments and communities.
Foodswell is a non-profit organisation that focuses on food insecurity in Australia. They design edible landscapes and other novel food strategies for remote and indigenous settlements across the country, and provide customised tools for healthy, affordable food.
This is Australia's leading food rescue organisation that transports food that businesses typically waste to over 1000 charities. It also delivers more than 100 million meals and saves 35,000 tons of food from landfill. Its education programs increase connectedness, enhance life skills and improve the nutrition and health of vulnerable communities.
Regenerative Agrarians work with farmers and producers to create profitable agricultural landscapes. The organisation has trained over 15,000 farmers in all aspects of regenerative farming from farming practices to design and business management.
SecondBite redistributes surplus fresh food from wholesalers, farmers, markets, caterers, supermarkets and events to community food programs that support people in need. It works with over 1300 community food programs and aims to erase the gap between the amount of food wasted and those that go hungry.
The ILC invests in agribusinesses that improve the lives of Indigenous Australians by supporting Indigenous landholders. It also considers itself an equity partner, creating connections between Indigenous groups, business partners and investors.
This organisation recognises the richness of Indigenous food culture and the value of the relationship that Indigenous people have with the land. With a Native Australian Foods Database and an Innovation and Enterprise Hub that promotes research and development of Australian ingredients, it aims to explore new gastronomical trends and supports Indigenous communities to research and innovate in the food enterprise space.
YFM aims to increase millennial food literacy levels and participation in the food system. Since 2011, it has delivered more than 40 projects and harnessed more than 60,000 volunteer hours to address food issues such as soil degradation, food waste and the ageing farming population. Their current program, Upstart, connects young people across Australia for project development and training to co-create community food projects.
The Permaculture Research Center uses a demonstration site to conduct education and worldwide training programs. It strives to expand the knowledge and practices of sustainable agriculture using permaculture design by equipping people with the tools they need to serve their communities.
Tips for a Backyard Permaculture Garden
When it comes to backyard permaculture farming, it can take many forms. In essence, it is a practical approach to finding creative solutions to living a more sustainable life by reducing energy consumption, recycling waste, growing organic food, and creating habitats for the animals in our environment. Here are some features of a backyard permaculture garden.
Preparation
Observe and note the prevailing winds, winter and summer sun angles, any views you want to keep or screen out, and the degree of slope on your block. When you prepare a plan, you want to show access ways, vegetation and existing structures to create its framework. You then want to plant windbreaks to shield strong winds and shade out hot summer sun while allowing in warm winter light.
A Vege Garden
Pick a spot that gets good sun all year round. Ideally you want to allow for crop rotation and around a half a metre of access path between each bed. You'll also need rich soil, so and blood and bone, organic mineral fertiliser and bentonite can assist with this. Polypipes can be used to drip line irrigation off. You should then continue to build the soil by adding generous layers of lucern, sheep manure, more blood and bone and then more sheep manure at regular intervals.
A Hen House
Chickens are a fantastic animal for a backyard permaculture garden (although check with  your local council in terms of regulations). They are a great source of manure, clean up fallen fruit and weeds, and the best bit … convert food scraps to eggs! A permanent chicken house is vital for the safety and comfort of your chooks. It should have sunken barriers to keep the chickens in and hazards like dogs and snakes out. Wood-chip is a great option for litter that chickens can scratch around in. It is relatively cheap and when it needs replacing, it can go onto your compost heap.
Grey Water
Using grey water is an environmentally friendly thing to do, and is quite safe to use on watering plants and trees. This includes grey water from the laundry and bathroom, however not kitchen waste water. This is because it often contains a range of fats and greases which can damage the integrity of soil. There is also a risk of bacteria and diseases if it's used on your veggie patch.
Compost
Compost bins are the ideal way of getting rid of kitchen scraps, but so are worms. Setting up a worm farm will also provide you their castings which you can turn into liquid feed which is a super-food for your garden! It's a great example of the beneficial circular nature of permaculture farming.
Develop your ability to integrate animals and their resources – from insects and aquatic organisations to grazing animals and livestock – into a viable design with a permaculture farming course like our Certificate of Animal Permaculture.
https://www.australianonlinecourses.com.au/wp-content/uploads/Animal-permaculture-1.jpg
426
640
Haley Williiams
https://www.australianonlinecourses.com.au/wp-content/uploads/AOC_logo.png
Haley Williiams
2021-07-06 15:47:47
2021-07-06 15:47:47
Balance Plant and Animal Life With a Permaculture Farming Course