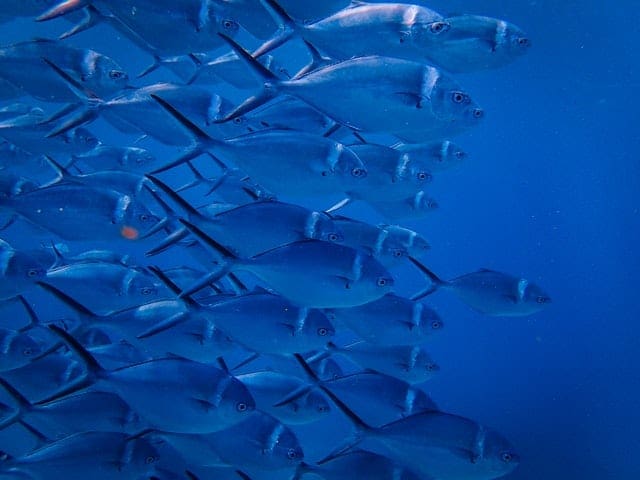 Learn How to Farm Fish with Aquaculture Courses
Marine fish stocks across the world are increasingly under pressure, which provides ample opportunities and potential profits for those who undertake aquaculture courses. The term "mariculture" refers to a sub-culture of aquaculture that deals specifically with marine aquaculture. It is defined as the culture of marine organisms — both plants and animals — in an aquatic medium or environment which may be completely marine or a mix of sea water with varying degrees of fresh water.
Ideal for mariculture operators or anyone who works in an aquaculture production role, the Certificate of Marine Aquaculture will teach you the fundamentals of mariculture to enable you to set up a successful and sustainable business. In this aquaculture course, you will explore mariculture production systems and the factors — including diet and health issues — that need to be considered when choosing marine species for an aquaculture business.
You will also learn about the commercial production of fin fish, molluscs, crustaceans, aquatic algae and seaweeds, the role of marine invertebrates in mariculture, and the pharmaceutical uses of marine organisms.
Learning Outcomes
Outcomes achieved by undertaking aquaculture courses online include:
Learning about aquaculture production systems, their classifications and the purposes of mariculture
Exploring extensive production (Ep) and intensive production (Ip)
Studying open (off-shore and near-shore), semi-closed and closed systems (on shore)
Gaining insights into cage culture and cage design – floating flexible, floating rigid, semi-submersible and submersible
Examining hanging, long-line, vertical, bottom, stone, stake, net and umbrella culture
Understanding closed systems (CAS) -recirculating, raceways, and inland ponds
Learning about the economics of establishing a mariculture business
Exploring industry competition, economy of scale, site selection and the availability of leased and quotas
Studying water quality management, environmental impacts and food chain problems
Gaining insights into using wild broodstock and nutrient and chemical pollution
Understanding how pathogens spread, habitat effects, biotechnology and improving the genetic quality of fish
Learning about choosing marketable species and understanding your competition
Exploring common mariculture species and the availability of animals
Studying climate and water resources
Gaining insights into finance, operational scale, market demand and risk considerations
Understanding product, price and promotion
Learning about finfish including tuna, salmon, yellowtail, sea bass and bream
Exploring brood stock and seed supply of finfish
Studying grow out and water quality management of finfish
Gaining insights into crustaceans including prawns, crabs and lobsters
Exploring brood stock and seed supply of crustaceans
Studying grow out and water quality management of crustaceans
Gaining insights into molluscs and echinoderms including abalone, oysters, mussels, scallops, clams, sea urchins and sea cucumbers
Exploring brood stock and seed supply of molluscs and echinoderms
Studying grow out and water quality management of molluscs and echinoderms
Gaining insights into seaweeds and aquatic algae
Understanding brood stock and seed supply of aquatic algae
Learning about tanks, ponds and land, sea and vegetative cultivation systems
Exploring farming methods and cultivation involving a reproductive cycle
Studying Laminaria japonica, Porphyra, Undaria and Eucheuma seaweed
Gaining insights into the pharmaceutical value of marine organisms
And more!
Aquaculture in Australia
Aquaculture is one of Australia's largest growing primary industries with over 240,000 tonnes of fish produced a year with aquaculture contributing to a third of this. So … a fantastic reason to undertake aquaculture courses! The aquaculture sector is managed under strict environmental guidelines, with most of the elements of regulation resting with the states and territories. The main aquaculture sectors are:
Marine finfish
This is an inshore and offshore sea cage-farming sector, which primarily operates in Tasmania and South Australia, although there are some farms in other states. Principle species grown are barramundi, mulloway, Atlantic salmon, southern bluefin tuna and yellowtail kingfish.
Operations typically involve the pre-dawn loading of vessels and the delivery of feed to the sea cages. A second run is undertaken in the afternoon or early evening. Key species harvested include:
Southern bluefin tuna. The aquaculture component of this sector involves the culturing of tuna in offshore sea pontoons that can be up to 25 kilometres out to sea. Before dawn, feed is loaded on modified fishing boats that travel to the pontoons.
Atlantic salmon. This industry is based in Tasmania. The aquaculture sector involves the collection of broodstock and the production of fingerlings for grow out in sea cages, which are located in offshore and inshore waters. A specialist fleet of vessels performs feeding and harvesting operations at sea.
Freshwater fish
There are many small to medium freshwater fish farms throughout Australia, growing a wide range of species including silver perch, jade perch, Murray cod and eels. Systems vary from pond and dam, to automatic and intensive tank rearing systems.
Crustaceans
Prawns. Farms are located in four Australian states — New South Wales, Western Australia, the Northern Territory and Queensland, however, the industry is largely based in Queensland's tropical zones. Prawns are farmed in large-scale pond operations, which operate round the clock and every day of the year. The farms generally have their own hatchery and the whole operation involves hatching, growing, harvesting and processing in an integrated continual process operation.
Yabbies, marron and red claw. There are many small land-based crustacean farms in Australia. Yabbies are the most common and typically an incidental aquaculture operation to general land-based farming. Red claw farms are scattered throughout Australia but mostly located in New South Wales and Queensland and New South Wales. Marron farms operate mainly in South Australia and Western Australia and tend to be larger scale pond operations.
Shellfish
Abalone (land-based). These farms operate intensive grow out systems, and while a majority have integrated hatchery and grow-out operations, some rely on purchasing spat from dedicated hatcheries. Broodstock is regularly collected from the wild through diving operations and forms the basis of the genetic diversity.
Abalone (sea-based). Two types of marine abalone systems include sea cage technology and a special converted grow out vessel. Broodstock is sourced from the wild and juvenile abalone are grown in hatchery complexes. The stock is then transferred to special sea cages with unique grow out plates and the stock is managed and harvested on a continuous basis by groups of commercial divers.
Mussels. This is widespread industry across Australia with large-scale operations in South Australia, Victoria and Tasmania. Marine rope systems are used to grow the mussels. As mussels are filter feeders, farms rely upon natural feed including detritus, algae and bacteria rather than pellets or artificial diets. Harvesting involves the operation of specialised mussel–stripping machinery on purpose-built vessels.
Pacific oysters. This industry operates mostly in South Australia, New South Wales, Victoria and Tasmania. The industry is a marine based industry (apart from the hatchery complexes) with most farms accessed by commercial vessels which are used to maintain the grow out sites and harvest the oysters. The industry operates seven days a week every week of the year. Operations are generally performed before dawn, through to sunset with some unloading, bagging operations extending the work hours into the evening.
Sydney rock oysters. Operating in Queensland, New South Wales, Western Australia and Victoria, this industry farms a single oyster species — Saccostrea Glomerata — in a number of ocean and estuarine settings. Operations involve small vessels engaging in daily trips to the oyster beds for checking, sorting, grading and harvesting the oysters. Once ashore, the operations grade and clean the oysters and prepare them for dispatch to various market
Types of Mariculture
As you will learn in aquaculture courses, aquaculture in Australia is generally practiced using either salt or freshwater species under either intensive or extensive production. But what is the difference between the two?
Intensive Mariculture Production (Ip)
An intensive production system is managed to ensure optimum feeding regimes, water conditions and is important for high production. It requires a managed and well-designed production unit so feed, oxygenation, light intensity, water flow and quality, waste build-up and competition are efficiently controlled and improved. Reproduction can sometimes be initiated slightly out of season by manipulating oxygen, water temperatures and light intensity.
Raceways, pools or dams are typical units for intensive production. They are designed and constructed to offer as much control as possible, to improve any natural limitations and to circumvent problems. They also enable the farmer to exactly determine his marketable stocks and have them available whenever they are needed.
Extensive Mariculture Production (Ep)
An extensive production system involves the use of natural waters like rivers, oceans, dams, lakes, saltwater estuaries and various impoundments. It is a system where animals are stocked, allowed to spawn, and increase in size and number. Typically a simple stocking and harvesting routine is followed, although sometimes there will be some input in terms of fertilisation, water, feeding and/or protection.
The use of natural waters are usually large and have sufficient cover and food to support a large number of fish and allow them to grow reasonably quickly and to a marketable size. However, they will grow more slowly than fish that are force fed under intensive conditions. But a harvestable crop is generally less expensive to produce compared to those from an Intensive Production system because manpower needs are lower, water is available at little cost, and the degree of expertise required from the farmer is considerably less.
Learn to plan and manage the farming of a wide variety of marine life to enhance your aquaculture career, or even start your own business with aquaculture courses like our Certificate of Marine Aquaculture.
https://www.australianonlinecourses.com.au/wp-content/uploads/aquaponics-farming.jpg
480
640
Haley Williiams
https://www.australianonlinecourses.com.au/wp-content/uploads/AOC_logo.png
Haley Williiams
2021-06-15 13:18:54
2021-06-15 13:18:54
Learn How to Farm Fish with Aquaculture Courses