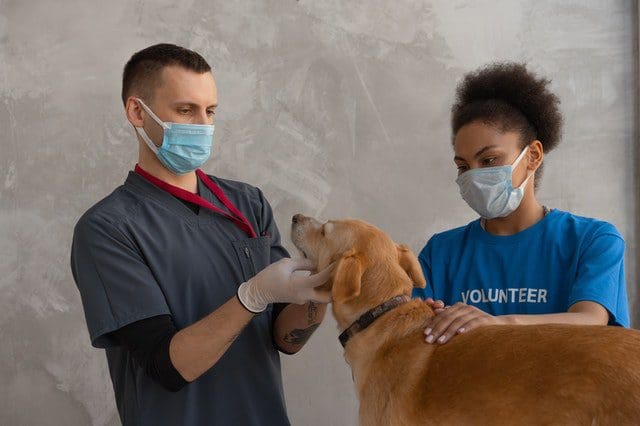 Enrol in an Animal Welfare Course – Make a Difference!
Do you have a passion for protecting animals? If so, an animal welfare course will help you to pursue volunteer opportunities and paid roles in this industry.
Our Certificate of Animal Welfare is a professional development program that covers a wide range of animal welfare topics, including the framework for animal welfare in society and what protection, rescue and health services are currently available in Australia.
In this online animal welfare course, you'll also gain knowledge in animal psychology and sentience, and understand how laws and regulations protect pets and companion animals, work animals and animals in sport.
Do you see yourself as a future animal welfare activist? Do you want to pursue a career working with animals, whether as an animal shelter attendant, animal welfare inspector or many other professions where animal welfare is a priority, this course is for you!
 Learning Outcomes
Outcomes achieved if you study courses animal welfare include:
Animal psychology and sentience
Managing animal welfare
Animal welfare services -shelters and rescue centres
Animal welfare for pets, work animals and animals in sport, farm animals and wildlife: free and captive
Understand animal welfare and how it can be implemented in society
Learn how animals might perceive the world, their sense of awareness and cognition, and how welfare can influence their mental health
Discover how animal welfare is assessed and upheld
Understand animal protection services and jobs available in this industry
Gain understanding of rescue services and how they contribute to animal welfare
Animal health service benefits to animal wellbeing
Discover how animal welfare is implemented in the protection of pets and companion animals, work animals and animals in sport
Understand how animal welfare is implemented in the protection of farm animals
And more!
Animal Welfare Careers & Realities
The animal welfare industry is only for those with a passion and compassion for animals. If that's you, consider the following qualities which are also important in most animal welfare jobs.
Physically fit and strong – the work is often physically hard, and you may be working in harsh weather conditions, such as extreme heat or cold.
Emotionally resilient – you'll experience the rollercoaster of emotions that comes with rescuing and ending the suffering of animals in your care.
Not motivated by money – while rewarding, the animal welfare industry is not the most favourable for financial gain.
This online animal welfare course, which explores animal welfare issues, is important for anyone who works with animals or those wishing to join the animal welfare industry, including:
Rescue officers
Pet resort attendants
Pet trainers
Animal rehabilitators
Pet walkers
Pet sitters
Animal carer
Veterinary assistant
Pet store staff
RSPCA volunteer
Animal welfare organisations and services provide many career opportunities for those wanting to make a positive contribution towards the welfare of pets. These jobs range from 'on the ground' roles such as animal welfare inspectors and rescue officers to 'behind the scenes' roles such as marketing, fundraising and office administration.
10 Australian Animal Welfare Organisations
Animal protection and rescue organisations are largely about dealing with issues relating to domestic pets – mainly cats, dogs, and horses. The following are 12 of the most popular animal welfare organisations in Australia.
Animal Welfare League (AWL) is one of Australia's leading animal welfare organisations. This animal welfare organisation is responsible for reuniting lost dogs and cats with their owners, providing temporary shelter and rehoming. You can find job vacancies with the AWL to rehabilitate and rehome lost and abandoned animals.
Pet rescue has helped to create social change in pet adoption since 2004. The national animal welfare charity has a vision of a future where every pet is safe, respected and loved. The organisation sets itself apart with a 'disruption' ethos, which aims to create real change by discovering innovative tech solutions to some of the biggest challenges facing rescue pets in Australia.
The RSPCA (Royal Society for the Prevention of Cruelty to Animals) is a registered charity founded to provide protection for 'all creatures great and small.' The organisation works to influence animal welfare policy, practice and legislation across Australia.  If you want to turn your passion for animals into a career, you can enquire about working for the RSPCA here.
Animals Australia investigates and exposes animal cruelty and campaigns for the humane treatment of animals. The most recent campaigns include hidden industries, including the live export trade, factory farms and greyhound racing.
Animal-loving volunteers operate the charity Forever Friends. The organisation is responsible for the rescue and rehabilitation of some of the most vulnerable animals including those that are elderly, sick, abandoned and abused. Based in Victoria, this charity is one of the largest animal welfare organisations in the state and involves over 700 volunteer teams.
The K9 Rescue Group is a not-for-profit organisation responsible for the rescue, care and re-homing of dogs. The organisation, which rehomes over 450 dogs each year, also educates the community about responsible dog ownership. You can volunteer your time at K9 Rescue Group by engaging in their three hour information and training induction program which can lead to jobs such as kennel hand, office administration or fundraising and events roles.
Cat Haven is Western Australia's premier cat welfare organisation and is the largest shelter for lost, homeless, and abused cats. The organisation takes in over 8000 cats and kittens every year and has a no-euthanasia rate for treatable re-homeable cats. Cat Haven also runs several community programs, from emergency cat boarding to companion cats in residential aged care, subsidised sterilisation, and microchipping. There are many varied opportunities to volunteer from retail, to fundraising and kennel attending.
SAFE (Saving Animals from Euthanasia) uses an innovative foster care model to save homeless pets. Animals are provided with home-based care, desexing and veterinary care before they are re-homed. You can find volunteer opportunities here to become a foster carer, branch coordinator, event organiser, animal profile writer, grant writer and more.
Four Paws is a global animal welfare organisation for animals under human influence. The organisation reveals animal suffering, provides education and campaigns for the humane treatment of animals. You can get involved here to sign petitions or donate.
As a peak body and advocate for pet welfare, the Australian Pet Welfare Foundation provides evidence-based care to save the lives of pets and people. The organisation's primary focus is on influencing key stakeholders, welfare agencies, veterinary professionals, and community leaders to save lives in shelters. You can find opportunities to become a APWF volunteer here.
Gain work ready skills to volunteer or take up employment in animal welfare with an animal welfare course, like our Certificate of Animal Welfare.
https://www.australianonlinecourses.com.au/wp-content/uploads/animal-welfare-course.jpg
426
640
Haley Williiams
https://www.australianonlinecourses.com.au/wp-content/uploads/AOC_logo.png
Haley Williiams
2021-08-18 13:05:35
2021-12-03 13:27:59
Enrol in an Animal Welfare Course – Make a Difference!