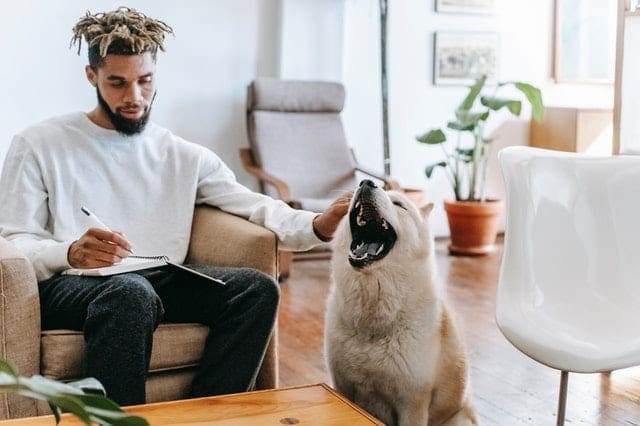 How Animal Therapy Courses Boost Client Health
An animal therapy course is an ideal way to understand how this increasingly popular type of therapy improves the emotional and psychological wellbeing of people.
If you're curious about the theory behind pet therapy, this course is ideal for you – whether you work in counselling, psychology, health care or simply want to understand how pets can help others.
Pets trained to be therapy animals are non-judgemental, affectionate and fun companions whether they're at home with their owners or working in a business, clinic or health care setting.
Animals have been shown to reduce stress and stimulate social interaction, which makes animal therapy useful and often critical to the wellbeing in a wide variety of situations, such as:
Assistance dogs to help people who are visually or hearing-impaired
Horse riding for people living with a disability
Pets in hospitals and aged care
Companion animals for the aged
Therapy dogs for those with psychological/emotional conditions
Pets for children in therapy
This animal therapy course will help you understand the benefits of animal therapy and how to use pet therapy in a therapeutic framework to improve the psychological wellbeing of your clients.
Learning Outcomes
Topics covered in our online animal therapy course include:
The nature of pet therapy and how it may be used as a therapeutic tool.

How pets can contribute to a person's wellbeing as a companion or working animal.

Working with animals effectively and appropriately in a therapeutic situation.

Howpet therapy can be used for people with psychological conditions.

Ways in whichpet therapy can be used for people with physical disabilities

Pet

therapy for children of different ages and circumstances.

How pet

therapy can be used for older people in different circumstances.

Plan the establishment and operation of apet therapy 
And more…
What is Animal-Assisted Therapy?  
Animal-assisted therapy or pet therapy is a complementary (or alternative) therapy that involves interaction between people and specially trained animals. The purpose of animal-assisted therapy is to help a person recover from or deal with a health problem or psychological or emotional condition.
Dogs and cats are most common in animal-assisted therapy – the type of animal chosen depends on the therapeutic goals of a person's treatment plan.
Types of Therapy Animals
Dogs are the most common therapy animals in animal-assisted therapy, but many pets can help people feel happier and more relaxed, from horses to reptiles!
Dogs – Dogs are by far the most popular choice when it comes to assistance and therapy animals.
Horses – Equine therapy is a popular treatment for many physical, emotional and psychological conditions. Caring for and riding these giant, gentle creatures helps people let go of disruptive, unhelpful behaviours. Horses promote confidence and calm, easing anxiety and increasing social skills.
Cats – For those people afraid or intimidated by dogs, cats are a great alternative. They're quiet, calm, clean and affectionate (most of the time), making them ideal for residential aged care.
Guinea pigs/rabbits – These "smallies", as they're often known, are an excellent alternative to large pets when it comes to incorporating pet therapy into treatment plans. They still offer comfort, companionship and can assist with fine motor skills and behavioural and emotional support.
Birds ­– Parrots, in particular, are empathetic and can provide emotional support – plus, they can be taught to talk!
Reptiles ­– Caring for reptiles offers a reprieve from psychological and emotional disorders. While reptiles are relatively new to the therapy field, their unique care needs can provide a self-esteem boost to those who need it most.
8 Ways Animals Help People
Companionship – pets help reduce loneliness and isolation, which is important now more than ever with COVID-19 lockdowns and social distancing – by providing an ever-present companion.
Stress and Anxiety – animals help lower stress and anxiety by inducing a sense of calm in their owners or clients.
Physical Health – improves motor skills, joint movement, assisted and independent movement (physical therapy), and increases a person's motivation to exercise.
Self–Esteem – increase a person's self-worth through connecting with a non-judgemental, loving and agreeable companion!
Social Skills – increase's willingness to take part in social activities and improving interactions with others.
Depression – helping people feel happier, lowering depression and improving a positive outlook on life
Empathy – Pets can help children and young people to develop empathy and nurturing skills by taking care of them through tending to their emotional and physical wellbeing.
Improves Relationship with Healthcare Providers – Pets in animal-assisted therapy can help put clients at ease, assisting the health care provider in developing rapport quickly and successfully from the very first session.
People Who Benefit Most from Pet Therapy
People living with cancer
Those undergoing cancer treatments
Residents in long-term care facilities
People living with a disability
Stroke and injury – people undergoing physical therapy
Children undergoing physical or dental procedures
People hospitalised with chronic health conditions
Veterans with PTSD
People recovering from trauma
People living with psychological disorders
Professionals and Animal Therapy Courses
Pet therapy can help many professionals to connect with clients and improve their physical or mental health, from physiotherapists to dentists.
Psychologists and counsellors
Animals can help break down barriers to connect with clients to improve their emotional and psychological health.
Occupational therapists/physiotherapists
In physical and occupational therapy, animals can promote interaction between therapist and client and be a powerful motivator to achieve goals.
Dentists
Fear of the dentist is common, especially in young children. So, animals are a wonderful distraction and can promote feelings of safety and calm while in the dental chair.
Teachers
Animals are a fantastic teaching aid, with 'story dogs' becoming increasingly popular in the classroom. These dogs promote reading among primary school children and are a great addition to school counsellors' offices too!
Carers/Nurses
Animals can be particularly beneficial for older people or people living with a disability in residential care facilities. In fact, these companion pets improve quality of life, encourage therapy participation and provide comfort.
Gain the knowledge to understand how pets can help people heal, learn and thrive with an animal-assisted therapy course like our Certificate of Pet Therapy.
https://www.australianonlinecourses.com.au/wp-content/uploads/Animal-assisted-therapy-courses.jpg
426
640
Haley Williiams
https://www.australianonlinecourses.com.au/wp-content/uploads/AOC_logo.png
Haley Williiams
2021-07-15 13:34:16
2021-07-15 13:34:16
How Animal Therapy Courses Boost Client Health