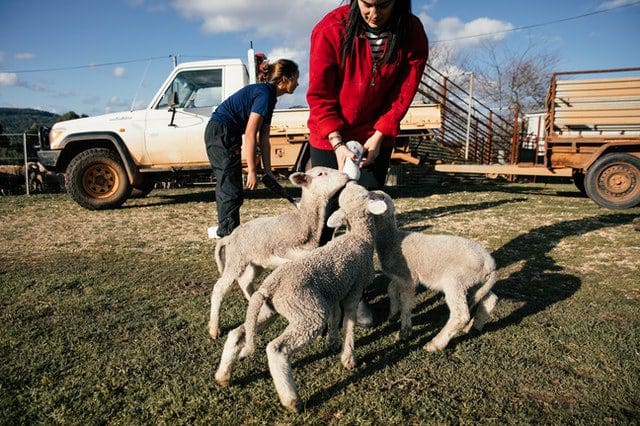 Agribusiness Course Promotes Farm Tourism!
Agribusiness courses are an excellent way for farm owners to gain the knowledge to branch out into the agritourism industry.  Agritourism is big business in Australia. The CSIRO reports that agritourism opportunities alone will reach about $18.6B by the end of the next decade!
Our Introduction to Farm Tourism course provides insights into how to plan and operate an agritourism business.
Throughout this agritourism course, you will discover how to market and promote an agritourism business, manage staff and understand critical legal and safety considerations.
You will also learn how to design and conduct farm tours, explore agritourism activities and plan and host events.
Learning Outcomes
Outcomes achieved by undertaking an agritourism course include:
Learn to identify agritourism prospects for a property or broader community in a rural area.
Identify and plan the development of potential agritourism attractions.
Understand the critical tasks that require management in an agritourism enterprise.
Identify accommodation facilities and services for agricultural tourism.
How to design and conduct various activities for agricultural tourism, including farm tours.
Explore the diverse activities possible for agritourism in your region and globally.
Identify the most appropriate agritourism marketing tools to promote your business effectively.
Create and present a plan with specific strategies for integrating an element of farm tourism into the operation of an existing agricultural business.
How to promote agritourism using marketing materials.
Considerations for animal welfare.
Identify potential hazards in an agribusiness and how to mitigate them.
Perform a SWOT analysis to help identify the events Strengths, Weaknesses, Opportunities and Threats in an agritourism business.
Creation, sales and service of a food product related to an agribusiness, such as a café, food truck or roadside stall.
Recruiting staff for your business, including seasonal workers such as backpackers or fruit pickers.
Understand the physical and safety resources required to run an agribusiness.
Essential and non-essential utilities and furnishings in an agribusiness.
Costs associated with accommodation (budget, intermediate and luxury)
Explore virtual or mobile farm tour activities.
Create a mind map for an agritourism event that you would like to run.
Identify the apparent success of an agritourism attraction based on observations such as potential income and public interest.
Advertising agribusiness events (billboards, signs, pamphlets, tv or radio advertisements, email)
Integrate theoretical information to derive sensible solutions to potential problems involved in integrating tourism into a farm business.
And more!
What is Agritourism?
Agritourism encompasses all experiences and attractions that bring tourists to regional and rural areas of Australia. It's a way for people to immerse themselves in farm life, relax and unwind away from the city and the suburbs. Farm tourism allows tourists to interact with animals, plants and farm life activities and enjoy regional flavours.
Farm tourism includes farm tours, farm stays, dining and cuisines, wineries, and breweries.
Agritourism – A Growth Industry
Agritourism is a significant growth industry in Australia. The CSIRO estimates that the annual opportunity for agritourism, including accommodation, transport and retail, to reach around $18.6 billion by 2030. Further, expenditure on food, drinks and accommodation is expected to reach $5.6 billion by the end of the next decade. So, if you're looking for a reason to study agribusiness courses, this is a big one!
10 of Australia's Best Agritourism Businesses
A little inspiration from some of Australia's most successful agritourism businesses – and how agribusiness courses could transform your farm or property!
Blackwattle Farm
Beerwah, Qld
Situated on 20 acres of farmland, Blackwattle Farm is a micro-agribusiness sitting at the base of the Glass House Mountains. It is located just a short drive from some of the Sunshine Coast's most beautiful beaches and hinterlands.
Features: farm animals (miniature pigs, goats, cows, sheep, alpacas, ducks, chickens, quails and peacocks. One self-contained cabin and two tiny houses are available to rent.
Mount Mulligan Lodge
Tropical North Qld
A luxury lodge in the heart of outback Australia, Mount Mulligan Lodge offers guests the opportunity to learn about a working cattle station.
Features: Swim laps in the infinity pool, go barramundi fishing, explore the region's pastoral history and indigenous ties to the land – and more!
The Family Wild Farm Stay
Victoria
Sustainable living and organic farming are the experiences provided by The Family Wild Farm Stay. It's a bespoke farm stay experience that is offered biannually.
Features: Workshops on organic farming, sustainability, animal tracking and collaborative art projects.
Eden Farm Escape
Blue Mountains, NSW
A retreat with five beautiful self-contained bespoke cabins set on 36-hectares of greenery, Eden Farm Escape is an escape from busy to tranquillity and relaxation.
Features: equine therapy, donkeys, alpacas, goats, sheep, pigs and cows.
Tommerup's Dairy Farm
Scenic Rim, Qld
A small-scale operation that produces dairy and ethically raised pork and veal, Tommerup's Dairy Farm is a family-run business operating for 140 years! Guests can look forward to a taste of real country living and a farm to fork adventure.
Features: 19th-century buildings that combine rural charm and modern conveniences. Activities include milking cows, feeding pigs, goats, sheep and chickens, collecting eggs, fishing, kite flying and birdwatching.
Spicers Hidden Vale
Grandchester, Qld
Twelve thousand acres of beauty just one hour from Brisbane, Spicers Hidden Vale is a luxury retreat with a warm country welcome. Guests can soak up the country atmosphere while also enjoying life's comforts.
Features: Beautifully restored Queenslander-style cottages, breathtaking countryside views, paddock-to-plate dining and nature-based activities.
Rustic Hut Farm Stay
Tasmania
Located near the seaside town of Penguin, this farm stay offers the country experience that city-dwellers crave, complete with farm activities and hikes in majestic surrounds.
Features: bushwalks, milk cow, churn butter, feed farm animals, collect eggs and adventure club for kids (give the adults a break).
Diamond Forest Farm Stay
Perth, WA
Near Pemberton, in the tall-tress region of southwest Western Australia, this farm stay offers self-contained timber cottages with slate floors, verandas and spectacular views. It caters to young families with many farm-based activities on offer.
Features: petting pen, canoeing, fishing, games room and playground, feed over 100 animals.
Riverndell Angus Beef Farm
Gippsland District, VIC
Discover a working Angus beef farm that has been transformed into a 200-tree orchid and farm stay experience. There's also an onsite restaurant that provides fresh, local produce for breakfast and dinner.
Features: onsite restaurant, feed sheep and chickens, groom horses, picnic, and swim at a private beach.
Cupitt
Ulladulla, NSW
Located in the hills behind the surf town of Ulladulla, this farm stay experience has it all – winery, brewery and fromagerie! Accommodation includes a charming, two-bedroom, 100-year-old heritage cottage. You can't feed the animals here, but you can go behind the scenes to explore the kitchen garden where the wine, beer and cheeses are made!
Features: Explore the kitchen garden, learn about wine, beer and cheese making, onsite growers' market, award-winning restaurant.
Explore your options in the agritourism industry and learn how you can turn your property or farm into a major tourist attraction with agribusiness courses like our Certificate of Farm Tourism.
https://www.australianonlinecourses.com.au/wp-content/uploads/Agribusiness-courses.jpg
426
640
Haley Williiams
https://www.australianonlinecourses.com.au/wp-content/uploads/AOC_logo.png
Haley Williiams
2021-09-16 14:35:33
2021-09-16 14:35:33
Agribusiness Course Promotes Farm Tourism!