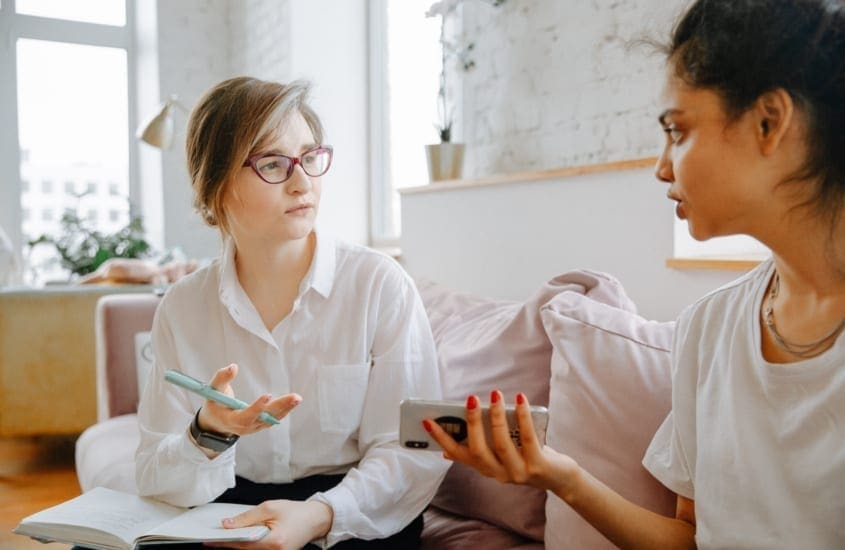 A Counselling Psychology Course Will Help You Help Others!
Studying a counselling course online like our Certificate of Counselling Psychology will be of particular interest to people working in or planning to work in counselling, psychology, psychotherapy, social work, nursing or in caring or health professional roles.
Relationship issues, discrimination, work and family demands, physical and mental health problems … there is a range of issues that can cause stress. In fact, according to the World Health Organisation, 25% of people will develop a mental or behavioural disorder during their lifespan.
And while some people can adequately manage stress, others can develop adverse feelings and anxieties that can persist and intensify. This can lead to issues including depression, substance abuse, behavioural problems and disorders that are particular to children and adolescents.
Counselling psychologists can assist people with physical, mental and emotional health issues to resolve crises, alleviate feelings of distress and improve their sense of well‐being. 
Learning Outcomes
Outcomes achieved by undertaking a counselling course online include: 
Learning about stress in terms of the mind to body connection

Studying how to recognise stress

Exploring what happens to the body when you experience stress

Uncovering the physiological response

Gaining an understanding of chronic and acute stress

Understanding Erikson's psychosocial stages

Discovering the oral sensory, anal muscular, genital locomotor and latency stages of stress

Examining stress in young, middle and late adulthood

Gaining insights into social adjustment

Learning about the relationship between stress and heart disease

Exploring the basic sources of stress

Understanding why some people suffer more with stress

Studying how to deal with stress

Gaining an understanding of stress defence mechanisms

Learning about stress and abnormal behaviour

Exploring the definition of abnormality

Studying the deviation from statistical and social norms

Gaining an understanding of maladaptiveness in behaviour

Examining personal distress

Gaining insights into disabilities and stress 

Learning about Wakefield's harmful dysfunction concept

Understanding what makes psychologically healthy individuals

Exploring deviation in character

Studying the classification of mental disorders

Examining anxiety and mood disorders

Gaining insights into the prevalence and treatment of depression

Learning about schizophrenia 

Exploring substance-related disorders

Examining disorders diagnosed in childhood

Gaining insights into delirium, dementia and amnestic and cognitive disorders

Exploring classification problems

Studying individual and pro-social or altruistic behaviours

Understanding when children first exhibit pro-social behaviour

Learning about socialisation and conformity

Studying disciplinary measures

Exploring family and sibling influence

Examining the influence of family structure

Gaining insights into the influence of school and peers

Learning about Heider's balance theory

Exploring dissonance theory and cognitive dissonance

Studying group behaviour

Gaining an understanding of social considerations

Learning about different types of groups – temporary, organised, industrial and organisational 

Examining the influence of different types of groups

Gaining insights into the methods of dealing with abnormalities

Learning about professionals in counselling and psychology

Exploring therapist techniques

Studying transference

Examining directiveness and non-directiveness

Gaining insights into systematic desensitisation

Learning about a variety of behaviour therapies

Exploring psychoanalytical approaches

Studying psychoanalytic techniques

Examining humanistic therapy

Gaining insights into eclectic approaches

Learning about conflict resolution

Exploring conflict handling techniques

Studying anger in terms of conflict 

Gaining an understanding of negotiation

Examining joint problem solving

Gaining insights into negotiation problems

Learning about mediation and the procedures involved

Studying how to run a mediation process in a conflict situation

Gaining an understanding of agreements or contracts

Learning more about suggested timetables for mediation sessions

Exploring interpersonal communication skills

Studying communication channels and effective communication

Gaining an understanding of awareness in communication 

Uncovering valuable communication skills

Learning about hearing verbal messages and perceiving non-verbal messages  

Studying how to respond 

Gaining an understanding of verbal and non-verbal communication

Examining body language

Gaining insights into communication barriers

Learning about self-awareness and self-esteem

Studying specific skills like listening, paraphrasing and reflective responses

Gaining an understanding of conversation development

Learnings how to build professional relationships 

And more, in our counselling course online.
The Most Influential Psychologists Throughout History 
Although many psychologists over the years have contributed to various schools of thought, individual practitioners have bought a unique perspective to the understanding of human behaviour. Be inspired to undertake our counselling course online with our pick of history's best-known thinkers!
William James 
Born in New York in 1842, James is considered a leading thinker of the late nineteenth century, and often referred to as the 'Father of American psychology'. His teachings and writings, including his book, The Principles of Psychology, helped establish psychology as a science, particularly in the areas of structuralism and functionalism.
Ivan Pavlov 
Pavlov was born in 1849 in Russia and from childhood demonstrated an intellectual curiosity he referred to as 'the instinct for research'. Best known for his work in classical conditioning, he helped move psychology away from subjective assessments to objective measurements of behaviour.
Sigmund Freud 
Born in Czechia in 1856, Freud was a neurologist and the founder of psychoanalysis. His work supported a belief that not all mental illnesses have physiological causes and that cultural differences also have an impact on behaviour. His work also contributed to today's understanding of clinical psychology and abnormal psychology.
Jean Piaget 
Swiss-born Piaget was known for his work on child development, in particular his theory of cognitive development, and he placed great importance on children's educational reform. As a testament to his work, Albert Einstein once described Piaget's observations as a discovery "so simple that only a genius could have thought of it."
Lev Vygotsky 
A Russian psychologist, Vygotsky, was born in 1896, and his work has become enormously influential in recent decades. However, much of it was largely inaccessible to the Western world before the 1960's when it was finally translated. Before his premature death at age 38, he was most known for his studies in the areas of child development and educational psychology.
Carl Rogers 
Rogers was born in the US in 1902 and was among the founders of the humanistic approach to psychology. As an educator, writer and therapist, he was one of the major 'humanist thinkers' of his time and a key influence in the field with his theories on person-centred therapy.
Erik Erikson 
Born in Germany in 1902, Erikson is most known for his staged theory of psychosocial development, which focused on human development throughout a lifespan. He coined the phrase 'identity crisis' and expanded the notion of psychoanalytic theory by exploring development throughout childhood, adulthood and old age. 
F. Skinner 
Burrhus Frederic Skinner was an American psychologist, inventor, author and social philosopher who was born in the US in 1904. He was Professor of Psychology at Harvard University from 1958 until his retirement in 1974, and is remembered for his concepts of operant conditioning and schedules of reinforcement. 
Leon Festinger 
American Festinger was born in 1919 and as a social psychologist, was best known for his theories on cognitive dissonance and social comparison. The first theory relates to the discomfort people feel when they hold two conflicting beliefs, and the second to people evaluating their ideas by comparing them to what other people believe.
Albert Bandura 
Born in 1925 in Canada (and at 94, he is still alive and well today!), Bandura was considered part of the cognitive revolution in psychology that began in the late 1960s. A Professor of Social Science in Psychology at Stanford University, his theories stress the importance of modelling, imitation and social learning.
10 Infamous Serial Killers Throughout History
Robbery, sexual assault, murder and even cannibalism – their actions were brutal and often hard to comprehend. Undertake our counselling course online, and you may just understand a little more about the psyches and motivations of some of history's most notorious killers. 
Gilles de Rais
Born in 1404 in France, Gilles de Rais was a wealthy knight, a leader in the French army, and a companion-in-arms to Joan of Arc. Sound noble? Well yes … that is until he was convicted of murdering at least 40 young boys between 1432 and 1433. He died by hanging in October 1440.
Jack the Ripper
While it's a name most people would be familiar with, nobody has ever been sure of this monster's true identity. Terrorising the Whitechapel neighbourhood of London in 1888, he or she killed at least five prostitutes. The study and analysis of the murders – often referred to as 'ripperology' – has been the inspiration for a variety of books and films. 
Albert Fish
Fish was born in the US in 1870 and was found guilty of raping, killing, and cannibalising three children in the early 1900s. His various nicknames include the Moon Maniac, The Boogey Man, the Brooklyn Vampire and the Werewolf of Wysteria. He died by electrocution in January 1936.
Joachim Kroll
German serial killer Kroll murdered at least 14 people in and around the Ruhr metropolitan region between 1955 and 1976. After strangling his victims with his bare hands, Kroll would indulge in cannibalism. After a 151-day trial, he received a life sentence and died in prison in 1991.
Andrei Chikatilo
Born in the Ukraine in 1936, Chikatilo sexually assaulted, murdered, and mutilated more than 50 young women and children between 1978 and 1990. Nicknamed the Red Ripper and the Butcher of Rostov, he was convicted and executed by firing squad in 1994.
John Wayne Gacy
Gacy was born in 1942 and regularly performed at charitable events and birthday parties as Pogo the Clown. The 'Killer Clown' was eventually convicted of raping, torturing, and murdering 33 teenage boys over six years, and was executed in May 1994.
Ted Bundy
One of the most recognised serial killers of all time, Bundy kidnapped, raped and murdered numerous young women and girls during the 1970s. After more than a decade of denials, he confessed to 30 homicides across seven US states and was executed in 1989.
Pedro López
Colombian López was sentenced for killing 110 girls but claims to have raped and killed more than 300 women across Peru, Colombia and Ecuador. He was declared insane and jailed, however, was released in 1998 for 'good behaviour'. His location is currently unknown.
Jeffrey Dahmer
Known as the Milwaukee Cannibal, Dahmer murdered and dismembered 17 men and boys from 1978 to 1991. Although Dahmer would have been eventually executed for his deranged crimes, he was beaten to death in prison in 1994.
Richard Ramirez
Born in 1960, Ramirez terrorised neighbourhoods throughout Los Angeles and San Francisco from June 1984 until August 1985. His weapons of choice included knives, handguns, a machete and even a hammer. He was sentenced to death in 1989 but died in prison before he could be executed.
The stresses of today's world can be overwhelming for some people. Counselling courses online like our Certificate of Counselling Psychology will help you learn to help others be the best version of themselves. 
https://www.australianonlinecourses.com.au/wp-content/uploads/Counselling-psychology-course-blog-scaled.jpg
1365
2048
Haley Williiams
https://www.australianonlinecourses.com.au/wp-content/uploads/AOC_logo.png
Haley Williiams
2020-05-05 13:49:54
2020-05-05 13:49:54
A Counselling Psychology Course Will Help You Help Others!