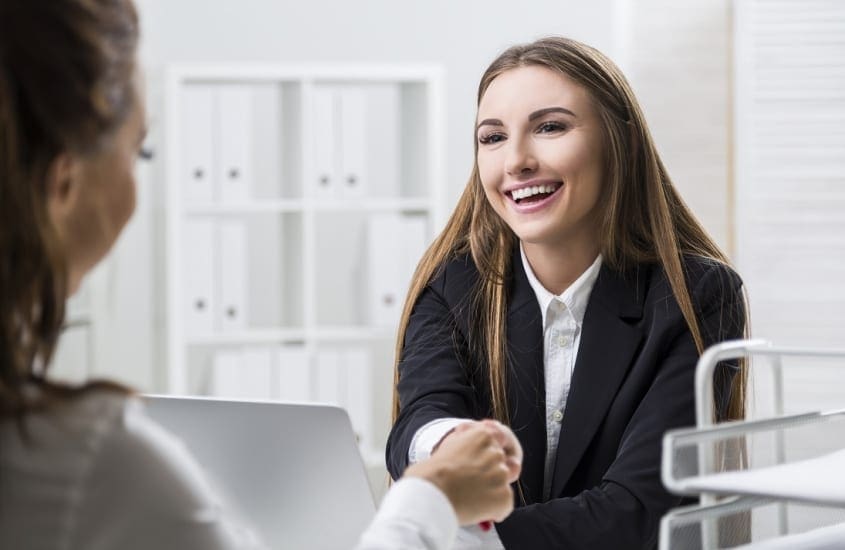 7 Ways to Land That Entry-Level Job
You'll need a competitive edge to start your career according to a new report by Anglicare. Across Australia, there are now an average of 4.8 jobseekers for every entry-level job advertised (ABC News report). So how can graduates and new jobseekers give themselves the best chance of success?
Australian Online Courses spoke to Darleen Barton, bestselling author and performance coach at DIPAC & Associates, for advice on how entry-level jobseekers can increase their chances of being hired.
Build a C.V
"Demonstrate your skills, your character and your personal value system," says Barton. As an entry-level job-seeker you should include any humanitarian interests, including voluntary positions that you have held.
It's also important to ensure your C.V clearly demonstrates your accomplishments and the results achieved, adds Barton.  "Employers are looking for 'action-oriented' people who can learn fast and deliver results."
Of course, she adds, make sure your C.V is free of spelling and grammatical errors.
Deliver Your C.V and Dress to Impress
If you can deliver your CV in person take the opportunity, says Barton. "First impressions count. You will be judged in the first thirty seconds of your arrival.  You might as well make it positive.  Make sure you're neat, tidy and professional."
Research the Job Market
Keep in mind that recruitment companies work with thousands of candidates, says Barton.  As a new job-seeker you need to conduct your own research.  Try to find out as much as possible about the organisations you are looking to work.
Create a Social Media Presence
Barton says a social media presence is important for jobseekers, but it should reflect a professional image. "Your online footprint should be clean, issue free and professional.   Establish accounts on key sites such as LinkedIn and sanitise or even remove personal accounts with sites such as Facebook that can be viewed by prospective employers."
"Go one step further and create a mini website for yourself.  There are many web-building services such as WIX, which enable you to build great websites fast and for free.  Get your profile up and out in the market and ensure your site is looks professional."
Be Persistent and Reliable
Being persistent is paramount to your success, says Barton. "If you want to get your foot in the door don't send an email requesting an appointment. Pick up the phone and ask for an appointment to see the human resource manager, relevant manager, or person hiring.  Follow up phone calls are important to ensure your enthusiasm is noticed."
You should also demonstrate that you are reliable. "Employers are sick of no-shows and unreliable people." They want to be impressed, which leads to the next important step – the interview.
"6.  Nail Your Interview
"Arrive to your interview early and bring hard copies of your C.V and references.  If necessary, bring materials to support your interview.  Dress well, be considerate, answer questions clearly, use positive body language, avoid ums and ahs and overuse of the word like.  Ask relevant questions and focus on the role – not how much money you will get," advises Barton.
Learn the STAR Principal
The STAR principal is a behavioural interview technique based on discovering a candidate's past behaviour in a specific employment-related situation.
It stands for Situation, Task, Action and Result. You should prepare a few examples of situations that arose, the task you carried out, the action you took, and the results achieved.
As an entry level job-seeker, you can use situations from your internships, short courses, school projects, activities, team sports, community involvement, hobbies and any work experience.
Grow in Confidence
"Remember with every no, your confidence must grow," says Barton. You should learn to pick yourself up and try again despite setbacks.
She says it's also important to monitor self-talk, as confidence comes from within.  "You have just completed your study and you are heading out to get your first job – so take it easy on yourself!"
A technique she recommends is to look yourself in the mirror every day and use the mantra 'I can do this.'   "We all started somewhere!"
https://www.australianonlinecourses.com.au/wp-content/uploads/7-ways-to-land-an-entry-level-job.jpg
730
1095
Australian Online Courses
https://www.australianonlinecourses.com.au/wp-content/uploads/AOC_logo.png
Australian Online Courses
2017-12-01 00:00:00
2017-12-01 00:00:00
7 Ways to Land That Entry-Level Job