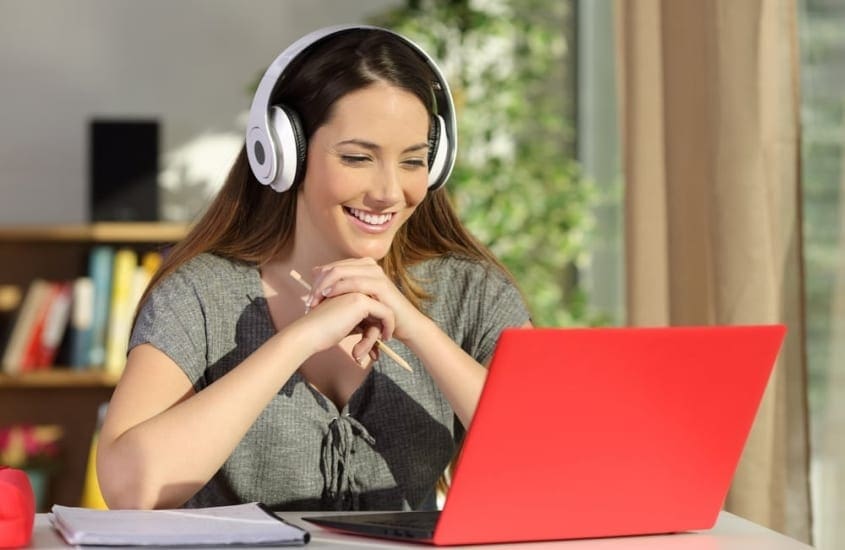 7 Reasons to Make Transcription Your Career
There are many benefits to career as a transcriptionist, including flexibility in working hours, working remotely, starting a business and unlimited earning potential.
And while there are low barriers for entry, it's not a career for everyone – you need exceptional listening, typing, grammatical, analytical and language skills to be successful.
You can take transcription courses to become a professional transcriptionist, but you'll also need to focus on typing speed and accuracy to make the job lucrative.
What is a Transcriptionist?
A transcriptionist converts speech, either live speech or audio recordings, into a written or electronic text documents for business, legal, or medical purposes. The audio may include lectures, interviews, podcasts or webinars.
You'll gain essential skills by learning transcription online or by taking transcription courses at a campus. But if you require flexibility in a study schedule, transcription courses online are practical.
Work from Home (or Anywhere)
Think about how much time (and money) you'll save on commuting to and from work when you work at home! Transcription online offers the luxury of working remotely, whether at home, at a café or from the top of a mountain!
A career as a transcriptionist is also family-friendly as you're able to choose your own work hours, allowing you to work when young children sleep or when older children are at school.
Own Your Own Business
If you've ever thought about owning your own business and working only the hours and projects you want, then transcription is ideal.
Transcriptionists can work as independent contractors for major corporations and organisations.
Earning Potential Up to You
The ability to control your income is a huge benefit to starting a transcription online business. You can work as much or as little as you like, depending on your financial needs.
Transcriptionists, particularly those in the specialised medical and legal fields, can earn a lucrative income if they have fast and accurate typing ability and impeccable time-management skills.
Specialise in an Area That Interests You
You can choose to be a general, medical or legal transcriptionist depending on your area of interest and the opportunities available. You can choose transcription courses that focus on general, medical or legal transcription. Or you can choose to study transcription online as specialist in all three areas to give yourself the best opportunity of landing a lucrative transcription job.
It Can Be a Side Hustle or Full-Time Job
If you want to supplement your income, why not fit transcription into your schedule around work or family commitments? Likewise, when you're ready for full-time employment you can step-up your transcription output to a full-time workload.
Low Barrier to Entry & Minimal Investment
You don't need a university degree to be a transcriptionist. The important skills you need can be learnt via transcription courses online. These skills include fast and accurate typing, exceptional listening ability, above average competence in written English (including grammar, punctuation and spelling), as well as a thirst for knowledge and research.
Another bonus of a transcription career is that you don't need to invest heavily to set up your business as a professional transcriptionist.
Equipment You Will Need:
 A computer or laptop.
Comfortable, high-quality headphones.
Word processing software, such as Microsoft Word.
An ergonomically designed keyboard.
A comfortable, ergonomically designed chair.
A foot-pedal to play, rewind and fast-forward audio while typing.
High Demand for Qualified Workers
Healthcare is now one of Australia's largest industry employers (by employment) and an increase in demand for healthcare has resulted in a shortage of professional medical transcriptionists. So, this strand of transcription courses is excellent professional development.
There is also strong projected growth in the legal profession, which means demand for qualified legal transcriptionists will also continue to rise. Take transcription courses in this specialty to boost your employment prospects.
Types of Transcription Careers
General
General transcription requires converting audio in any genre or subject, such as webinars, business recordings, interviews, and telephone conversations, into an electronic text format. You don't need specific knowledge on a subject to be a general transcriptionist.
Medical
This type of transcription involves creating accurate medical records by listening to audio files made by medical professionals, such as doctors, and converting them to electronic text formats.
Legal
Legal transcriptionists listen to dictated legal recordings made by attorneys, paralegals and other legal professionals and translate them into legal documents.
Australian Online Courses
When you choose Australian Online Courses for your leadership training via online courses, you can rest assured that you'll receive quality content, reasonable course fees and unsurpassed student support.
Browse hundreds of industry-approved, flexible online courses covering a variety of industries today. Simply visit us online or contact one of our friendly Learning Consultants on 1300 762 221.
Certificate of Legal Transcription
Certificate of Medical Transcription
https://www.australianonlinecourses.com.au/wp-content/uploads/7-reasons-to-become-a-transcriptionist.jpg
667
1000
Australian Online Courses
https://www.australianonlinecourses.com.au/wp-content/uploads/AOC_logo.png
Australian Online Courses
2018-09-09 00:00:00
2019-11-01 15:02:40
7 Reasons to Make Transcription Your Career