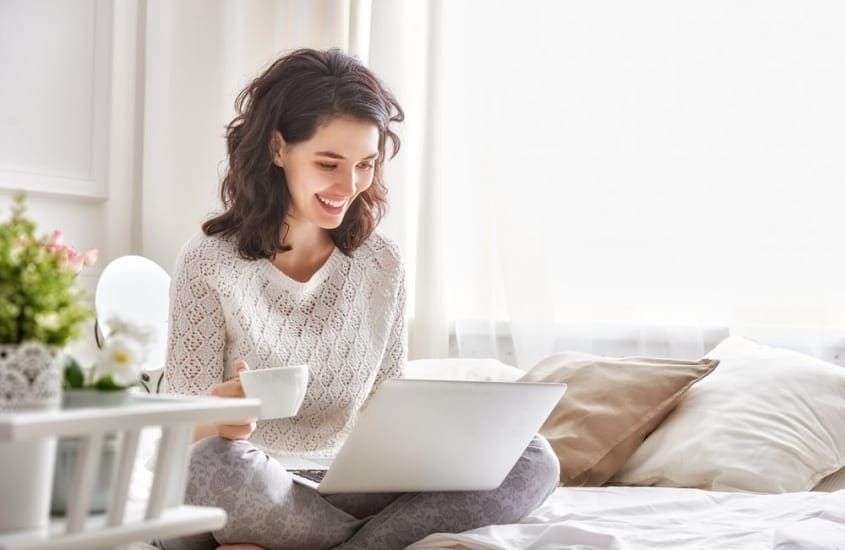 6 Of the Best Work From Home Careers
Whether it's a job with flexibility or a business opportunity, such as outsourcing your talent as a freelancer, there are endless benefits to working from home.
For a start, you choose your working hours and manage your time to suit your lifestyle and priorities.
If you're a parent, you can be there for important milestones that don't fit a nine to five schedule, such as school events. But it's not just families who benefit. We all have interests outside of work that bring us happiness.
Choosing when, where and how you work offers a freedom that enhances your life, boosts job satisfaction and increases productivity.
Despite this, finding flexible work is difficult unless you choose a career that's adaptable to a home-based environment, according to Robyn Ridley of Work at Home Mums.  Ridley's job site supports home-based professionals in their quest for success and work-life balance.
So many opportunities for home-based work.
Advances in technology over the last decade has enabled administrative tasks, such as transcribing, copywriting, editing, and making and receiving calls to be outsourced. "Home-based employees significantly reduce overheads as there is no need for a centralised location," says Ridley.
Administration
There are many tasks in administration that fit seamlessly to a home-based arrangement, including answering incoming calls, typing and data entry, scheduling appointments, composing correspondence, customer service, and even researching online. Ridley says so many tasks can be done in a home office. "The rise of virtual assistants offering a multitude of services shows how versatile this industry is becoming."
Bookkeeping/Accounting
A lot of small to medium-sized businesses find it cost-effective to outsource their bookkeeping and accounting work. "Accounting and bookkeeping are leading the way in the work-from-home space. There are so many Cloud-based accounting systems available to businesses today. Gone are the days were the company's accountant needs to be onsite."
Transcription
As a transcriptionist, you record spoken words into documents from your home computer.  The content of the typing ranges from interview transcription through to medical or legal transcription. There are many short courses available to upskill in this industry. Australian Online Courses offer a Certificate of Transcription – Medical/Legal/General to kick-start your home-based career.
Copywriting/Editing
Writing and editing services might be the perfect work-at-home career for those with a firm grasp of the English language. Your tools are simple; a computer, phone and access to the Internet. You can brush up on your skills or acquire new knowledge with an online course, such as the Certificate of Editing and Proofreading from Australian Online Courses.
Service-Based Careers
A service-based career, such as hairdressing, beauty therapy and massage, is well suited to a home business. Check with the Australian Government's Home Based Business site for requirements that apply to you.
Call-Centre Industry
Ridley says the call-centre industry is perfect for a home-based arrangement as it benefits both parties. "Flexibility in the industry via setting up remotely based employees is an alternative to offshoring. Home-based employees significantly reduce overheads as a centralised call centre isn't necessary."
You can learn more about the industry and discover a home-based career in the call-centre industry with a professional development course from Australian Online Courses, such as the Certificate of Call Centre Sales and Customer Service
Use your skills or upskill for success.
If the flexibility and convenience of working from home is appealing, why not use your relevant skills, whether in administration or freelance services, to outsource to businesses online.
If you don't have the required skills, you can develop them by taking an online course in a relevant industry. "To be successful in a home-based business marketing knowledge is essential to attract clients," says Ridley.
There are many online courses available with Australian Online Courses that are work-from-home friendly and can be completed anytime and anywhere. If adding marketing to your skill-set appeals, try the Certificate Marketing Management.
Plan to start a business.
If you decide to start your own business, you'll need to decide on business structure, register an ABN for taxation purposes, check your business name is available and register a business and domain name. For more information visit Australian Government Business. To gain new skills in setting up a business consider a certificate course, such as Certificate of Small Business (Start-Up) from Australian Online Courses.
Start a new career.
Australian Online Courses offer a variety of educational and self-development courses to give you the best chance of embarking on a career with work-from-home potential.
Certificate of Call Centre Sales and Customer Service
Certificate of Career Development and Counselling
Certificate of Information Technology
Certificate of Transcription – Medical/Legal/General
Certificate of Business Administration – Virtual Assistant
Certificate of Contact Centre Management
Certificate of Editing and Proofreading
Certificate of Small Business (Start-Up)
https://www.australianonlinecourses.com.au/wp-content/uploads/6-of-the-best-work-from-home-careers.jpg
667
1000
Australian Online Courses
https://www.australianonlinecourses.com.au/wp-content/uploads/AOC_logo.png
Australian Online Courses
2017-06-16 00:00:00
2019-10-25 15:32:10
6 Of the Best Work From Home Careers