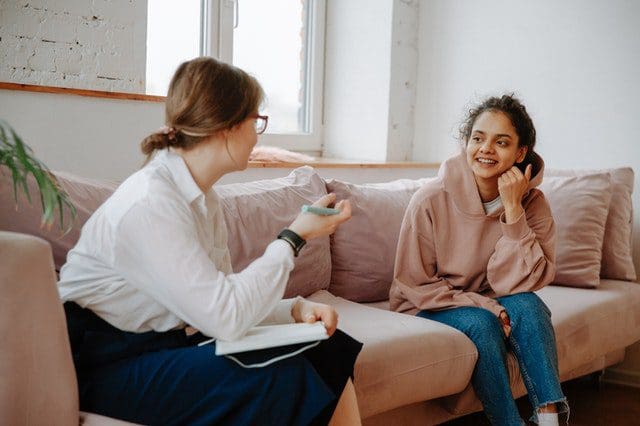 Create Meaningful Change With a Community Services Course
Join a booming sector! The health care and social assistance industry is the largest and fastest-growing industry in Australia, and the community services sector is the second largest within the industry. So the demand for jobs is extremely high.
Community services is a rewarding career for those passionate about helping people and bringing about meaningful change. This course is ideal for those who work in community services or aspire to work in the industry. Work is typically supervised and may involve working directly or indirectly with clients.
Induction to Community Services will provide you with the skills to facilitate the induction of staff and volunteers into health and community service roles. In this community services course, you will learn about working and communication in community services to ensure inclusion, diversity and safe work practices for direct client care. You will also study how to manage personal stressors in the work environment.
Learning Outcomes
Outcomes achieved by undertaking a community services course include:
Learning how to communicate and work in health and community services
Exploring verbal and non-verbal communication, body language, facial expressions, tone of voice and personal space
Gaining an understanding of how to enhance understanding and demonstrate respect
Studying the Motivational Interviewing (MI) approach
Examining the role of community services and healthcare providers and the sectors
Understanding how to communicate service information and confirm the person's understanding
Attaining knowledge of active listening, effective questioning and how to listen to requests and respond appropriately
Gaining insights into privacy, confidentiality, informed consent and person-centred and rights-based service delivery
Learning about government funding, eligibility criteria, industry terminology and complicated or difficult situations
Exploring barriers to effective communication and avoiding, diffusing and resolving conflict resolution
Gaining an understanding of mandatory reporting, completing documentation and continuous improving
Studying equal opportunities, anti-discrimination and client and employee rights and responsibilities
Examining how to work with diverse people
Understanding workplace diversity, cultural attitudes and beliefs and social and cultural perspectives and biases
Attaining knowledge of stereotyping, using reflection to work inclusively and improving own self and social awareness
Gaining insights into diversity, inclusiveness and social and community inclusion
Learning about discrimination and Equal Employment Opportunity (EEO)
Exploring legislation, cultural safety in the workplace and how to make environments safe
Gaining an understanding of cultural factors and service delivery to Aboriginal and Torres Strait Islanders
Studying diversity in communication, language barriers and using interpreters
Examining signage and symbols
Understanding communication misunderstandings and how to resolve differences and address difficulties
Attaining knowledge of cross-cultural training
Gaining insights into how to follow safe work practices for direct client care
Learning bout workplace policies and procedures, standard codes of practice, health and safety policies and legislation and duty of care
Exploring fire extinguishers, chemical spills, bomb threats, hazard identification and accidents and other emergencies
Gaining an understanding of workplace violence, risk reduction straits and how to prepare a violence incident report form
Studying how to manage health and safety risks and work off-site safely
Examining the hierarchy of control and how to keep accurate records and follow manual handling procedures
Understanding the manual handling of hazards, manual lifting and team handling and the causes of accidents and illness
Attaining knowledge of infection control procedures, protective equipment and safe workplace summaries
Gaining insights into infections and diseases, safety signs and symbols and health and safety audits
Learning about stress management, ergonomics and risk assessment, reporting stress-related illness and commitment, training and evaluation
Exploring how to manage personal stressors in the work environment
Gaining an understanding of the types, causes and sources of stress
Studying the symptoms, effects, triggers and responses to stress
Examining job documenting, activity logs, action plans and to-do lists
Understanding foster connections and how to set goals and identify options and resources for additional support
Attaining knowledge of looking after yourself, maintaining a work/life balance and keeping things in perspective
Gaining insights into personal stress management plans and stress management strategies
Learning about time management and how to organise your workload and prioritise your needs and obligations
Exploring team meetings and additional support and resources
And more!
Careers in Community Services
The health care and social assistance industry is both the largest and fastest-growing industry in Australia. The community services sector is the second largest within the industry, and there are thousands of jobs being added across the country in a range of areas such as youth work, counselling, social services, community development and individual support. So undertaking a community services course is a great career opportunity!
Jobs in this sector in Australia are also very rewarding, where employees work to better the lives of the community around them. A career in community services will allow you to make a positive impact on the world by helping people to live happier and healthier lives.
What is community service? In Australia, community services are any job roles that involve completing work that directly helps or gives back to the local community. You can work in both paid and volunteer positions in community service including in:
Counselling
Mental Health
Disability
Aged Care
Aboriginal and Torres Strait Islander services
Child protection
Family services
Counselling
Counselling is a popular career choice, and there are currently thousands of people working as counsellors in Australia. Over the last five years, the number of jobs has increased dramatically. The workforce is fairly mature, with an average age of 46 years, making this an ideal second (or third) career for many.
In general, you can become a counsellor by earning a Bachelor's degree in courses such as social sciences and counselling, or you can gain a postgraduate qualification. However, you can also join the industry with an entry-level qualification depending on the particular job role. A career in counselling is perfect for those who understand the importance of providing support networks and equipping people with the advice and tools to live their best lives. Job outcomes for counsellors include:
Career counsellor
Drug and alcohol counsellor
Family and marriage counsellor
Student counsellor
Life coach
Mental Health
Statistics have shown that one in four adults will experience mental health issues across their lifetimes — this means that more than a quarter of the population will require treatment or support.
The pathways into the mental health industry are wide and varied. Many workers in this field enter mental health after either doing some work or volunteer experience in the community services sector before branching out into mental health work.
You can undertake specific courses to give you the qualifications and specialist skills to become employed in the mental health sector. More often than not, having friends or family members experience mental health issues can often serve as the reason people take the pathway into the mental health industry. This is most likely due to them seeing the value that regular mental health care can provide by helping those closest to them. Job outcomes for a mental health worker include:
Psychologist
Clinical psychologist
Psychiatrist
Psychotherapist
Disability
People with a disability are a valuable and important part of our community. Almost twenty per cent of Australians have a disability, meaning nearly four million people in Australia require some type of assistance or care. There are now over 175,000 workers in the aged and disabled carers sector, with the sector expected to continue to grow very strongly.
Aged and disabled carers are now often called 'workers in Individual Support' to better reflect the service they provide, which is individualised to the client's needs. Those in these roles work in most parts of Australia, and nearly all job roles are in health care and social assistance. Job outcomes for a disability worker include:
Disability support worker
Special needs teacher
Education aide
Personal care nurse
Disability officer
Aged Care
Another area those who undertake a community services course are interested in working in is the aged care sector. Over one in seven Australians are over the age of 65 and therefore account for fifteen per cent of the total population. This figure is only going to increase, which means there will be a higher demand for aged care workers in the future.
In an aged care role, the tasks will involve mainly providing care and companionship to aged care patients. It may also involve arranging social activities for them and participating in these activities too. If you wish to pursue a career in aged care, a course can provide you with the skills and understanding of how to navigate policies, procedures and legal and ethical frameworks in the industry. Job outcomes for an aged care worker include:
Personal care worker
Nurse
Home care assistant
Community leisure officer
Activities officer
Child Protection Services
Working in child protection means providing a family-focused, child-centred service that best protects children and young people from abuse or harm within a family. Youth work often involves protecting young people and helping prevent family violence as well as providing them with care services. It is a very challenging role but it can also be an incredibly rewarding career, knowing that you're able to make a difference in the lives of children.
As a child protection practitioner, you are responsible for:
Investigating reports of potential harm to a child
Taking legal action and processing through to court action
Writing reports
Providing advice to those who report cases of abuse
Protecting children from family violence
Job outcomes for a child protection worker include:
Youth worker
Child protection practitioner
Family support worker
Parole and probation officer
Welfare officer
Supporting Those with Drug and Alcohol Problems
In community services, you will be helping those suffering from alcohol and drug abuse. By working in this area, you'll be making a fulfilling contribution to the community and also making a valuable career for yourself.
Aboriginal and Torres Strait Islander Services
A qualification in community services can help you gain a career assisting Aboriginal and Torres Strait Islander peoples with services such as mental health, healthcare, education services, family services and more.
Gain the confidence to support the induction of new workers into various community services roles with a community services course such as our Induction to Community Services course.
https://www.australianonlinecourses.com.au/wp-content/uploads/community-services-course-.jpg
426
640
Haley Williiams
https://www.australianonlinecourses.com.au/wp-content/uploads/AOC_logo.png
Haley Williiams
2021-11-16 12:16:32
2021-11-16 12:16:32
Create Meaningful Change With a Community Services Course