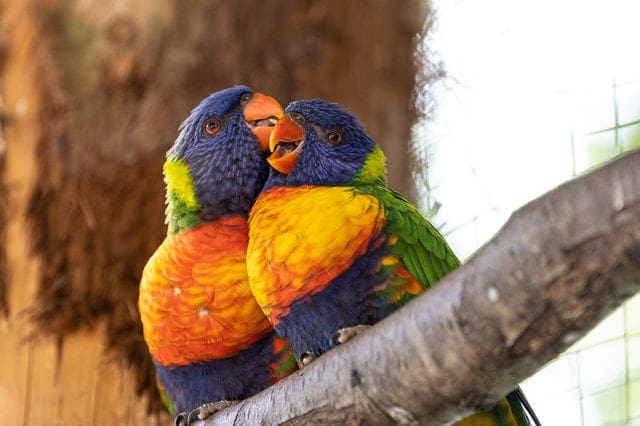 Our Ornithology Course is Worth Tweeting About!
Did you know there are over 10,000 species of birds worldwide? That's a whole lot of feathered friends to get to know! The Certificate of Ornithology – Bird Studies is ideal for environmental consultants, animal scientists, eco-tour operators, zookeepers, those who work in the pet industry, wildlife surveyors, rescuers and conservationists, or anyone working or aspiring to work with birds … including passionate birdwatchers!
In this ornithology course, you will learn how to identify the many different species of birds, bird biology, taxonomy, physiology and habitats, common ailments and bird care, and how to attract, feed and keep birds. You will also study how birds evolved, and the adaptions they developed to be able to colonize air, land and water so successfully.
Learning Outcomes
Outcomes achieved by undertaking an online ornithology course include:
Learning about bird classification and bird watching and bird watching equipment
Exploring over 9000 bird species
Studying bird classification including Aves, Ratitae and Carinate
Gaining insights into common and scientific names, classes and sub-classes
Examining fossil or extinct birds
Understanding how to compare the characteristics of bird families and superorders
Learning about the biology of birds – anatomical features, skeleton, feathers, wings, beaks and bills
Exploring the biology of birds – internal structure, respiration, excretion and digestion
Studying the biology of birds – circulation, senses and avian behaviour
Gaining insights into the feeding and the formation of eggs and hatching
Examining vocalisations, migration and habitats
Understanding common and widespread land birds
Learning about eagles and their relatives and Carthatidae
Exploring Pandionidae (osprey), Accipitridae (hawks, eagles, kites) and Sagittariidae (secretary birds)
Studying Falconidae (falcons, caracaras) and crows and their relatives
Gaining insights into butcherbirds, currawongs and related birds
Examining pigeons, doves and cuckoos
Understanding pets and introduced birds – Indian Mynah, sparrow, thrush, starling, etc.
Learning about giant and long-legged birds
Exploring Ratitites – ostriches, emus, moa, rhea, cassowaries and kiwis
Studying South American tinamous, extinct giant elephant bird and the dodo
Gaining insights into herons, storks and their relatives
Examining seabirds and water birds
Understanding Anseriformes – ducks, geese, and swans
Learning about Gruiformes – cranes, coots, mud hens and rails
Exploring Charadriiformes – sandpipers, snipes, curlews, plovers and dotterels
Studying Gaviiformes – divers
And more!
How Birds are Classified
In this ornithology course, one of the vital skills you will learn is how birds are named and classified. From an overarching standpoint, birds belong to the class Aves. Animals of this class typically have forelimbs that are wings with three fused fingers, skin with feathers, and hind limbs (legs) each of which has four or fewer toes which are usually developed into claws. All living types of birds also have a horn-like beak, no teeth, no external genitals, external ear lobes and urinary bladders, and the bird heart has four chambers.
The Class Aves includes twenty-seven orders of living birds and a few fossil orders. Of those twenty-seven, four are Ratites and the remaining ones are Carinatae birds. The class is then sub-divided into two sub-classes (Archaeornithes and Neornithes or "modern" birds), and beyond into almost thirty different orders. An example of orders are Paleognathae (non-flyers or weak flyers) and Neognathae (modern flying birds).
Scientific and Common Names
Birds are often referred to by both "common" and scientific names. Common names are widely used by birdwatchers and scientific names by scientists in the field of ornithology. And although scientific names are relatively accurate, they're not always 100 per cent correct! This is because depending on where an expert places their emphasis, the conclusions they reach can vary.
For example, if one expert places more emphasis on behaviour and the other on a bird's beak, they may classify the same birds differently. Experts in different countries can also classify birds in different ways. For example, in Europe magpies are commonly black and white birds known as Pica pica. In Australia, a magpie is classified as a bird belonging to the genus Gymnorhina. It's complicated but fascinating!
15 Amazing Bird Facts
There are over 10,000 different species of birds worldwide.
The ostrich is the largest bird in the world and the Bee Hummingbird the smallest.
Scientists believe that birds evolved from theropod dinosaurs.
Birds have hollow bones that help them fly.
Some bird species are intelligent enough to create and use tools.
New Zealand kiwis lay the largest eggs relative to their body size of any bird in the world.
Hummingbirds can fly backwards.
Homing pigeons are bred to find their way home from long distances and have been used for thousands of years to carry messages.
When ducks nap in groups, ducks on the perimeter often keep guard by sleeping with one eye open.
The unique black and white colouring of penguins works as camouflage.
Mockingbirds can imitate a range of sounds from a squeaking door to a cat meowing.
Owls turn their heads almost 360 degrees but they can't move their eyes.
The Wandering Albatross has the greatest wingspan of any bird at almost four metres.
The acid in a vulture's stomach is up to 100 times strong than human stomach acid.
Crows can recognise and remember human faces, particularly faces they associate with bad experiences … so be kind!
Common Types of Pet Birds
An ornithology course can give you insights into what types of birds make the best pets. But a range of factors should be considered before you go about choosing your new pet to ensure you can be the best possible Aves lover! These include having the space, time and finances to care for them properly. Here are some of the most common types of pet birds.
Low-maintenance Birds
Some breeds are easier to care for than others. Smaller, friendlier birds can be a wise choice if you are a first-time bird owner and include:
Budgies
Finches
Cockatiels
Doves and Pigeons
Lovebirds
Smaller Birds
Birds need adequate space to move around, so if you live in a small home or apartment, it's wise to choose a smaller bird that can be kept in a smaller cage rather than in a larger bird aviary. Smaller birds can also be easier to handle, so are ideal for families with children. Some breeds to consider include:
Budgies
Finches
Cockatiels
Lovebirds
Parrotlets
Bigger Birds
Larger sized birds should ideally be kept by more experienced bird owners. This is because they are generally louder, messier, more expensive and have long lifespans … so it's a long-term commitment! Some bigger pet birds include:
African Grey Parrots
Amazon Parrots
Cockatoos
Eclectus Parrots
Macaws
Quieter Birds
All birds will naturally make noise, but if you have sensitive ears or live close to neighbours, it might be worth considering:
Budgies
Finches
Parrotlets
Noisy Birds
After a bird with a big personality? It's in some birds' nature to be louder and make noise more often. So if you prefer a quieter pet, avoid:
Amazon Parrots
Cockatoos
Conures
Macaws
Talking Birds
Some birds learn to mimic human speech in an attempt to bond and socialise with their owners. And teaching them can also be a whole lot of fun! However, they do require attention and training, so consistency and patience is important. Chatterboxes include:
African Grey Parrots
Amazon Parrots
Budgies
Cockatiels
Cockatoos
Conures
Eclectus Parrots
Indian Ringneck Parakeets
Macaws
Quaker Parrots
Affectionate Birds
After a feathered cuddler? Some bird breeds are super-friendly, easy to handle, and are more likely to bond with you. This can make the whole bird owning experience even more fulfilling and enjoyable. Breeds you can snuggle up with include:
African Grey Parrots
Budgies
Cockatiels
Cockatoos
Conures
Parrotlets
Quacker Parrots
Lovebirds (which makes sense!)
Gain a foundational understanding of birds, their biology, classification, habitats and how to care for them to further your career or indulge in your favourite hobby with an ornithology course such as our Certificate of Ornithology – Bird Studies.
https://www.australianonlinecourses.com.au/wp-content/uploads/Cert-of-Ornithology.jpg
426
640
Haley Williiams
https://www.australianonlinecourses.com.au/wp-content/uploads/AOC_logo.png
Haley Williiams
2021-05-25 11:32:06
2021-05-25 11:32:06
Our Ornithology Course is Worth Tweeting About!