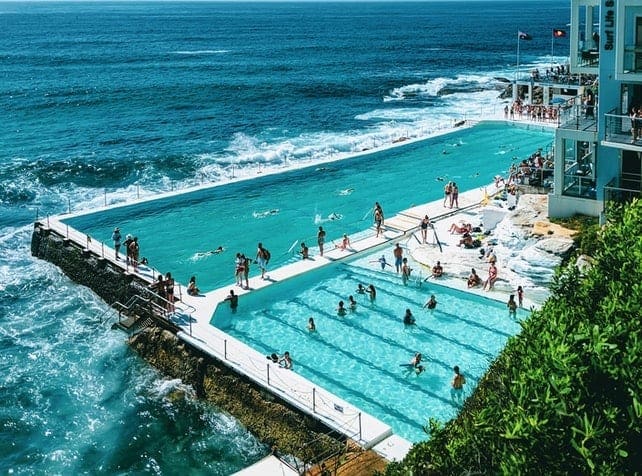 Aqua Fitness Course Perfect for Water Lovers!
Water is therapeutic, builds cardio, strength and resistance, all while being gentle on joints and providing a cool and relaxing environment to exercise – what's not to love!
If you have a passion for fitness and love water, try aqua fitness! Whether you want to instruct clients in water-based classes or discover techniques for your own fitness, our Certificate of Aqua Fitness is ideal professional development for you.
The course will teach you how to deliver ideal, low impact water-based fitness classes and educate others on the health benefits of aqua fitness. You will also learn how to target specific muscle groups, incorporate water resistance, which equipment is required, and health and safety in the pool.
This aqua fitness course will help you design an aqua fitness program and write a program plan to boost clients' results in the pool. You'll also discover important leadership and communication skills to ensure client success and that classes run smoothly.
Learning Outcomes
Outcomes achieved by undertaking an aqua fitness course include:
Gain an understanding of how aqua fitness activities differ from other fitness activities.
Learn the skills and knowledge that will aid in selecting, using, and managing equipment and facilities required for aqua fitness activities.
Gain an understanding of a wide range of different aerobic and anaerobic movements used in aqua fitness programs.
Develop an understanding of the principles underlying the design of an appropriate aqua fitness program.
Develop an understanding of the aqua fitness training requirements of special needs groups.
Learn and develop knowledge of the importance of the design and skills to deliver appropriate aqua-based programs to improve/maintain aerobic fitness.
Gain an understanding of skills that will enable better leadership of an aqua fitness session.
And more!
Aqua Fitness is Ideal Professional Development For:
Rehabilitation professions – physiology, occupational therapy, physiotherapy
Sports coaches
Physical education teachers
Personal trainers
Swimming teachers
Why Become a Fitness Professional?
There are many reasons to choose fitness as a profession, from an interest in helping others improve their fitness to maintaining your own overall health and wellbeing.
Fitness professionals teach, assess, train and supervise clients in health and fitness settings, such as gyms, sports centres, clubs and community and recreational centres.
Fitness instructors can choose to specialise in specific fields, from personal training and group fitness classes to aqua-fitness, resistance training, swimming and more.
But, one thing's certain, would-be fitness professionals have a passion for health – their own and helping others achieve their goals.
Do you think you'd make a great fitness professional? Considering specialising in aqua fitness? If so, take a look at the qualities and requirements you'll need to be successful.
Qualities of an Aqua-Fitness Professional
Good level of physical fitness
Swimming ability
Enthusiastic
Outgoing personality
Good communication skills
8 Great Benefits of Water-Based Fitness!
Aqua fitness is often thought of as leisurely– but that's far from accurate. But the truth is, working out in water burns serious calories. In fact, the average thirty-minute pool workout burns about 300 calories! To put that into perspective, it burns more calories than the same amount of time running at a moderate pace, which burns approximately 270 calories.
But that's not all – aqua fitness puts less strain on muscles, joints and heart, builds strength, increases range of motion and prevents overheating.
Supports the body
Of all the wondrous benefits of water, its ability to support the body while exercising is most wonderful. Water-resistance means there is less strain on all muscles and joints and less chance of injury!
Builds strength and endurance
The resistance of water is significantly greater than air. So, the resistance in the pool ensures the body's muscles get a rigorous workout. In fact, when people choose to partake in aqua fitness, they make substantial gains in strength, flexibility, and agility.
Additionally, unlike traditional weights, which require the human body to push and pull against the weight and gravity, water resistance is more natural.  As a result, this exercise builds endurance as the body strains through the water instead of against it.
Less strain on the heart
Water pressure enables one's blood flow to circulate more effectively throughout the body, effectively decreasing blood pressure and eventually even decreasing resting heart rate. So, aqua fitness puts less stress on the heart!
Greater flexibility
During aqua fitness exercise, the resistance of water while performing movements in various directions and adjusting to push and pull motions, naturally increase the joints range of motion. As a result, there is a significant increase in flexibility after aqua exercise.
Prevents overheating
It's little wonder that aqua fitness is such a popular summer activity, as working out in water helps prevent overheating. As a result, it allows you to exercise for longer.
Reduces stress
The calming nature of water alongside the benefits of exercise helps reduce stress levels and anxiety – and may even improve sleep!
Burns calories
Aqua fitness helps you burn 500 to 1000 calories per hour! When you exercise in cold water, your body burns more calories to keep you warm.
The more calories you burn, the more weight you lose. Besides, the water massages your muscles in a way that helps tone them.
Social interaction
Aqua fitness is one of the most popular bonding activities for friends and family. The training is excellent for younger people who enjoy the water while still appealing to older generations and their need to maintain a moderate level of fitness.
Water also has a relaxing and fun vibe, encouraging laughter and conversation – the best medicine of all!
Instruct water-based training programs and educate clients on the inherent health benefits with an aqua fitness course such as our Certificate of Aqua Fitness.
https://www.australianonlinecourses.com.au/wp-content/uploads/Aqua-fitness.jpg
476
642
Haley Williiams
https://www.australianonlinecourses.com.au/wp-content/uploads/AOC_logo.png
Haley Williiams
2021-01-07 16:26:47
2021-01-07 16:30:50
Aqua Fitness Course Perfect for Water Lovers!