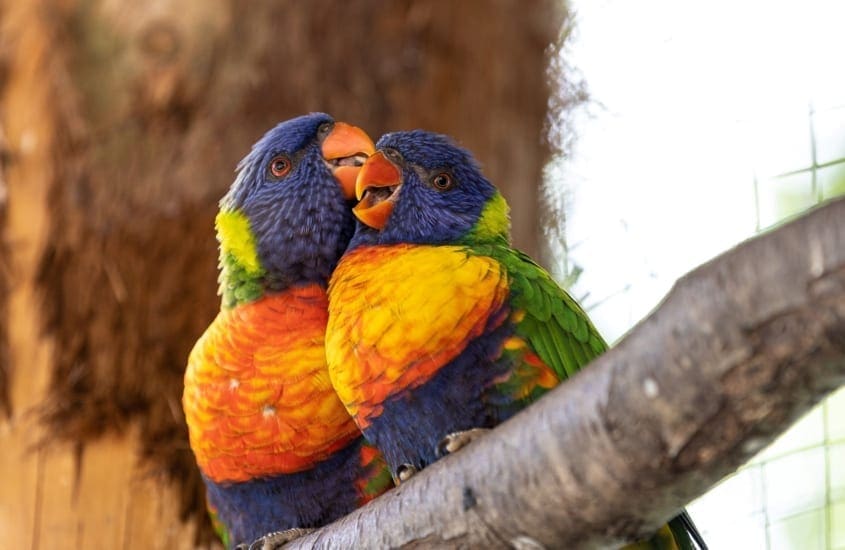 Let Your Career As a Birdkeeper Take Flight!
Our Certificate of Birdkeeping is ideal for those who have birds as pets or are seeking to enter or expand their knowledge in the industry or even run their own business. This includes pet owners, traders and breeders; animal rescue and rehabilitation workers; and zoo and vet service workers.
The course will give you insights into bird breeds, bird housing and health, and how to train and breed birds. You will study the scope and nature of bird care, including hygiene, nutrition, grooming and stimulation equipment. You will also explore alternative roles in the bird industry, including showing, pigeon racing, falconry, avian tourism, and how to farm birds for feathers, eggs, meat and oils.
Learning Outcomes
Outcomes achieved by undertaking a birdkeeper course include:
Learning about the scope and nature of bird care
Exploring bird selection
Gaining an understanding of grooming and hygiene
Studying bird terminology
Gaining insights into bird types and breeds
Examining how to choose a bird
Understanding commonly kept birds
Learning how to house birds
Exploring aviaries
Studying the minimum requirements for keeping birds
Gaining insights into water and stimulation equipment
Examining feed and feeding
Understanding nutritional requirements
Learning about health management in birds
Exploring how to care for a sick bird
Studying safety in the home
Gaining insights into travelling with birds
Examining common ailments
Understanding how to catch and restrain birds
Learning about bird behaviour
Exploring bird training
Studying how to train birds
Gaining insights into breeding birds
Exploring bird reproduction
Understanding sexing and de-sexing in birds
Studying neo-natal care
Learning about bird welfare
Exploring working in the bird industry
Studying the pet trade and breeding
Gaining insights into showing
Examining pigeon racing
Understanding falconry
Learning about zoos and wildlife parks
Exploring avian tourism
Studying farming birds for meat, eggs, feathers and oils
Gaining insights into birds for pest control
Understanding how birds' manure can be used for fertilising
And more!
Bird Body Language
 The practice of keeping birds as pets has been around for centuries, but we still don't know everything there is to know about our featured friends. In terms of body language, pet birds exhibit different body language depending on their species, but some behaviour is common to most birds. If you're looking to become a bird keeper, here are some of the more common ones you'll soon discover:
Tail-flaring — When a bird fans its feathers out, they are usually excited. However, if they seem a little too excited, watch out, as they may be about to bite you!
Puffing up — If a bird puffs up their feathers, it's usually a "leave me alone" signal, although sometimes a small amount of fluffing can mean they're relaxed.
Dilated pupils — Dilated pupils, can be a sign of excitement, pleasure, nervousness or aggression. If they also 'fan' their tail, it generally means they are telling you to "back off".
Crest-raising — If they are a crested bird, a raised crest usually indicates the bird is happy and excited to see you, whereas a flat crest indicates fear.
Preening — Birds only preen when they're relaxed, and they do this to clean and groom their feathers.
Chattering — Soft chattering is often how birds amuse themselves and normally means they're feeling safe and content.
Purring — Similar to a growling sound, if not accompanied by dilated pupils and their body is relaxed, purring normally means they are relaxed.
Tongue clicking — Rapid tongue clicking indicates pleasure and that they are feeling safe, content and probably want to be petted. It's the best body language of all!
10 of Australia's Quirkiest Birds
As a bird keeper, you'll soon begin to realise that Australia is literally teeming with amazing birdlife. Many birds have also evolved amazing breeding, foraging and survival techniques. Like these quirky types …
#1 – Tooth-billed Bowerbird
Renowned for their passionate and elaborate dance moves, these birds are found in northern parts of Australia, as well in Indonesia and PNG. The males perform rituals to impress their potential mates while they are perched on areas they've decorated on the forest floor — which often resemble silver dance floors!
#2 – Superb Lyrebird
There are almost 5000 species of songbirds around the world. However, Australia's very own Superb Lyrebird is said to be one of the special ones. What makes them unique is their syrinx (their equivalent of a human larynx), which allows them to produce a greater variety of sounds. This bird also has amazing mimicking talents, and other animals are often tricked into believing they are one of them!
#3 – Black-breasted Buzzard
Found in central Australia, these birds are recognised by the white stripes situated towards the tips of their wings which end in feathers that look a bit like fingers. Famous for being terrestrial hunters, they love eggs — mainly brolga and emu eggs — and they are one of the few birds in the world that use rocks as tools to crack them open!
#4 – Southern Cassowary
The male cassowary is a doting father who does all of the parenting after the female has laid her eggs on the forest floor. The males incubate the eggs for 50 days while keeping them warm, and after the chicks are born, they stay close to their father for up to a year. The female bird basically takes no responsibility at all!
#5 – Australasian Gannet
This large seabird is predominantly found off the Australian and New Zealand coastlines, and its special skill is an extraordinary diving technique. When foraging out at sea, they dive-bomb into the water at super-fast speeds from as high as 30 metres. This is possible due to the evolution of their enforced skull, which allows for the impact.
#6 – Western Whipbird
A shy bird with a loud and distinguishable song call, these birds are typically only found in a few small areas in Southern Australia such as the Eyre Peninsula. The slightest movement or sound will have them disappearing into thick vegetation, so sightings are rare and fleeting.
#7 – Satin Bowerbird
These birds are all about presentation. The male scrupulously decorates his love nest with a design and colour that their mate adores. They also gravitate towards the colour blue, so will adorn the nest with everything from feathers, berries and flowers to bottle caps, plastic and even clothes pegs!
#8 – Short-tailed Grasswren
Found in South Australia, these little birds have big personalities – although they're hard to spot. Masters (and mistresses) of illusion, they are amazingly cryptic and more often heard than seen. They frequent scrubland and Spinifex habitats and are so well camouflaged by their plumage that sightings are incredibly rare.
#9 – Glossy Black Cockatoo
This species of cockatoo are quiet rather than raucous, and often only recognised by the clicking their beaks make as they shred Sheoak cones to extract the seeds — their sole food source. Unfortunately, these birds are now extinct on mainland Australia. However, they can be found on Kangaroo Island, off the coast of South Australia.
#10 – Tasmanian Native Hen
These prehistoric-looking birds are also no longer found on mainland Australia, and now only exist in Tasmania. Known locally as 'turbo chooks', they can reach speeds of up to 50 kilometres an hour! They're also remarkably entertaining with their tail-flicking, gesturing and chorus-singing, which has been likened to the sound of a cross-cut saw!
Gain the knowledge and skills to care for a range of avian animals to work in the industry, start a new business or look after your own featured friends with a birdkeeper course, such as our Certificate of Birdkeeping.
https://www.australianonlinecourses.com.au/wp-content/uploads/Birds-colourful-scaled.jpg
1365
2048
Haley Williiams
https://www.australianonlinecourses.com.au/wp-content/uploads/AOC_logo.png
Haley Williiams
2020-12-01 10:31:51
2020-12-01 10:31:51
Let Your Career As a Birdkeeper Take Flight!