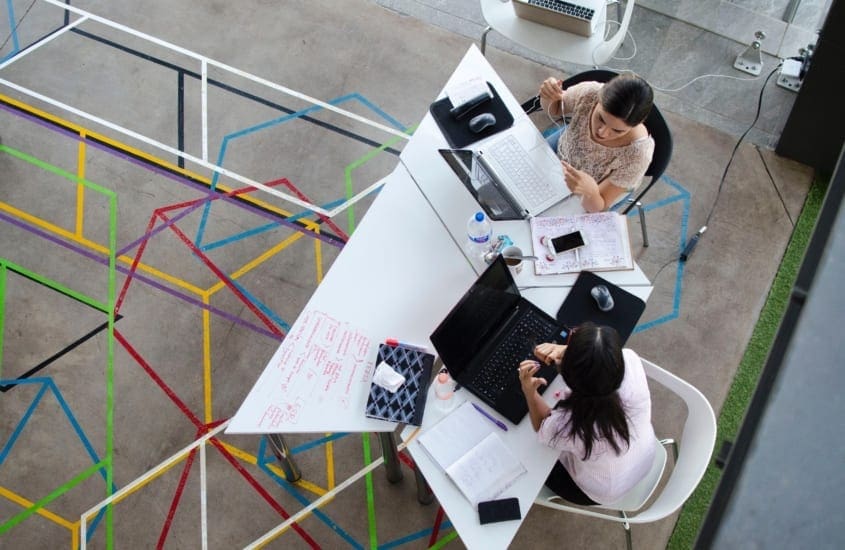 Digital Leadership Course Will Spark Innovation
In the fast-paced digital world, businesses that aren't disrupting are likely being disrupted and digital leadership is the key to staying ahead of the curve. The Digital Leader course will provide you with the strategies and techniques needed to create, manage, measure and improve innovation in today's digital markets. You will also learn how to anticipate opportunities, spot threats, manage change and act quickly when the time is right.  
If your vision for the future lies in harnessing the value of innovative digital technology, our course will enable you to thrive in the digital era, and ultimately create your own digital legacy!  
Learning Outcomes
Outcomes achieved by undertaking a digital leadership course include:  
Learning about how to lead with digital technology

 

Exploring how to get ahead of the curve

Studying how to

effectively

lead an organisation in the digital era 

 

Understanding how to

ensure

your organisation's digital DNA is equipped for the digital era

Examining how to spot

the threats and opportunities for digital disruption

Learning about the strategies

you can use to become digitally literate

 

Exploring how to engage

effectively as a leader using digital technology to communicate

 

Studying how to thrive in an era of digital turbulence 

 

Understanding the tools

for thriving when digita

l advances intensify turbulence

 

Examining how to face

reality in real-time

 

Learning about v

igilant organisations

 

Exploring how to manage

organisational attention

Studying how to sense

weak signals sooner

 

Understanding how to tackle

ambiguity

and take timely action 

 

Examining vigilance in terms of it being an agenda for action 

 

Learning about the six lessons of vigilance 

 

Exploring when innovation moves at digital speed

Studying

how to

catalyse innovation in your organisation

Understanding how to

harness

the secret structure of innovation

Examining how to develop

innovative solutions through internal crowdsourcing

Learning how to collaborate

with customer communities

Exploring strategic

perspective

Studying how to find

a lower-risk path to high-impact innovation

Understanding why

design thinking in business needs a rethink 

Examining how to develop

new products in emerging markets

Gaining insights into managing

challenge

Learning how to manage

tensions between new and existing business models

 

And many more …
The Digital Innovation Landscape 
These days, an unprecedented expansion of technology-driven innovation and an organisation's ability to exploit it to its advantage via digital leadership will determine their survival. And leaders across a range of sectors are now routinely elevating technology as a strategic business priority. Cloud computing, operations analytics and the digital experience have proven their value over the past decade and organisations have used them to innovate and drive transformational change. But what are some of the more recent disruptors? 
Current Disruptors
Blockchain, digital reality and cognitive technologies are the change agents of the coming decade, and they're set to become as significant and familiar as their predecessors.  
Blockchain
Based on a peer-to-peer topology, blockchain is a distributed ledger technology that allows data to be stored globally on thousands of servers. It also allows anyone on the network to see everyone else's entries in near real-time. For businesses, it holds the promise of transactional transparency – the ability to create real-time, secure communication networks with partners across the globe, which support everything from payment networks and supply chains to healthcare data sharing and real estate deals. 
Digital R
eality
Technologies
Digital reality technologies include speech recognition, augmented reality and virtual reality, 360° video and immersive technologies. They promote more natural user engagement by extending a human-centric experience beyond the confines of screens and keyboards. In terms of commercial applications, many companies are using these technologies to deepen empathy and emotional connections among employees and customers. 
Cognitive
Technologies
Cognitive technologies include neural networks, bots, natural language processing, robotic process automation and the broader domain of artificial intelligence (AI). These technologies contextualise and personalise the human-technology interaction and allow businesses to provide tailored image- and language-based services and information with minimal or no human involvement. 
Emerging Fo
rces 
As well as these three disruptor forces, a number of other innovations are set to make an impact at the end of the 2020's. These include:  
Ambient Experience  
This innovation envisions a future where technology is simply part of the environment. Ever-smaller devices are evolving our input from the unnatural (pointing, clicking and swiping) to natural (thinking, speaking and gesturing), and their interactions from reactive (answering questions) to proactive (making unanticipated suggestions). The technology that today enables interactive game playing through brainwave analysis, could in the future be applied to direct brain and neural interaction. This will allow us to make a request or think of a question and have an appropriate action or response delivered to our ambient experience.  
For example, thinking, "I need to leave for the airport to catch a flight in an hour", could trigger a range of background activity, including the organisation of automated check-in arrangements, a virtual boarding pass, a self-driving car and your home Smart system recognising you are away.  
Exponential Intelligence  
Machine intelligence today can find patterns in data but can't interpret whether those patterns make inherent sense. This is because it lacks the ability to recognise and respond to the nuances of human emotion and interaction. In the future, 'virtual assistants' will increasingly be able to recognise and adapt to our moods. Exponential intelligence will be able to move beyond the computational and statistical, which will ultimately lead to AI — with personality!  
Quantum  
Quantum computing has the potential to create exponential change, and quantum computers will be able to solve highly complex problems that are too big and too complicated for even our current supercomputers. Data scientists will be able to scan even large volumes of data, leading to fascinating possibilities in a range of industries from logistics, energy and security to communications and cryptography. 
Case Study: LEGO's Journey Through Digital I
nnovation 
According to a recent poll by American business magazine, Forbes, LEGO is in the top 100 of the most valuable brands in the world. However, the company's global success has not been without challenges.  
Throughout the '70s and '80s, the brand was a global success, however, in 2003, the company almost went bankrupt after it invested too much into strategies it didn't understand. Customers also lost sight of the brand, and LEGO was also facing a new wave of competition from computers, video games and the VHS. 
Realising it needed to take a new digital leadership approach, LEGO forged a series of partnerships with movie companies, including strategic alliances with Harry Potter and Star Wars that continue today. They also expanded into other channels, opening LEGO-themed amusement parks and holding LEGO model shows and exhibitions. 
LEGO also launched its Future Lab project in 2012, where agile innovation teams played a key role due to the internet, technology, virtual reality and 3D printing shaping consumers, including children. Through market research, they discovered that as well as playing with bricks, children also loved technology. But how could the company test their ideas without compromising time and resources? 
The LEGO team now uses a system called 'pretotyping', which is essentially taking the ideas and development of a non-working product to potential users rather than waiting for a working prototype. In 2011, the company created its first integration between LEGO bricks and a digital game known as Life of George. In order to see the photos of what George had built, users had to build the same creation themselves and take a photo with their phone.  
Another development, LEGO Fusion, was released in 2014. It matched builds with virtual games similar to the video game series, SimCity, with a balance between creativity and technology. And today, there are a variety of LEGO apps that are still doing just that. They are a prime example of how the leveraging of partners, customers and agile methodologies have transformed the LEGO brand's journey into the exciting world of digital innovation. 
Take full advantage of everything the digital age has to offer, drive transformation with digital leadership in the digital landscapes of the future with our The Digital Leader course! 
https://www.australianonlinecourses.com.au/wp-content/uploads/Digital-leader-blog-scaled-e1594174571957.jpg
430
650
Haley Williiams
https://www.australianonlinecourses.com.au/wp-content/uploads/AOC_logo.png
Haley Williiams
2020-07-08 12:11:15
2020-07-08 12:16:42
Digital Leadership Course Will Spark Innovation