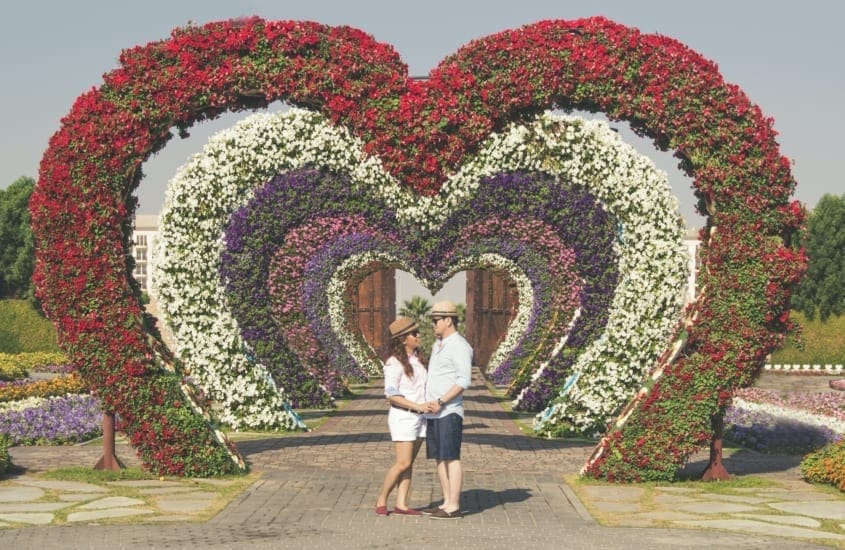 Nurture Your Love Of Plants With Landscape Design Courses!
Landscape design courses that focus on biophilic design are all about combining natural systems and elements into a landscape to increase people's physical and mental wellbeing. The word biophilic essentially means 'love of nature', and this course will teach you how to use landscaping methodologies and techniques to encourage the use of public spaces and make landscapes more people-friendly.
Our Certificate of Biophilic Landscaping is ideal for those working in horticulture, environmental management or landscape design and construction, or anyone keen to undertake the design of parks, gardens, cityscapes, streetscapes and more!
Learning Outcomes
Learning outcomes achieved by undertaking landscape design courses include:
Exploring the relationship between outdoor environments and human wellbeing
Learning about and understanding biophilia
Studying health problems and biophobic design
Understanding the urban heat island effect
Examining psychological and physiological stress
Gaining insights into the breakdown of ecosystems
Learning about environmental degradation
Exploring the health benefits of biophilic design
Studying the theories of stress recovery
Understanding the value of green space
Learning about biophilic landscaping terminology
Exploring design considerations
Learning from past mistakes
Understanding the repercussions of failing to involve the community
Studying isolation from nature
Examining good biophilic design
Gaining insights into connections with nature
Learning about sense of place
Exploring long term sustainability
Studying the beneficial user experience
Understanding the practical considerations
Examining a multidisciplinary approach
Gaining insights into town planning
Learning to consider of outcomes
Thinking about the future
Exploring the patterns and principles of urban design
Studying the terrapin bright green criteria
Understanding nature in the space patterns
Examining natural analogue patterns
Gaining insights into nature of the space patterns
Learning about biophilic landscaping and its relationship to health
Exploring the strongest empirical support
Studying the application of patterns
Examining the components of the landscape
Gaining insights into biophilic components
Learning about hard landscape components
Exploring stone and brick surfaces
Studying timber surfaces
Understanding soft landscape components
Examining the relationship between health and design components
Gaining insights into the direct experience of nature
Learning about air, water, plants animals and weather
Exploring natural landscapes and ecosystems
Studying the indirect experience of nature
Understanding the experience of space and place
Discovering the concept of prospect and refuge
Examining natural components in detail
Gaining insights into vegetation and animals
Learning about water quality issues
Exploring the five principles of healthy places
Studying how to improve air, water and soil quality
Discovering how to overcome health inequalities
Examining how to promote healthy lifestyles
Learning how to increase social interaction
Exploring how to reduce anti-social behaviour, isolation and stress
Examining opportunities for working, learning and development
Studying uplifting and healing for both physical and mental health conditions
Understanding water harvesting, retention and reuse
Gaining insights into stormwater, rainwater and urban runoff
Learning about integrated urban water management (IUWM)
Exploring biophilia in different environments
Studying environmental stress
Understanding general adaptation syndrome
Examining the physiological effects of stress
Gaining insights into biophilia in the workplace
Learning about noise levels and temperature
Exploring environmental and climate conditions
Studying water contaminants and water chemical problems
Understanding microbiological problems
Examining water quality for aquaria and ponds
Learning about Legionnaires disease in soil and potting media
Exploring using plants to extract contamination
Studying how to grow plants on contaminated soil
Understanding the biological filters for water pollution and wastewater
Using roof and wall gardens to improve air quality and aesthetics
Examining accessibility and safety
Gaining insights into roof gardens and vertical gardens
Learning about decorative plant supports
Exploring the types of installations for roof gardens
Studying wall gardens
Examining design considerations and plant selection
Learning about the building and components of a green roof
Exploring construction materials
Studying how to deal with heights
Understanding plants which cause damage
Examining plants suited to roof and vertical gardens
Gaining insights into bromeliads and succulents
Learning about hardy groundcovers
Exploring xerophytes
Being able to analyse existing landscapes
Studying how to assess a landscape
Understanding how to measure pollutants
Discovering how to create buffer zones for pollution
Examining using windbreaks, hedges and screens
Gaining insights into creating and landscaping shaded areas
Learning how to design a home garden using biophilic design principles
Studying how to consider your priorities
Understanding how to create a natural approach to gardening
Learning to avoid problem materials
Discovering how to dispose of waste and make good compost
Uncovering simple design procedures
Exploring how to integrate biophilic design into an existing landscape
Studying how to retrofit green walls and roofs
Uncovering how to use hydroponics for a vertical wall NFT system
Understanding how to redevelop public institutions
Examining the water chemistry of runoff
Gaining insights into the quality of urban runoff
Learning about annual pollutant loadings from runoff
Exploring water quality in urban compared with rural areas
Studying how to improve the water quality of runoff in the biophilic context
Examining how to improve the water quality of recycled water in the biophilic context
Gaining insights into reducing the use of pest control chemicals in gardens
Learning about biocontrol
Exploring a range of chemical weedicides
Studying how to work in and improve urban development
Understanding the challenges for design
Examining permaculture and hydroponics
Learning how to use swales for water retention
Exploring how to work in urban development
The Patterns of Biophilic Design
Many landscape design courses like ours focus on biophilic design because it can reduce stress and improve well-being – qualities which are important in our increasingly urbanised world. The 14 patterns of biophilic design represent the relationship between human biology, nature and the design of a built environment. And according to research scientists and design practitioners, they define the aspects of nature that most impact our satisfaction within these types of environments.
Nature in the Space:
#1 – Visual Connection With Nature – this is a view to elements of nature, natural processes and living systems. If achieved, it can be either stimulating or calming, and convey a sense of weather, time and other living things.
#2 – Non-Visual Connection With Nature – this is stimuli connected to the other senses (hearing, touch, smell and taste) that gives a positive reference to nature, natural processes or living systems. Spaces feel well balanced and fresh, and the conditions are both complex and familiar.
#3 – Non-Rhythmic Sensory Stimuli – when in these spaces, people feel as though they are experiencing something fresh, stimulating, interesting and energizing. They also give people brief, but welcome distractions.
#4 – Thermal and Airflow Variability – this pattern is characterized by subtle changes in humidity, temperature and airflow across the skin that mimics a natural environment. These spaces feel alive, refreshing and invigorating, while providing a feeling of both flexibility and control.
#5 – Presence of Water – these are spaces that enhance someone's experience through hearing, touching or seeing water. They feel captivating and compelling, and sound, lighting, accessibility and proximity can contribute to whether someone feels calm or stimulated or both.
#6 – Dynamic and Diffuse Light – this pattern leverages varying intensities of shadow and light that change over time to create natural conditions. They convey expressions of movement and time and evoke intrigue and drama combined with a sense of calm.
#7 – Connection with Natural Systems – this is an awareness of natural processes especially seasonal changes that define a healthy ecosystem. These spaces make people aware of the cycles of life, and they are nostalgic, relaxing, enlightening and frequently anticipated.
Natural Analogues:
#8 – Biomorphic Forms and Patterns – these are symbolic references to textured, patterned or numerical arrangements that we see in nature. These spaces feel comfortable and possibly contemplative, captivating and even capable of absorbing energy.
#9 – Material Connection with Nature – this pattern refers to elements and materials from nature that reflect the local geology or ecology. These spaces feel warm, authentic, rich and sometimes stimulating to people's touch.
#10 – Complexity and Order – this is rich, sensory information to connects to a spatial hierarchy that is similar to what you would experience in nature. These spaces feel engaging and are a balance between being boring and overwhelming.
Nature of the Space:  
#11 – Prospect – this pattern offers an unobstructed view over distances. These spaces feel freeing and open while offering a sense of control and safety, particularly when people are alone or in an unfamiliar environment.
#12 – Refuge – these are places for withdrawal from activity or environmental conditions where people are protected overhead and from behind.  They feel safe, contemplative, embracing and offer people a sense of retreat.
#13 – Mystery – this pattern is a promise of more information, and entice people to travel deeper into the environment. They evoke a feeling of anticipation and offer a combination of denial and reward that compels people to further investigate the space.
#14 – Risk or Peril – this pattern refers to an identifiable threat combined with a reliable safeguard. These spaces feel exhilarating because people feel they may be dangerous but nevertheless intriguing and worth exploring.
Winners of the 2019 AILDM National Awards
Every year, the Australian Institute of Landscape Designers and Managers (AILDM) recognises the very best landscape designers and their projects from around the country. Here is a list of last year's Gold Award winners who will offer plenty of reasons for you to consider landscape design courses as your next career move!
Landscape Design – Rooftop
Richard Rimell of Quercus Gardens
Judy Dolin of South House Gardens
Claudia Crawley of Grindstone Landscapes
Alison Watson of Outdoor Designs
Residential Landscape Design – less than 50m2
Rebecca Colechin and Michael Doak of Ecodesign
Steve Warner of Outhouse Design
Charlie Albone of Inspired Exteriors
Nicola Cameron of Pepo Botanic Design
Julia Levitt of Sticks & Stones Landscape Design
Residential Landscape Design – 50 to 150m2
Adrian Swain and Michael Doak of Ecodesign
Jane Stark of Stark Design
Gerrad Everson of Octopus Garden Design
Steve Warner of Outhouse Design
Mitchell Turner of Goodmanors Pools and Gardens
Nicola Cameron of Pepo Botanic Design
Residential Landscape Design – over 150m2
Adam McDonald of Impressions Landscape Design
Colin Marchant of Costata Landscape Design
Nathan Burkett of Nathan Burkett Design
Phil Antcliff of Fifth Season Landscapes
Rural or Coastal Landscape Design
Nathan Burkett of Nathan Burkett Design
Steve Taylor of C.O.S Design
Fiona Ericsson of Sticks and Stones Landscape Design
Commercial Open Space
Jamie Clapham of Clapham Landscape Architecture
Robert McIlroy of Saunders Havill Group
Commercial – Educational/Institutional/Playspace
Adrian Swain of Ecodesign
Ruth Czermak of Botanical Traditions
Brendan Barmby of Blue Landscape Architecture
Daniel Kavanagh of The Gardenmakers
Plantscape Design
Adam McDonald of Impressions Landscape-Design
Jane Stark of Stark Design
Gerrad Everson of Octopus Garden Design
Nathan Burkett of Nathan Burkett Design
Judy Dolin of South House Gardens
Steve Taylor of C.O.S Design
Barbara Landsberg of Landsberg Garden Design
Alison Watson of Outdoor Designs
Phil Antcliff of Fifth Season Landscapes
Landscape Management – Environmental and Amenity Horticulture
Adrian Swain of Ecodesign
Robert McIlroy of Saunders Havill Group
Allan Correy Award for Design Excellence
And finally, this award is named in honour of landscape architect and horticulturist Allan Correy, who was known for his ecological and modernist approach to design. The winner of last year's most coveted award (and the ultimate inspiration for undertaking landscape design courses) was…Adrian Swain from Ecodesign
Keen to create landscapes that positively enhance people's physical and mental wellbeing? Put that green thumb to good use with a landscape design course like our Certificate of Biophilic Landscaping!
https://www.australianonlinecourses.com.au/wp-content/uploads/Biophilic-Landscape-Design-blog-scaled.jpg
1316
2048
Haley Williiams
https://www.australianonlinecourses.com.au/wp-content/uploads/AOC_logo.png
Haley Williiams
2020-06-02 14:33:24
2020-06-02 14:33:24
Nurture Your Love Of Plants With Landscape Design Courses!